Dir/scr: Shemi Zarhin. Israel. 2012. 122mins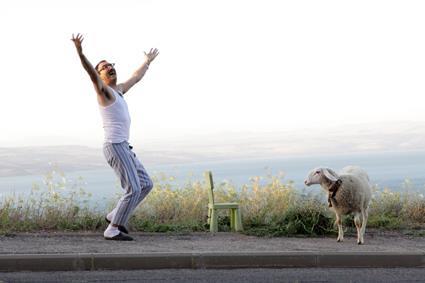 A ambitious multi-layered, ambitious film, dealing with life in Israel outside the customary political, ethnic and religious agendas and far away from the fashionable Tel Aviv background, Shemi Zarhin's intricately woven melodrama spreads itself over several parallel plots and juggles some 20-odd characters for an altogether melancholy look at simple people struggling against the traumas of their past. Despite everything, it leads to an upbeat ending which suggests, just like the ironic title, that a smile and a hug are the only way to deal with it all.
Meticulously shot and directed all through and seamlessly edited to keep all the stories moving on parallel lines.
Shot on location in Tiberias, a small town in the north of the country generally considered as the essential image of provincial Israel, the plot offers a tightly knit collection of catchy short stories, apparently unrelated to begin with, but gradually tied up together into a rarely encountered facet of the country. Easily accessible in all its details to home audiences, it may be more of a problem for non-Israelis, who are bound to miss such crucial points of references as the overwhelming popularity of HaGashash HaKhiver, a satirical trio whose routines are now part of the local folklore, but are simply impossible to translate in any other language.
Partly realistic, partly wishful thinking, the stories that make up The World Is Funny(Haolam mats'hik - some of them attributed to amateur students in a writing course, others taken from their own lives - mostly focus on three siblings, Yardena, Meron and Golan, abandoned at an early age first by their mother who ran away from home and then by their father, who committed suicide soon after.
Deeply bruised by their childhood trauma, they somehow prevailed into an apparently successful maturity, only to be faced with formidable odds, haunting all three of them. The oldest, Yardena (an outstanding performance by Assi Levi) works for a travel agency but her marriage has been falling apart since her daughter was killed in an army accident; Meron (Dani Shteg), a widower with serious anger control problems, owns several restaurants in town but his older son Nessi (Moshe Ashkenazi) has been in a coma for years, while his younger one Hilik (Or Ben-Melekh) rebelliously refuses to live his life in the shadow of the family tragedy, and finally Golan (Elli Finish), operates a local radio station, is desperately in love with a terminally ill Russian girl, Natasha (Ola Schor-Selektar) and will do anything for her sake.
The siblings and their individual stories may provide the script's backbone but they are only part of a rich texture which includes any number of additional episodes, some just decorative vignettes, others worked into the fabric of Zarhin's portrait of a provincial community he seems to know inside out.
There is a man (Israel Katorza) who falls in love with the lamb he had intended to sacrifice for his son's bar-mitzva; the daughter of a wealthy family (deliciously played by Naama Shitrit) who cleans houses though she doesn't need the money; a war veteran (Zeev Revach) who walks the streets expecting every passer-by to respond to his military salutes; an innocent romance that almost turns badly; the comatose son who wakes up a child in an adult body; a sort of immaculate conception, and not to mention the secret of the writing course tutor Roni (Yehezkel Lazarov), recalling Zarhin's skepticism about this profession already featured in his previous Aviva My Love.
Meticulously shot and directed all through and seamlessly edited to keep all the stories moving on parallel lines, the film confirms Zarhin's position as one of the country's leading mainstream directors. The mood and climate of the place are carefully reconstructed, with Zarhin, a great believer in color codes, making sure, for instance, the hot-tempered Meron wears fiery red and depressive Yardena is in grey and faded blue. Taken separately, some of his stories may be found wanting, less than original and over-sentimental, but as a whole they deliver an effective emotional impact. As for the ending, it will be up to the eye of the beholder to decide whether it is ironical or sentimental…but is most probably both.
Production companies: Pie Pictures, United King Films
International Sales: United King Films, www.unitedking.co.il
Producers: Moshe Edry, Talia Kleinhendler
Cinematography: Yaron Scharf
Editor: Einat Glaser-Zarhin
Production designer: Yoel Herzberg
Music: Jonathan Bar-Giora
Main cast: Assi Levi, Dani Shteg, Eli Finish, Naama Shitrit, Or Ben-Melech, Moshe Ashkenazi, Ola Schor-Selektar, Yehezkel Lazarov, Shlomi Koriat, Rotem Zisman, Levana Finkelstein, Moshe Ivgy, Dror Keren, Alon Noyman, Avi Grainik, Rotem Abuhav, Israel Katorza, Zdeev Revach, Shaike Levi