Dir: Darren Aronofsky. US. 2008. 105 mins.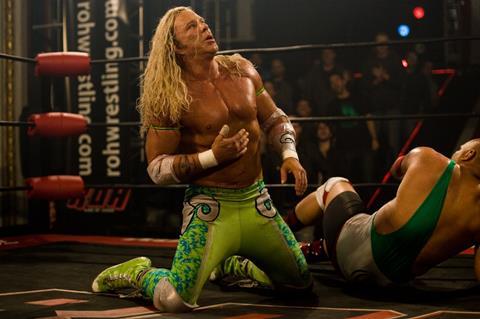 A deceptively conventional storyline from Darren Aronofsky boasts just the right amount of edge - and, surprisingly, humour - and a performance Mickey Rourke was born for, making The Wrestler a natural awards contender and audience-pleaser without feeling overtly manipulative on the way.
This Rocky-style drama is always travelling down familiar genre tramlines but never leadenly so. Its pulverised lead character naturally inhabits Aronofsky's New Jersey and the main challenge this film will face is in persuading viewers that they haven't seen it before from The Champ on through to Eastwood's recent Million Dollar Baby. In this, Rourke's engaging, compelling, washed-up 80s wrestling-star hulk will be key; the fact The Wrestler's humour leavens the inevitable slamming sequences also helps.
Banishing memories of The Fountain while softening considerablythe grit of Requiem For A Dream, The Wrestler should take Aronofsky into a more commercial marketplace on an international level. While its circus-like wrestling bouts will be a lure in the US, Rourke's international standing as an 80s icon still carries weight in major markets. Exposure and notices should be great: rarely, after all, has a star been so perfectly matched to a role, and the production isn't shy of playing with that (even tantalisingly holding back on the first close-up of his face).
Looking like Axl Rose (The Wrestler makes a special thanks to the Guns 'n' Roses frontman) meets, well, Mickey Rourke, Randy 'The Ram' Robinson (Rourke) was a champion professional wrestler in the 80s. Now, two decades later, he stacks shelves in a local supermarket's warehouse and makes some cash performing pantomime-like fights in local schools and gyms for wrestling fans. It soon becomes clear, however, that these aren't just money-making arrangements for the shattered ex-champ - the ring is the only place of comfort to him in a world he finds bewildering. Certainly, they don't make him enough money to pay the rent on his grim trailer, although he manages to find the cash to pay for private dances from stripper Cassidy/Pam (Tomei).
Randy, born Robin Ramzinski, a name he hates, is alone in the world and the film is intelligent enough not to foist sequences on the viewer explaining why. Every setback in life sees him look to the ring and his green spangly tights for succour; it is his addiction and his only friend. Hard of hearing and with a mangled face and frame, he subjects his body to epic batterings, not to mention performance-enhancing drugs, until he has to face the fact he needs to stop. His attempts to reconnect with the outside world are hard, though, especially with estranged daughter Stephanie (Wood).
Unlike many similar characters in the same ex-champ genre, The Ram never actively looks for the viewer's pity, and the pathos element is played down. Tomei delivers a solid performance as ageing stripper Cassidy who wants out of the game and although her earlier sequences, in particular one where she talks about The Passion of the Christ, feel abridged, the character does eventually come into its own. The humour in the sequence where she and The Ram talk about the eighties is deliciously played, and the film's score is amusingly and knowingly referential (Bruce Springsteen, of course, plays it out).
What viewers haven't seen before in this genre is the professional wrestling element and Aronofsky and his team (eight credited stunt co-ordinators) deliver just the right amount of action here. Never mocking and allowing the humour of the sport to show while also illustrating some of its brutality, these feature former real-life champions opposite Rourke, who, of course, had his own well-publicised flirtation with boxing back in the day.
Production companies
Protozoa Pictures
Wild Bunch
International sales
Wild Bunch
(33) 6 11 91 23 93
Producers
Scott Franklin
Darren Aronofsky
Screenplay
Robert Siegel
Cinematography
Maryse Alberti
Production design
Tim Grimes
Editor
Andy Weisblum
Main cast
Mickey Rourke
Marisa Tomei
Evan Rachel Wood
Mark Margolis
Todd Barry
Wass Stevens