Dir: Jean-Pierre Jeunet. France-Canada. 2013. 105mins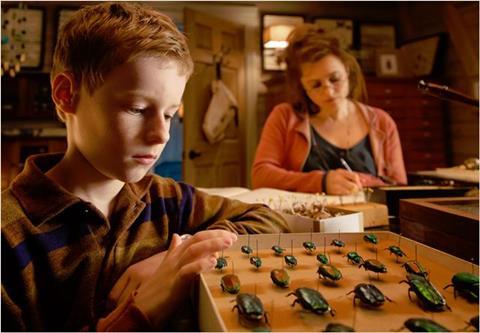 The Young And Prodigious TS Spivet is a sumptuous, tender-hearted family film in which a small boy goes on a fantastic journey across the US in redolent 3D. Jean-Pierre Jeunet's ode to youth and the wonders of science boasts all his own recognisably quirky touches from the world of Delicatessen through to Amelie, but may mostly remind viewers of Martin Scorsese's Hugo, and, more poignantly, Life Of Pi, a film Jeunet struggled for years to make.
The beauty of the 3D image poignantly calls to mind the excellence of Ang Lee's image in last year's Life Of Pi, the film Jeunet struggled for so long to make.
That is to Spivet's benefit, of course. Both films won Academy Awards and this should figure in awards season as well, particularly in the technical arena. TS Spivet is gorgeously-mounted, its 3D an unusual joy, its tone bittersweet. It's odd to note that Jeunet's ode to the mythical American landscape was mostly shot in French-speaking Quebec and Alberta, Canada, but that's not a deterrent. Marketing will need to be strategic and awards-based to reach the audience carved out by Hugo/Pi, but word-of-mouth should be strong, boosted by a warm performance from Helena Bonham Carter in the film's main adult role.
That TS Spivet will be eccentric is almost a given, but Jeunet's touches are a warm reminder of his unique talent, and perhaps not quite so dominant in the story as before (it's a delight to see Dominique Pinon in a cameo as a salty sea dog). But there's a sadness to this film that gives its love – for childhood, science, family, and ultimately humanity – an extra weight.
Adapted by Jeunet and his regular writing partner Guillaume Laurant from the book by American author Reif Larsen, The Young And Prodigious TS Spivet tells the story of TS (newcomer Catlett), an enormously talented (if very small) 10-year-old scientist who lives with his beetle-loving mother Dr Claire (Bonham Carter) and cowboy father (Rennie) on the family's Coppertop Ranch in Montana.
While the time period is present day, with characters using computers and toasters, the costuming and production design provoke heightened nostalgia, especially the Days Of Heaven-style family clapperboard ranch painted livid red and green and the Cowboy "mausoleum" the father maintains in the living room.
An dedicated inventor and cartographer – his designs rise from the screen in graphic 3D – TS gets a call from the Smithsonian museum's neurotic Miss Jibsen (Judy Davis in arch mood) informing him that he has won the prestigious Baird Prize for inventing the perpetual motion machine. She invites him to come to Washington to accept it.
Initially TS says no, but tragedy has struck the ranch. He feels culpable in the accidental gunshot death of his twin brother Layton and adrift in the family's sea of grief so resolves to undertake the journey by train, crossing the prairie as a stowaway junior hobo in a blast of jewel colours and the russets of autumn captured in glowing 3D.
A country soundtrack composed by Denis Sanacore, and a certain wistfulness accompany TS en route, although chronologically it is sometimes hard to align the narrative. TS is a child who is occasionally very sad, and the film doesn't hold back on showing this. To a certain extent, TS Spivet is Jeunet's most emotional creation.
Catlett has a lot to carry here, and while occasionally he looks like a small Macaulay Culkin, Jeunet opts mostly to let him be still and have the action circle him. There are many animated sequences in TS Spivet, which give further depth to the 3D, and his thoughts and ideas whirl around the screen. This graphic design is particularly attractive. The beauty of the 3D image poignantly calls to mind the excellence of Ang Lee's image in last year's Life Of Pi, the film Jeunet struggled for so long to make. This is the first time Jeunet has worked without Bruno Delbonnel behind the lens, but Thomas Hardmeier is up to the challenge.
Jean-Pierre Jeunet doesn't make many live-action films, and they're eagerly awaited by the market – TWC has Spivet for the US, with Momentum on board for UK releasing. The title translates in French to Le Voyage Extraordinare de TS Spivet, which immediately bringing to mind Amelie's Fabulous Destin, and Jeunet's fans should be more than satisfied even if this film is aiming at a wider family audience.
Production companies: Epithete Films, Tapioca Films, Filmarto
International Sales: Gaumont, www.gaumont.fr
Producers: Frederic Brillion, Jean-Pierre Jeunet, Gilles Legrand, Suzanne Girard,
Executive producers: Brian Oliver, Sidonie Dumas, Francis Boespflug, Timmy Thompson, Tyler Thompson
Screenplay: Jean-Pierre Jeunet, Guillaume Laurant, based on The Selected Works of TS Spivet, by Reif Larsen
Cinematography: Thomas Hardmeier
Editor: Herve Schneid
Production designer: Aline Bonetto
Music: Denis Sanacore
Main cast: Kyle Catlett, Helena Bonham Carter, Callum Keith Rennie, Judy Davis, Robert Maillet, Dominique Pinon, Niamh Wilson