Dir: Tim Story. US. 2012. 122mins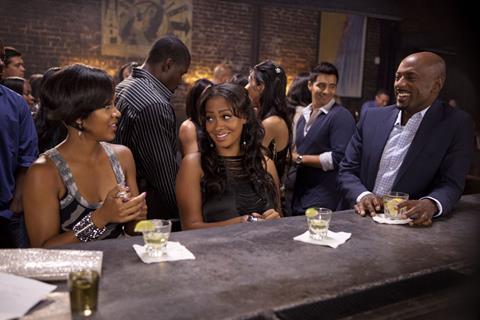 A battle of the sexes drives Think Like A Man, but unfortunately this romantic comedy also features a clash between a very likeable cast and a rather unappealing storyline. Following a group of men and women as they negotiate the dating world, director Tim Story's ensemble piece is the umpteenth Hollywood laugher that advocates that the best way to find love is to assume that the object of your affection embodies all the worst qualities of their gender. A warm, funny rapport between the actors helps immeasurably, but not enough to make you want to commit to this film's reductive view of relationships.
Like a lot of Hollywood romantic comedies, Think Like AMan portrays men as infantile and fearful of commitment, while women are pushy, high-maintenance, and hard to please.
Think Like A Man opens April 20, the same weekend that another romance, The Lucky One, also comes out. This Screen Gems release is based on a popular relationship advice book, Act Like A Lady, Think Like A Man, which will spark interest. But the question remains whether the film, which boasts no major stars among its heavily African-American cast, will be merely a niche performer or if strong word-of-mouth can make it a crossover hit.
The film uses comedian and radio host Steve Harvey's 2009 non-fiction advice book as its starting point, creating a plot built around the author's promise to women that he can explain their boyfriend's mindset. (The book's subtitle is What Men Really Think About Love, Relationships, Intimacy, And Commitment.)
In the movie, a group of women – including the demanding, career-oriented Lauren (Taraji P. Henson) and the sweet, trusting single mom Candace (Regina Hall) – read Harvey's book to learn how to improve their love lives. Not aware that their women have "discovered" the secret to how men operate, a group of male buddies – including aspiring chef Dominic (Michael Ealy) and ladies' man Zeke (Romany Malco) – must fight back to reacquire the upper hand in their relationships.
Director Tim Story had his biggest commercial hits with the Fantastic Four films, but for Think Like A Man he returns to the same territory as his 2002 breakthrough, Barbershop, which like this new film revelled in its snappy, irreverent back-and-forth exchanges between the characters. Easily juggling the film's four different romantic storylines, Story demonstrates an ease with both his male and female characters, giving his cast enough room to develop a vibrant chemistry that's incredibly welcoming.
Unfortunately, these positives are at the service of a plot that has an annoyingly dim view of both sexes. Like a lot of Hollywood romantic comedies, Think Like A Man portrays men as infantile and fearful of commitment, while women are pushy, high-maintenance, and hard to please. Although there's no question such men and women exist in the world, this comedy reduces the genders to insulting stereotypes that can easily be "fixed" by consulting a book. Aiming for a more sophisticated take on love, the film ends up having all the depth of a sitcom, treating juvenile game-playing as witty, candid observations on modern courtship.
Thankfully, the cast's playful energy enlivens and dignifies the script's small-minded attitudes. It doesn't help the actors that their characters are introduced as one-note caricatures – Ealy's chef, for instance, is labelled "The Dreamer" – but their charisma and comic timing are at least some compensation. Particularly good is the burgeoning love affair between Lauren and Dominic, with Henson and Ealy exuding a sexy, grownup air that's sharper and more intelligent than the men-are-like-this/women-are-like-this simplification happening elsewhere in the film.
Production companies: Screen Gems, Rainforest Films
Domestic distribution: Sony Pictures, www.sonypictures.com
Producer: Will Packer
Executive producers: Steve Harvey, Rushion McDonald, Rob Hardy, Glenn S. Gainor
Screenplay: Keith Merryman & David A. Newman, based on the book Act Like A Lady, Think Like A Man by Steve Harvey
Cinematography: Larry Blanford
Production designer: Chris Cornwell
Editor: Peter S. Elliot
Music: Christopher Lennertz
Website: www.thinklikeaman-movie.com
Main cast: Michael Ealy, Jerry Ferrara, Meagan Good, Regina Hall, Kevin Hart, Taraji P. Henson, Terrence J, Jenifer Lewis, Romany Malco, Gary Owen, Gabrielle Union