Dir/scr: Paul Haggis. Belgium. 2013. 137mins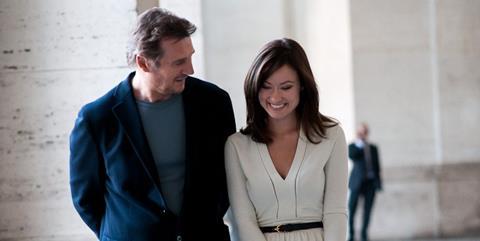 A collection of disparate characters find their lives interconnected in ways that they would have never imagined: That premise brought filmmaker Paul Haggis a couple Oscars for his film Crash, and he revisits that conceit for Third Person, an initially intriguing ensemble piece that loses altitude long before its finale. Where Crash examined race relations in Los Angeles, his new drama explores the mysteries of love across the globe, but not enough of the individual storylines add up to much — and their cumulative effect is quite underwhelming.
Third Person is far less self-important than Crash, and consequently the ensemble cast give performances that only rarely trip over into unsubtle hysterics.
Third Person made its debut at the Toronto Film Festival, courting buyers who will no doubt want to advertise Haggis's name, although his more recent pictures (In The Valley Of Elah and The Next Three Days) were commercial disappointments. But even with that said, a cast that includes Liam Neeson, Mila Kunis, Adrien Brody, James Franco and Olivia Wilde will make this an attractive proposition for distributors, even if the somewhat labyrinthine plot may limit mainstream theatrical prospects.
The film sets up three separate narrative threads. In New York, Julia (Kunis), a former soap actress, is almost broke, trying desperately to receive partial custody of her young son who lives with her ex-husband Rick (Franco). Meanwhile, a sexy aspiring writer named Anna (Wilde) has flown to Paris to be with Michael (Neeson), an older accomplished novelist who has left his wife and pursued a two-year affair with this younger, bewitching woman. And in Rome, Scott (Brody) meets the gorgeous Monika (Moran Atias), a Romanian who needs a great deal of money to pay for her daughter's transport to Italy.
As with Crash, from the outset it's clear that these seemingly unrelated plotlines will eventually come together in some way, and there's a little fun to be had in trying to guess exactly where Haggis is going with these stories, which mix romance, drama, suspense and humour.
The problem, however, is that while the audience waits for Haggis to reveal his twists, the individual threads are mostly not strong enough on their own to sustain interest. The exception is the Anna/Michael relationship, which feels more developed than the other two plot strands. Both intelligent, complicated people, Anna and Michael have different reasons for engaging in this affair, and their emotional tug-of-war creates some interesting sparks: She wants his approval (especially when it comes to her writing) without seeming needy, and he's concerned about how deeply infatuated he is with her. Both actors exude an adult sexiness that's entrancing, and their flirtatious rapport leaves one wondering who's winning at any one point in their battle for control.
By comparison, the other two plotlines drag badly. Although Julia's plight is more on the periphery, taking up less screen time, Scott's quest to help Monika is a central focus of Third Person, equal to Anna and Michael's sophisticated game of romantic cat and mouse. But although Haggis received a screenplay credit for two James Bond pictures (Casino Royale and Quantum Of Solace), he's unable to give Scott's story much flair or propulsion. Not ever completely sure that Monika's need for money isn't an elaborate scam, Scott goes deeper and deeper into a European underworld that never quite feels convincing, although Brody provides a certain soulful vulnerability to a character who feels an unexplained connection to Monika's dilemma. (It might have something to do with the saved voicemail message to which he obsessively listens.)
Haggis attempts to find the humour in these different situations, to varying degrees of success, but as the movie reaches its conclusion, the overly dramatic theatrics take over. Dario Marianelli's score is mostly elegant, but it's overused in the later reels as part of Haggis's attempt to emphasize the gravity of the circumstances, the bombastic orchestral swells out of proportion to the mildly compelling scenes unfolding.
Third Person is far less self-important than Crash, and consequently the ensemble cast give performances that only rarely trip over into unsubtle hysterics. Nonetheless, the sombre throb of the material with its cross-cutting between different cities promises a big reveal that will ultimately give us a greater understanding of what we've been seeing. When that moment finally comes, it's a letdown — partly because it's a fairly obvious twist, and partly because it's not nearly as profound a commentary on the preceding events as Haggis seems to think it is. Love may be a mystery, but it's rarely as precious as it's portrayed in Third Person.
Production companies: Corsan, Highway 61, Volten, Lailaps Pictures, Filmfinance XII
Canadian distribution: D Films, www.dfilmscorp.ca, and NBC Universal Canada, www.universalpictures.ca
International Sales: Corsan World Sales, www.corsanfilms.com
US Sales: Paradigm, www.paradigmagency.com, and Creative Artists Agency, www.caa.com
Producers: Paul Breuls, Michael Nozik, Paul Haggis
Executive producers: Nils Dunker, Anatole Taubman, Arcadiy Golubovich, Timothy D. O'Hair, Guy Tannahill, Fahar Faizaan, Andrew David Hopkins
Cinematography: Gian Filippo Corticelli
Production designer: Laurence Bennett
Editor: Jo Francis
Music: Dario Marianelli
Main cast: Liam Neeson, Mila Kunis, Adrien Brody, Olivia Wilde, James Franco, Moran Atias, Vinicio Marchioni, Maria Bello, Kim Basinger