Dir: Shawn Levy. US. 2014. 104mins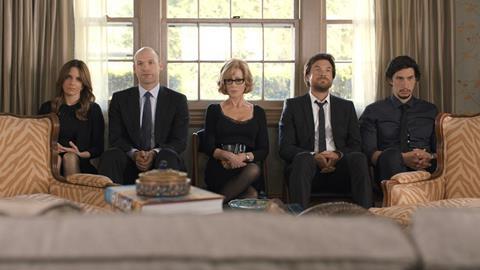 There are enough mildly raunchy moments to string together into a fun trailer, but for the most part This is Where I Leave You is a bland dramatic comedy that makes limited use of the combined talents of Jason Bateman, Tina Fey and Jane Fonda. With less mainstream commercial potential than director Shawn Levy's previous outings, this big screen take on Jonathan Tropper's bestselling 2009 novel risks being too edgy for some audiences and too safe for others.
In a part that recalls his role in cult sitcom Arrested Development, Bateman is likable in a hangdog sort of way.
After a premiere at the Toronto festival, worldwide distributor Warner will need to leverage the strong cast when it opens the film in the US - with an R rating - on Sept 19 (a fortnight after the limited release of Bateman comedy The Longest Week). Given Bateman and Fey's domestically skewed track records, the cast probably won't have as much pulling power when the film rolls out internationally through the autumn.
Tropper (who besides his six novels is also a co-creator of cable series Banshee) adapted the book himself and his script takes Levy, best known for broad family comedies like Night At The Museum and its sequels, into somewhat new territory.
The central character is Judd Altman (Bateman, last seen in his directing debut Bad Words), a nice-guy radio producer struggling to cope with his wife's recent infidelity. When his father dies, Judd and his three siblings – played by Fey (from Levy's Date Night), Adam Driver (Frances Ha) and Corey Stoll (House of Cards) - are summoned home by their uninhibited psychologist mother (Fonda) to sit shiva.
Over the seven-day Jewish mourning period, the Altmans, together with various spouses, lovers and kids, confront old animosities and attempt to get back on track, with each other and with their messy pre-middle age lives.
The snappy feel of the novel is preserved in the occasional sex talk and some amusingly snarky banter. But those elements are outweighed by the film's tendency to quickly move past any real conflict between characters and wrap up each scene with a conciliatory moment. Eventually, the proceedings start to feel like a round-robin of wistful encounters in which one character reminds another that life-is-complicated-but-everything's-going-to-be-OK-in-the-end.
In a part that recalls his role in cult sitcom Arrested Development, Bateman is likable in a hangdog sort of way. Fey, though, never seems to get comfortable in what is, for her, a relatively straight role. And the rest of the cast sometimes feels as if it is being pushed into a performance style more suited to Levy's broader comedies.
Production companies: Spring Creek Productions, 21 Laps
International distribution: Warner Bros Pictures
Producers: Paula Weinstein, Shawn Levy, Jeffrey Levine
Executive producers: Mary McLaglen, Jonathan Tropper
Screenplay: Jonathan Tropper
Cinematography: Terry Stacey
Production designer: Ford Wheeler
Editor: Dean Zimmerman
Music: Michael Giacchino
Website: thisiswhereileaveyou.com
Main cast: Jason Bateman, Tina Fey, Jane Fonda, Adam Driver, Rose Byrne, Corey Stoll, Kathryn Hahn