Dir/scr: Alain Gomis. France-Senegal. 2011. 89mins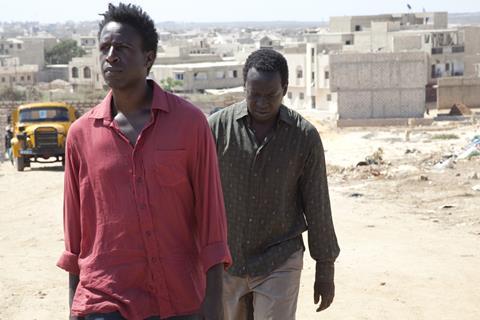 An exotic, arresting flight of fancy from Alain Gomis, Today (Aujhourdh'ui, or Tey as it is also titled) is a Senegalese chronicle of a death foretold, a singular pursuit of a conceit that can alternately prove engrossing and alienating for the viewer, but is never less than visually absorbing.
The breeze of age-old rhythms dominate.
This story of the last day of a man's life plays out in a vibrant city - presumably Dakar - where an otherwise healthy Satche (the American poet-musician Saul Williams, who wrote and starred in Slam) prepares to join the spirit world that evening.
Although clearly signposted with a "once upon a time" introduction, this magical conceit may prove too elliptical for the wider marketplace although it will undoubtedly stroke a chord in the arthouse, particularly in co-production territory France, and wider festival exposure seems very likely. French-Senegalese Gomis' third feature, after L'afrance and Andalucia, is a unique prospect in a crowded marketplace.
Largely silent - he doesn't utter a word for the film's first 25 minutes - Satche is introduced as the "perfect son" amidst a chorus of familial grieving for what is about to take place that night, although there are murmurs of a silent rage within him. Waking up in his parents' house, he seems bewildered and overwhelmed and we are informed that he returned from America a year ago, where he had been a student.
With French and Senegalese spoken throughout, Williams takes a great deal of Today's weight on his eloquent face, weaving through Dakar on an elliptical trip through his life, from the lively market streets to his exuberant gang of male friends, a verbal tango with former flame Nella (Maiga) and on to a shanty town and Uncle Thierno (Jean Mendy), a father of 18 who lays out the dead and takes the initiative in the film's most haunting sequence.
Life and death roam side by side in this city, with the carnival-like atmosphere of an early market sequence giving way to a haunted Town Hall and a barely-suppressed rage on the streets before Satche seeks his ultimate peace.
This meditation on a life turns the immigrant saga around, looking at a man who has returned and often seems to be in his life, but not of it. His friends constantly question why he has come back, and he himself provides no answers - although the film itself clearly does. But the breeze of age-old rhythms dominate, aided by fine acting from Williams, markedly sensitive lensing (Christelle Fournier), and the elaborate construction of a whole, vaguely otherly-world dominated by colours and half-ruined, half-constructed landscapes.
The magical realism elements of Today, combined with a suppressed sense of joy in Satche, make the film's eloquent final scenes all the more rich and vindicate Alain Gomis' unwavering pursuit of his theme, even if it can prove tricky for the viewer to keep the faith along the way.
Production companies: Granit Films, Maia Cinema, Cinekap, Agora Films
International sales: Wide Management, wide@widemanagement.com
Producers: Eric Idriss-Kanago, Gilles Sandoz
Co-producer: Alain Guesnier
Executive producer: Oumar Sall
Cinematography: Christelle Fournier
Editor: Fabrice Rouaud
Music: Dyolof Mbengue
Main cast: Saul Williams, Djolof M'Bengue, Anisia Uzeyman, Alissa Maiga, Mariko Arame, Alexandre Gomis, Anette Derneville Ka, Helene Gomis