Omnibus project Asian Three-Fold Mirror 2016: Reflections forms part of Japan's drive to build links with Southeast Asia.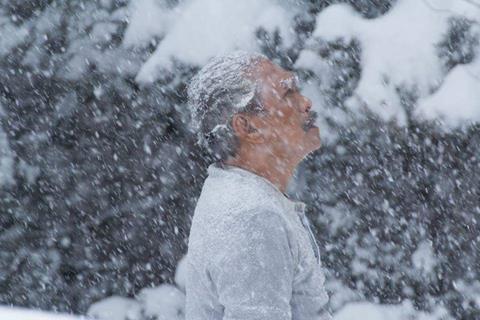 Produced by Tokyo International Film Festival (TIFF) and the Japan Foundation, Asian Three-Fold Mirror 2016: Reflections is an omnibus film with segments directed by the Philippines' Brillante Mendoza, Japan's Isao Yukisada and Cambodia's Sotho Kulikar.
The film, which premiered at TIFF last week, involves characters living in Asia who have some kind of connection to another country within the region. Mendoza's segment, Shiniuma: Dead Horse, filmed in both Japan and the Philippines, stars veteran actor Lou Veloso as an illegal immigrant in Japan who is deported back to the Philippines and forced to make a new life.
Filmed in Penang, Malaysia, Yukisada's film, Pigeon, revolves around the bond between a Malaysian careworker (Sharifah Amani) and an elderly Japanese man suffering from dementia (Masahiko Tsugawa). Kulikar's segment, Beyond The Bridge, filmed in Cambodia and starring Japan's Masaya Kato, is a romance spanning three time periods.
While several film festivals have recently forayed into omnibus filmmaking, this project also has a strategic purpose in that it is the first step in an attempt to encourage Japanese filmmakers to collaborate with their counterparts in the rest of Asia. Japan rarely co-produces with its Asian neighbours, but the rise of China's film industry and South Korea's excursions into both China and Southeast Asia have made bureaucrats nervous.
"Japan is still a large market, so filmmakers are satisfied with their activities in their domestic market, but our population is decreasing, so the market and skills base will also start to decline," said Kazumi Inami, director of the Arts, Culture and Exchange Section of Japan's Foundation's Asia Centre.
"We believe Japanese directors and other artists need to work with other countries in the near future. It's a different situation in Korea where they've already understood that their domestic market is relatively small so they have been looking for a market outside Korea."
Indeed, Korean conglomerates including CJ Entertainment and Lotte are already deeply involved in building out infrastructure in Southeast Asia, operating cinemas and investing in local-language productions. Japanese film studios don't appear to have the same global ambitions, which is why Japan's soft power push has so far been solely a government initiative. Established two years ago, Japan's Foundation's Asia Centre aims to increase collaboration between Japan and Southeast Asia through film festivals, other cultural events and now the omnibus film.
The government body currently organises Japanese film festivals in almost every Southeast Asian nation – but Inami stresses that this is a two-way cultural exchange. Japan Foundation also presents the Crosscut Asia section at TIFF, which this year focused on Indonesia, co-organises the Asia-themed Fukuoka International Film Festival and provides financial assistance to the Osaka Asian Film Festival. "Currently, there are not many opportunities to watch Southeast Asian films in Japan, except in film festivals," Inami says.
For the omnibus project, Inami says it wasn't just a case of expecting Southeast Asia to adapt to Japan's filmmaking methods, but of getting Japanese directors and crews to learn a different filmmaking style. In each case, the directors worked with producers they were already familiar with, along with a mixed nationality crew, while general producer Takeo Hisamatsu oversaw the project for Japan Foundation.
During the launch of the film at TIFF, the three directors talked about the differences between Japan's precisely detailed filmmaking processes and the more relaxed style of Southeast Asian film industries. Yukisada said that when problems arise during shooting in Japan, the crew will usually pause and reschedule, but the Malaysian crew he worked with would just push through: "They came up with a solution for everything and even if it wasn't perfect they are flexible."
He continued: "We put a lot of pressure on our crews in Japan. But in Malaysia, there was so much teamwork. It was much more relaxed and I think this kind of atmosphere was reflected in the film."
Malaysian filmmaker Edmund Yeo, who produced Pigeon with Shunsuke Koga and Woo Ming Jin, said: "I've worked in Japan before so knew what to expect. There are some cultural differences. But with the Japanese crew, we learned how to have more control."
Meanwhile, the Japanese crews were impressed by Mendoza, who was filming outside the Philippines for the first time. His shoot was hit by heavy snowfalls in the Hokkaido region of Japan, but instead of being thrown off schedule by the resulting flight cancellations, he decided to adjust the story and incorporate the snow in his film.
Inami said: "Before when Japanese teams went abroad to shoot they would travel with a very large delegation, which makes shooting expensive, but that is starting to change now."
As Asian Three-Fold Mirror was fully financed by public money, there are no immediate plans to start selling it internationally, but Inami says the film will now be screened at other film festivals around Asia.
TIFF and Japan Foundation plan to make the initiative an annual project, at least up until the 2020 Olympics in Tokyo, and are currently selecting the second round of directors. "Collaboration films are not easy which is why we decided to start with an omnibus film," explained Inami. "We hope by taking this step, collaboration or even co-productions between Japan and the rest of Asia become much more common."