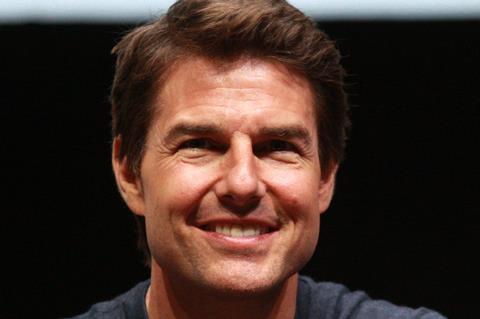 Tom Cruise capped off the Paramount Pictures CinemaCon presentation on Wednesday evening (April 25) with a walk-though of an extraordinary high-altitude sky-dive sequence from summer tentpole Mission: Impossible – Fallout.
Cruise and writer-director Chris McQuarrie described how they put together a HALO (high altitude low open) sky-dive stunt involving Henry Cavill in the action release due out on July 27.
McQuarrie said the pair got to work roughly one year ago on an 'animatic' pre-vis of a sequence where Ethan Hunt in an oxygen mask jumps from a military plane during a lightning storm over Paris and rescues CIA agent August Walker CIA played by Cavill.
"We discuss what is physically possible without killing Tom," McQuarrie said of the passage in the film in which Cruise, as is his custom, performed his own stunts.
The A-list star, who later on Wednesday night would collect the Will Rogers Motion Picture Pioneers Foundation's 2018 Pioneer of the Year Award, told CinemaCon attendees at the Colosseum in Caesars Palace that the sequence took 106 takes before they settled on three, which are stitched together for the final version.
The demand of the script meant they had to shoot in fading light, which meant Cruise had to position himself in mid-air within three feet of the cameraman for a close-up. The latter wore a customised rig on his head and jumped backwards out of the craft before Cruise took the plunge as the craft flew at 200mph.
The Royal Air Force tested the rig in a hyperbaric chamber at high altitude. The production constructed the world's largest wind tunnel for the sequence, and installed it outside Warner Bros Studios, Leavesden, in the UK.
Fellow cast members Simon Pegg, Angela Bassett, and Cavill joined the pair after they walked attendees through the months-long preparation required to bring the scene to life.
"It's a daily stress going to work with Tom," Pegg said, "because you don't know if you're going to see him tomorrow." The Mission: Impossible franchise has grossed close to $3bn at the global box office.