Dir/scr: Chris Rock. US. 2014. 101mins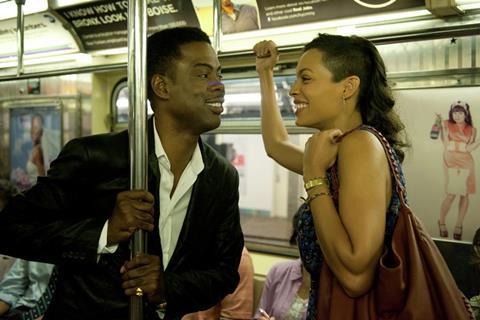 Chris Rock is at his rude, ribald and raucous best in the laugh-out-loud Top Five, a deliriously funny film that looks destined to be a box office hit. Written, directed and starting Rock, the film mines similar territory to Woody Allen at his younger best – sex, comedy, paranoia, insecurity and more sex – but with a much rawer and uncensored edge.
Fresh, accessible, delightfully performed and downright hilarious.
Playing a successful comedian and movie star who is trying to prove to the world that there is more to him than the laughs, Rock naturally treads a fine line between performance and real life, and while the film's structure is pretty straightforward the film very much reflects Rock's personality – smart, savvy, insightful, rude and constantly on the move. Brimming with cameo performances and wonderfully explicit gags it could have the ability to really break out, and certainly shows that after his debut as documentary filmmaker (with Good Hair) he more than has the ability to succeed as a feature director.
The film follows a day in the life of New York stand-up comedian turned movie star Andre Allen (Rock) as he heads into a vital period. A recovering alcoholic, he is a big star thanks a series of comedy-action film series (he played a machine-gun toting bear in three hit films), but has recently put all of his efforts into Uprize, the dramatic story of a hero of the Haitian revolution. He is due to spend the day in New York promoting the film, and is set to marry fiancé Erica Long (Gabrielle Union), the star of her own reality TV show, the following day
His agent forces him to be interviewed by journalist Chelsea Brown (the always wonderful Rosario Dawson) for a New York Time profile piece – he hates the idea because his work has been constantly savaged by the paper's writer James Neilson – and the two spend the time wandering through New York as he does press interviews, chatting about his life, comedy, alcoholism, his roots (cue a to trip to meet his family and friends) and his upcoming marriage.
The bickering and sparring between Dawson and Rock is the spine of the film as they both gradually reveal the truths of themselves and Rock gets the chance to muse over what it is to be a comedian and the pressures to perform.
There are some wonderful – and often hilariously cringe-worthy – comedy moments to relish, though perhaps best (and most revealing of all) is at his bachelor party where he sits down with Jerry Seinfeld, Whoopi Goldberg and Adam Sandler to discuss life, marriage and comedy. Naturally romance is in the air and the film follows a pretty predictable arc, but that doesn't make it less fresh, accessible, delightfully performed and downright hilarious.
Production company: IACF
International sales: FilmNation, www.filmnation.com
Producer: Scott Rudin, Eli Bush
Executive producer: Tony Hernandez, Lila Yacoub
Co-producers: Shawn 'Jay Z' Carter, Kanye West
Cinematography: Manuel Alberto Claro
Editor: Anne McCabe
Production designer: Richard Hoover
Music: Ahmir "Questlove" Thompson, Ludwig Goransson
Main cast: Chris Rock, Rosario Dawson, Gabrielle Union, Kevin Hart, Tracy Morgan, Cedric the Entertainer, JB Smoove, Sherri Shepherd, Anders Holm, Romany Malco, Leslie Jones, Michael Che, Jay Pharoah