With gender identity making headlines around the globe, Alexandra-Therese Keining's Girls Lost (Pojkarna) couldn't be more timely.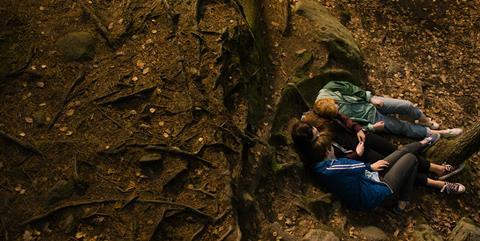 Keining's second feature (after 2011 festival hit Kiss Me) is based on Jessica Schiefauer's prize-winning young adult novel, which has been banned in several schools in Sweden.
The story is about three 14-year-old girls who are best friends, facing everyday bullying at school. They discover a magical plant's nectar that transforms them into boys by night. But this complicates their daytime relationships as identities and attractions become blurred.
The Swedish-language film is part drama, part fantasy, part thriller and part coming-of-age story.
"I read the novel and I was fascinated by it," Keining says. "I'd never worked with special effects before. I had a vision of how I wanted to do it."
It was more than the fantasy that drew her to the story. "It's an interesting time to talk about gender. Changing back and forth is a metaphor, and they are also becoming grownups," she says. "Gender becomes fluid, it's something you can change and manipulate."
In the casting feat of the year, she found newcomers (three females and three males) who are compelling in each individual performance but also happen to remarkably reference their male or female counterpart.
"We did a lot of scouting at different schools, we had 500 or 600 auditions," she explains. "I wasn't looking for twins, it was a voice or a mannerism that gave a hint that this might be the same person. So that they melted together in a way."
"Since the kids had never acted before, it was fascinating to see how fast they learned," she continues. They did some workshops during pre-production and also some mirroring sessions. There were a lot of challenges for them, so it helped there was a great camaraderie."
Girls Lost plays in Contemporary World Cinema staring Sept 12; The Swedish Film Institute backs the film and The Yellow Affair handles sales. Helena Wirenhed, Olle Wirenhed and Christer Nilson produce for GötaFilm and Periferia. Girls Lost will be released in Sweden in February by Folkets Bio in cooperation with SF.
Even for films about teenagers, the writer/director doesn't want to pigeonhole the audience. "Young people today are pretty sophisticated. Even grown ups will find a theme to relate to."
Up next, she's sticking with 14-year-old protagonists. She wrote a novel last year entitled 14 that she will adapt for the screen and direct "It's kind of like Magnolia or Short Cuts. It's five kids' lives interweaving."