The full line-up of world premieres in the TIFF Docs programme, with details on each title including sales contacts.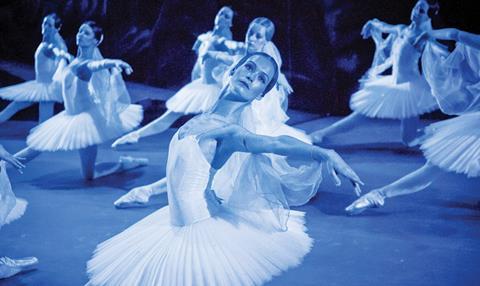 Being AP (UK-Ire)
Dir Anthony Wonke
Bafta winner and Emmy nominee Wonke (Children On The Front Line) offers an intimate portrait of legendary jockey AP McCoy, a 19-time champion jump jockey. The Northern Irish jockey, aged 40 when the film was shot during his final season, has had a 25-year racing career including 4,300 wins, 700 falls and 40 broken bones. Backers include BBC Films, the Irish Film Board and Northern Ireland Screen. eOne has already acquired UK and Irish rights.
Contact: Roads Entertainment, alan.maher@roads.co
Bolshoi Babylon (UK)
Dir Nick Read
Moscow's famed, 200-year-old Bolshoi Ballet has been making headlines for all the wrong reasons in recent years, after the 2013 acid attack on artistic director Sergei Filin. At such a turbulent time in the company's history, Read's crew has been granted backstage access for the first time, with his doc promising to combine "epic themes with intimate portraits". Oscar winner Simon Chinn (Searching For Sugar Man) executive produces, while Mark Franchetti (Terror In Moscow) produces. HBO will air in the US in December; Altitude will release in the UK and is handling international sales.
Contact: Altitude Films, info@altitudefilment.com
Guantanamo's Child: Omar Khadr (Can)
Dirs Patrick Reed, Michelle Shephard
Reed and Shephard allow the eponymous Canadian citizen, who served a decade in US captivity after his arrest in Afghanistan, to tell his own story. It is a tale the film-makers find deeply fascinating: they also made a TV documentary about Khadr this year with the Canadian Broadcasting Corporation and White Pine Pictures. Reed's Rwandan genocide documentary Fight Like Soldiers Die Like Children played at TIFF in 2012.
Contact: Films Transit International, janrofekamp@filmstransit.com
Horizon (Ice-Den)
Dirs Bergur Bernburg, Fridrik Thor Fridriksson
Icelandic master Fridriksson's newest documentary is about the late painter Georg Gudni Hauksson, whose innovative interpretations of forms paved the way for a renaissance in Icelandic landscape painting. Fridriksson is the godfather of Icelandic cinema, and is the country's only Oscar nominee, for Children Of Nature in 1991; he was last at TIFF in 2010 with Mama Gogo. Co-director Bernburg also served as Horizon's cinematographer and editor.
Contact: Icelandic Film Centre, info@icelandicfilmcentre.is
It All Started At The End (Col)
Dir Luis Ospina
Colombian film-maker Ospina recounts the history of el Grupo de Cali, the artistic collective that revolutionised Colombian film and literature in the 1970s and '80s, of which Ospina himself was a founder member. Another founder, the writer Andres Caicedo, committed suicide when he was 25, so while the trailer for Ospina's 208-minute documentary heralds sex, drugs and cinema, we might also expect tears.
Contact: Luis Ospina, luisospina.cine@gmail.com
Je Suis Charlie (Fr)
Dirs Emmanuel Leconte, Daniel Leconte
Father-and-son directing team Daniel and Emmanuel Leconte pay tribute to the 11 journalists of the French satirical magazine Charlie Hebdo who were murdered in the January 2015 attack by radical Islamic extremists.
Contact: Pyramide International, sales@pyramidefilms.com
A Journey Of A Thousand Miles: Peacekeepers (US-Pak)
Dirs Geeta Gandbhir, Sharmeen Obaid-Chinoy
Following the story of three Bangladeshi policewomen who served with the UN peacekeeping mission to Haiti in the aftermath of the 2010 earthquake, this documentary is co-directed by Pakistani journalist/film-maker Obaid-Chinoy, who won the 2012 Oscar for best documentary for Saving Face, and New York-based Gandbhir, who edited Oscar short documentary nominee God Is The Bigger Elvis in 2012.
Contact: Submarine Entertainment, info@submarine.com
Miss Sharon Jones! (US)
Dir Barbara Kopple
Kopple has won Oscars for her socially conscious documentaries Harlan County USA and American Dream, but her latest follows in the footsteps of her artist portraits Wild Man Blues (Woody Allen) and Shut Up & Sing (Dixie Chicks). Miss Sharon Jones! chronicles a year in the life of the titular soul singer, whose new album and tour had to be put on hold after she was diagnosed with cancer.
Contact: Submarine Entertainment, info@submarine.com
The Music Of Strangers: Yo-Yo Ma And The Silk Road Ensemble (US)
Dir Morgan Neville
Oscar winning film-maker Neville is at TIFF with this documentary about a group of musicians from around the world known as The Silk Road Ensemble, brought together by renowned cellist YoYo Ma. Neville won the Oscar for best documentary in 2014 with 20 Feet From Stardom; his Netflix documentary Keith Richards: Under The Influence will also feature in TIFF's inaugural Primetime section.
Contact: Submarine Entertainment, info@submarine.com
Ninth Floor (Can)
Dir Mina Shum
Hong Kong-born, Vancouver-raised director Shum returns to Toronto with her documentary debut. She previously won Special Jury citations at TIFF for her 1993 short Me, Mom And Mona and 1994 feature Double Happiness. Produced by the National Film Board of Canada, which also has Canadian and US rights, Ninth Floor examines the February 1969 riot at Sir George Williams University in Montreal, when a protest against institutional racism led to a two-week student occupation.
Contact: National Film Board of Canada www.nfb.ca
Our Last Tango (Ger-Arg)
Dir German Kral
Argentina-born, Germany-trained documentary maker Kral returns to his birthplace to chart the seven-decade career and tumultuous romance of Argentinian tango legends Juan Carlos Copes and Maria Nieves. Kral has worked for Wim Wenders and appears to share some of the master's ingenuity for documentary narrative; here, a group of young tango dancers transform moments from Copes and Nieves' recollections into newly choreographed tango.
Contact: Wide House, ma@widemanagement.com
P.S. Jerusalem (Can-Isr)
Dir Danae Elon
Elon's third feature charts her own life-changing move back to Jerusalem from New York after the death of her father and the impact it has on her relationship with her three sons, her partner and the city of Jerusalem itself. Elon's 2004 debut feature Another Road Home premiered at Tribeca, while her second film Partly Private won the best New York documentary at Tribeca in 2009.
Contact: Film Option International, email@filmoption.com
The Reflektor Tapes (UK)
Dir Kahlil Joseph
Joseph, a Los Angeles-based music-video veteran who has worked with Kendrick Lamar and FKA Twigs and who won a Special Jury prize at Sundance in 2013 with short Until The Quiet Comes, makes his feature debut with this artistic documentary about the Canadian indie-rock band Arcade Fire. The film, which follows the making of the Montreal ensemble's 2013 album 'Reflektor' and the band's subsequent tour, aims to transport the audience into a kaleidoscopic sonic and visual landscape. Pulse Films (20,000 Days On Earth, The Possibilities Are Endless) produces.
Contact: Arts Alliance, sales@artsalliance.com
Return Of The Atom (Fin-Ger)
Dirs Mika Taanila, Jussi Eerola
Award-winning Finnish film-maker Taanila (Optical Sound, Six Day Run) teams with DoP-turned-director Eerola, who also acts as DoP here, for what TIFF describes as an "incisive and savagely funny" documentary. The Finland-Germany co-production looks at the disastrous chain of events on a remote Finnish island after it was selected as the site of the first western nuclear power plant to be built after the Chernobyl disaster.
Contact: Deckert Distribution, info@deckert-distribution.com
This Changes Everything (Can-US)
Dir Avi Lewis
Screenwriter Naomi Klein's impassioned call to arms over global warming hits the big screen (in conjunction with a bestselling book of the same name) as she reunites with husband Lewis, who served as an associate producer on a short-film adaptation of Klein's The Shock Doctrine. Lewis is no stranger to the autumn festival season: his documentary The Take screened in Venice in 2004. Abramorama is on board as US distributor.
Contact: Film Buff, www.filmbuff.com
Welcome To F.L. (Can)
Dir Genevieve Dulude-De Celles
Dulude-De Celles, a Masters of Film graduate from the University of Quebec in Montreal, makes her feature debut with Welcome To F.L., about a class of high-school students who contemplate their futures. Canadian distributor 3.14 *Collectif is handling international sales.
International contact: 3.14 *Collectif, info@314collectif.com
US contact: Colonelle Films, info@colonellefilms.com