Programmers at the Toronto International Film Festival (TIFF) announced that Isabelle Huppert, Kunle Afolayan and Genevieve Nnaji and Mark Wahlberg will be among the eight participants in the In Conversation With… series.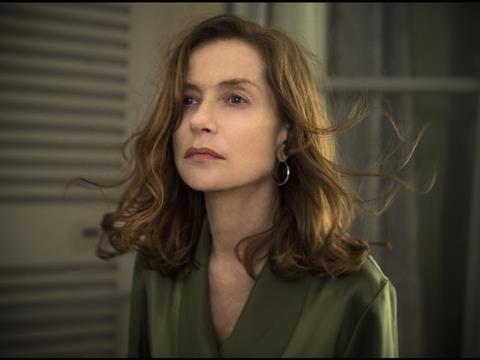 Moonlight, festival closing night screening The Edge Of Seventeen, Noces and Handsome Devil take their place in the youth-oriented Next Wave strand, while Discovery selections include The Empty Box, GODLESS, Hunting Flies and The Red Turtle.
A five-strong roster of virtual reality work brings new work from Canadian superstars Felix & Paul as well as Memesys Culture Lab in India.
Overall 397 films will play at the festival from September 8-18, comprising 296 features and 101 shorts, compared to 287 and 110 last year.
Festival organisers received 6,933 submissions (6,118 in 2015), of which 1,240 came from Canada (1,225) and the 5,693 balance from the rest of the world (4,893).
FESTIVAL STREET
For the third consecutive year, King Street will close to traffic between Peter and University Streets over opening weekend from September 8-11.
"Festival Street brings great value to the City, to Torontonians, international visitors, and local businesses," said TIFF artistic director Cameron Bailey.
"Last year, Festival Street drew a remarkable 100,000 visitors in just four days. The Entertainment District is the City's centre for nightlife, dining, live entertainment, and film, and Festival Street enhances this experience with dynamic, free programming for everyone."
The Slaight Music Stage returns to John Street with performances from up-and-coming musical talent and free film screenings on John Street south of King Street.
TIFF celebrates the 30th anniversary of Labyrinth and Ferris Bueller's Day Off. Costumes are encouraged, with prizes to be won.
Food attractions include Food Truck or tables on the extended patios along Restaurant Row.
In 2015 increased pedestrian traffic around Festival venues and along Festival Street was a driving force behind a significant increase in visitor spending in the Entertainment District. A 30% week-over-week increase in transactions was recorded at restaurants in the Entertainment District.
Previously announced Festival Street programming includes the Hidden Figures live concert with Pharrell Williams and friends for select TIFF members.

Full details of the closure, and impact on local services, will be announced on August 29.
IN CONVERSATION WITH…
"Our In Conversation With… events provide festival-goers the rare opportunity to engage with cinematic luminaries from around the world," said Theresa Scandiffio, director of adult learning and programmer of the In Conversation With… series at TIFF.
"This year's diverse and global slate of high-profile guests include art-house legends, Hollywood stars and industry heavyweights, who are sure to resonate with and captivate all film lovers.

"These intimate conversations bring together prestigious actors and filmmakers to share inspiring stories and candid anecdotes that reveal unexpected moments throughout their illustrious careers."
In Conversation With… Hiam Abbass
The Palestinian film-maker and actor in Satin Rouge, The Syrian Bride and Paradise Now discusses her work.
In Conversation With… Kunle Afolayan and Genevieve Nnaji
A session with Nigerian director Afolayan and superstar Nnaji.
In Conversation With… Sônia Braga
The Brazilian-born star of Aquarius, best known for her tripartite performance in Kiss Of The Spider Woman, loks back on career highlights as well as her latest film.
In Conversation With… Isabelle Huppert
The French icon is back with another critically acclaimed performance in Elle (pictured).
In Conversation With… Karan Johar
The Bollywood director, producer, screenwriter, actor, costume designer, television icon and guiding force at Dharma Productions talks entertainment.
In Conversation With… Mark Wahlberg
The Hollywood A-lister talks about his work and his latest role in TIFF world premiere Deepwater Horizon.
In Conversation With… Zhang Ziyi
The Chinese superstar reflects on achieving success in her native China and the global market.
NEXT WAVE
Ten films screen in the youth-driven programme, now in its seventh year, picked by a committee of 12 students aged 15-18.
Divines (France-Qatar, Discovery) Houda Benyamina NAP
The Edge Of Seventeen (USA, Gala Presentations) Kelly Fremon Craig WP
Handsome Devil (Ireland, Contemporary World Cinema) John Butler WP
India In A Day (India-UK, TIFF Docs) Richie Mehta IP
Layla M. (Netherlands-Belgium-Germany-Jordan, Platform) Mijke de Jong WP
Moonlight (USA, Platform) Barry Jenkins IP
My Entire High School Sinking Into The Sea (USA, Vanguard) Dash Shaw WP
Noces (Belgium-France-Luxembourg-Pakistan, Discovery) Stephan Streker IP
The Wedding Ring (Zin'naariyâ!) (Niger-Burkina Faso-France, Contemporary World Cinema) Rahmatou Keïta WP
Window Horses (The Poetic Persian Epiphany Of Rosie Ming) (Canada, Special Presentations) Ann Marie Fleming NAP
POP VR
Five virtual reality projects celebrate the evolution of storytelling and will play consecutively, allowing viewers to experience all the projects in one sitting. POP VR will take place from September 16-18 between 9am and 9pm.
"We continue to celebrate the evolution and progression of moving image works at the Festival with POP VR," said Bailey. "We are thrilled to share this curated virtual reality experience with our audiences and explore together where the future of storytelling will take us."
Ch'aak' S'aagi (Eagle Bone) (USA) Tracy Rector IP
Invasion! (USA) Maureen Fan, Eric Darnell, Michael Hutchinson CP
Jafri (Australia) Michael Beets NAP
KÀ The Battle Within (Canada) Felix & Paul Studios/Cirque du Soleil Media WP
Right To Pray (India) Memesys Culture Lab WP
FIPRESCI JURIES
There are two international juries to honour outstanding works in select programmes.
FIPRESCI Jury
Steffen Moestrup (Denmark), jury president
Neta Alexander (Israel)
Michael Sicinski (USA)
Diego Faraone (Uruguay)
Jake Howell (Canada)
Louis-Paul Rioux (Canada).
NETPAC Jury
Jeannette Paulson Hereniko (USA), jury chairperson
Bina Paul (India)
Sabrina Baracetti (Italy).
TIFF KIDS PROGRAMME
"This year, the TIFF Kids programme is all about perseverance and acceptance, and strong female leads are very much at the heart of these stories," said Elizabeth Muskala, TIFF's director of youth learning and TIFF kids programmer.

"We encourage families to join us at the festival, as TIFF is committed to inspiring children and youth to explore the world through cinema, and using film to spark important conversations at home while growing the next generation of film lovers."
The Eagle Huntress (USA) Otto Bell CP
The Day My Father Became a Bush (Toen Mijn Vader Een Struik Werd) (Netherlands-Belgium-Croatia) Nicole van Kilsdonk WP
My Life As A Courgette (Ma Vie De Courgette) (Switzerland-France) Claude Barras NAP
Miss Impossible (Contente) (France) Emilie Deleuze NAP
TIFF DISCOVERY
"Toronto audiences first found Christopher Nolan, Lynne Ramsay and Steve McQueen in our Discovery section," said Bailey. "We can't wait to introduce a new generation of vibrant, original voices in cinema."
Blessed Benefit (Inshallah Estafadet) (Jordan-Germany-Netherlands) Mahmoud al Massad WP
Boys In The Trees (Australia) Nicholas Verso NAP
Divines (France-Qatar) Houda Benyamina NAP
The Empty Box (La Caja Vacía) (France-Mexico) Claudia Sainte-Luce WP
The Fury Of A Patient Man (Tarde Para La Ira) (Spain) Raúl Arévalo NAP
The Giant (Jätten) (Sweden-Denmark) Johannes Nyholm WP
GODLESS (Bezbog) (Bulgaria-Denmark-France) Ralitza Petrova NAP
Guilty Men (Pariente) (Colombia) Iván D. Gaona NAP
The Happiest Day In The Life Of Olli Mäki (Hymyilevä Mies) (Finland-Germany-Sweden) Juho Kuosmanen NAP
Heartstone (Hjartasteinn) (Iceland-Denmark) Guðmundur Arnar Guðmundsson NAP
Hunting Flies (Norway) Izer Aliu WP
In the Blood (I Blodet) (Denmark) Rasmus Heisterberg WP
In The Radiant City (USA) Rachel Lambert WP
Jeffrey (Dominican Republic-France) Yanillys Perez WP
Jesús (France-Chile-Germany-Greece-Colombia) Fernando Guzzoni IP
Joe Cinque's Consolation (Australia) Sotiris Dounoukos IP
Kati Kati (Kenya-Germany) Mbithi Masya WP
Katie Says Goodbye (USA) Wayne Roberts WP
Le Ciel Flamand (Flemish Heaven) (Belgium) Peter Monsaert WP
The Levelling (UK) Hope Dickson Leach WP
Little Wing (Tyttö Nimeltä Varpu) (Finland-Denmark) Selma Vilhunen WP
Mad World (Yat Nim Mou Ming) (Hong Kong) Wong Chun WP
Marija (Germany-Switzerland) Michael Koch NAP
Noces (Belgium-France-Luxembourg-Pakistan) Stephan Streker IP
Park (Greece-Poland) Sofia Exarchou WP
The Red Turtle (France-Belgium-Japan) Michael Dudok de Wit NAP
Sámi Blood (Sameblod) (Sweden-Denmark-Norway) Amanda Kernell NAP
Sand Storm (Sufat Chol) (Israel) Elite Zexer CP
Wùlu (France-Senegal) Daouda Coulibaly IP
Previously announced Canadian titles in the Discovery programme include Tony Elliott's ARQ, Kevan Funk's Hello Destroyer, Stella Meghie's Jean Of The Joneses, Johnny Ma's Old Stone, Vincent Biron's Prank, and Ashley McKenzie's Werewolf.
TIFF DOCS
Gringo: The Dangerous Life Of John McAfee (USA) Nanette Burstein WP
Off Frame AKA Revolution Until Victory (Kharej Al-Itar Aw Thawra Hata el Nasser)
(Palestine-France-Qatar) Mohanad Yaqubi WP
The Terry Kath Experience (USA) Michelle Sinclair WP
TIFF 2016 FACT SHEET
Overall 397 films will play, comprising 296 features and 101 shorts, compared to 287 and 110 last year.
There are 138 scheduled world premieres (131 in 2015), 31 international (26) and 97 North American (97). Twenty-nine Canadian features including co-productions receive world premieres (24).
Festival organisers received 6,933 submissions (6,118), of which 1,240 came from Canada (1,225) and the 5,693 balance from the rest of the world (4,893).
The festival will use 28 screens to show a total of 32,320 minutes of film, compared to 30,671 minutes in 2015 on the same number of screens.
The longest film will be The Woman Who Left at 227 minutes – however the longest screening will be the full series of Wasteland in Primetime, clocking in at 449 minutes.