Sony's reboot tops chart with $4.4m (£2.8m) debut; Universal's Ted becomes the distributor's second biggest release since 2007 in the UK.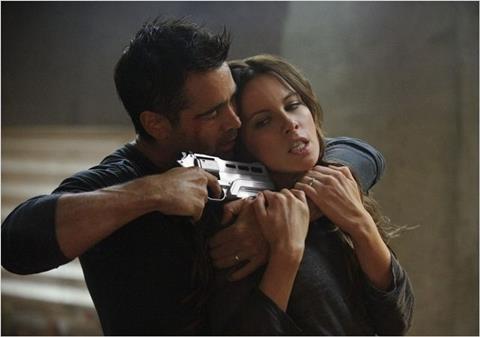 Preventing Brave from making it a hat-trick of number ones, Total Recall has debuted top of the UK box office with an estimated $4.4m (£2.8m), including previews, haul.
Sony's reboot marked director Len Wiseman's second-best opening in the UK, behind the $8.0m (£5.0m) taken by Die Hard 4.0, and it toppled the most recent Philip K. Dick adaptation The Adjustment Bureau's opening bow of $2.2m (£1.4m) from March last year. The result, however, failed to match the $7.2m (£4.5m) achieved by Minority Report in 2002, another Philip K. Dick adaptation that starred Colin Farrell.
Sci-fi competition this week comes in the form of Dredd 3D, albeit one aimed at an older audience compared to Total Recall.
The week's second highest entry belonged to The Watch. Fox's sci-fi comedy failed to ignite the UK box office, debuting with $3.5m (£2.2m) from its 435 sites in second.
While comfortably director Akiva Schaffer's best UK opening with Schaffer's only previous film Hot Rod opening on just 97 sites for $70,551 (£44,421), the result for The Watch does include four days of previews nationwide as it opened on Monday, alongside a regional opening last Friday as well.
Indeed, The Watch would have been third based on Fri-Sun performance, as Brave recorded a $2.5m (£1.6m) tally in its third weekend for $28.5m (£17.9m) to date. Disney/Pixar's latest even defeated Total Recall on Saturday and Sunday, with the sci-fi reboot coming out victorious on Friday. Interestingly, 69% of Brave's result came from 2D screens.
Ted continues to impress in the UK, as Universal's comedy notched an estimated $1.6m (£1m) to add to its almighty haul which now stands at $44.1m (£28.1m) after five weeks in play.
If that total holds up, it'll mark Ted's fifth straight £1m (or above) weekend in the UK, and will result in it becoming Universal's second biggest release in the UK since 2007, behind Mamma Mia. Historically, it's Universal's third best-ever performance in the territory, behind Mamma Mia and Notting Hill.
Lionsgate's The Possession spooked its way to a solid $1.5m (£975,000) debut from its 375 screens. The Sam Raimi-produced horror, which received its European premiere at last week's FrightFest, acheived a decent average of around $4,100 (£2,600) to go along with its above-average US opening of $18m.
Also for Lionsgate, Keith Lemon: The Film has taken $4.0m (£2.5m) after ten days in play, following a $590,000 (£371,000) weekend; The Expendables 2 stands at $8.8m (£5.5m) after three weeks.
Universal's The Bourne Legacy has amassed $15.7m (£10m) after a $1.2m (£742,000) third weekend.
Disney's A Few Best Men charted 11th after a $418,823 (£263,709) debut, resulting in director Stephan Elliott's second-best opening in the UK behind Easy Virtue's $541,735 (£341,099) bow in 2008.
Picturehouse/Revolver's critically acclaimed documentary The Imposter continued to build on its strong opening weekend with $337,810 (£212,680) second weekend after it expanded to 77 screens. It currently stands at $1.1m (£689,547) , with the £700,000 mark set to be hit this afternoon.
Fox's Diary Of A Wimpy Kid: Dog Days is now the highest grosser of the series in the UK with a $11.1m (£7.0m) tally to date.
Among the batch of FrightFest titles - as well as The Possession - released this week following the 13th edition, StudioCanal's Cockneys Vs. Zombies took $13,008 (£8,189) from its ten sites, while Artificial Eye's Berberian Sound Studio took $72,752 (£45,785) from its 23 screens, including previews.
This week sees saturation releases for Universal's Anna Karenina, Entertainment's Dredd 3D, Momentum's Lawless and Sony's That's My Boy. Metrodome's St. George's Day receives a wide release, while Vertigo's A Night In The Woods and New Wave's Tabu are among the films receiving a limited release.