Dir.Michael Bay. US. 2009. 149mins.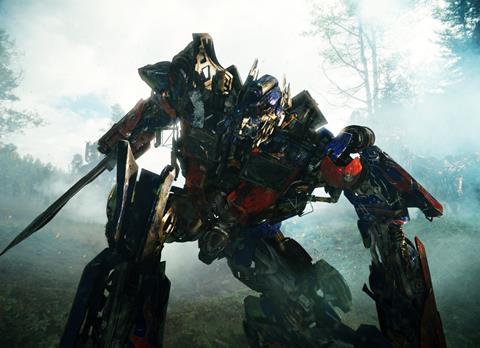 Michael Bay takes care of his core market in Transformers: Revenge of the Fallen, a sprawling, frenetic, blasting, bloated tentpole release which should match the 2007 original's $700m-plus worldwide gross, even if it doesn't expand the audience for Bay's giant Hasbro spin-off any further.
Unsurprisingly skewing male, Bay's sequel was always going to lack the surprise element of seeing the metal warriors sized up for the big screen, and, at 149 minutes, it drags. But Transformers: Revenge Of the Fallen has been surgically put together as a magnet for all its potential demographics by action maestro Bay, and there's a certain sense of fun here which is sadly lacking in other summer blockbuster fare. 2009's version of a Boys' Own adventure film – how times have changed - this Transformers is furiously in-your-face, and an ancillary-fest is sure to follow: TV, video, toys, cereal, clothing, you name it, the machines will be on it. And while it can be off-puttingly difficult to distinguish which giant piece of metal is crashing into the other, it probably doesn't matter – Transformers is the type of film you buy into or you don't, and knowing your Prowl from your Jazz won't make too much of a difference.
Despite its lengthy running time, Revenge doesn't truck too much with set-up - a relief, really, as the plot manages to be both perfunctory and insanely convoluted at the same time. Bay starts out with a prologue set in Shanghai, where classified strike team Nest, led by Captain Lennox, (Duhamel) is hunting down what is left of alien Decepticon (bad machine) foes with the aid of alien Autobot allies (good machines). The bad news, after China has been laid waste ("you guys made a mess of Shanghai!"), is that the Decepticons are on their way back.
Over in Bay's amusing take on suburbia, meanwhile, where all the girls look like they're on a rest break from a pole-dancing club, Sam (La Bouef) is off to college, leaving behind his girlfriend Michaela (Fox), who works at her ex-con father's grease shop, much of it lathered on her body.
Still guarded by Bumblebee, who lives in Dad's (Dunn) garage, Sam starts to see signs that the evil Megatron (Weaver) may be on the move again (it's complicated but rather fabulously involves a hot college girl who turns into a French-kissing machine: "She's an alien robot! You gotta move!").
Soon, Optimus Prime (Cullen) is also back in the fray, and everybody's off in search of a "source of Energon" which somehow the "Matrix of Leadership" can unlock, which all looks and sounds convincingly like a McGuffin.
With the basic plot established – despite the jargon, there's not a lot of it – Bay moves into frenetic-set-switching and lengthy battle sequences between giant pieces of metal. Editing is impressive. The locations are terrific: Megatron is fond of crouching on the Brooklyn Bridge or on top of New York's skyscrapers, not to mention Bay's packed itinerary which screechingly drags the viewer from Paris to Petra, the Pyramids at Luxor, Aquaba, the Nevada desert, and anywhere in between. Just as most films would be winding towards their end credits, Transformers: Revenge of the Fallen packs up for a multi-location adventure hunt and focuses on a new machine, The Fallen, at which point younger members of the audience might find themselves overwhelmed by the sheer length and noise of it all. The soundtrack, needless to say, is long on bass notes and suitably urban and metallic, hitting the viewer somewhere in the pit of the stomach.
Performance-wise, the machines do tend to upstage the humans. While Megan Fox now looks like she dropped off the cover of Loaded, Shia LaBoeuf is still a little short-changed in the charisma department and has yet to make a convincing case for leading male status. A rough teleporter ride explains away the bandage on his hand, incurred in a famous accident during shooting.
John Turturro returns amusingly for another run as Agent Simmons, although the rear shot of him in a posing pouch is definitely one the kids could live without.
Production companies
Paramount Pictures
Dreamworks Pictures
Hasbro
DiBonaventura Pictures
Producers
Don Murphy & Don DeSanto
Lorenzo di Bonaventura
Ian Bryce
Screenplay
Ehren Kruger
Roberto Orci
Alex Kurtzman
Based on Hasbro's Transformers action figures
Cinematography
Ben Seresin
Production designer
Nigel Phelps
Editor
Roger Barton
Paul Rubell
Joel Negron
Thomas Muldoon
Visual effects and animation
Industrial Light and Magic
Music
Steve Jablonsky
Featuring Linkin Park
Cast
Shia LaBeouf
Megan Fox
Josh Duhamel
Tyrese Gibson
John Turturro
Kevin Dunn
And the voices of
Hugo Weaving
Peter Cullen