Dir. Ben Stiller. US. 2008. 106 mins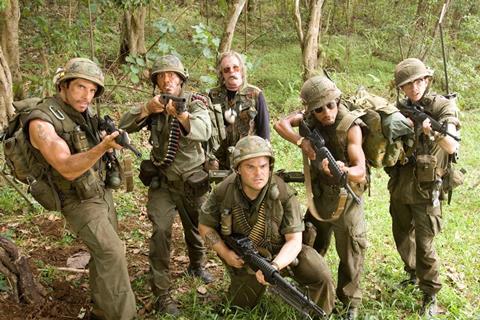 Ben Stiller, Jack Black and Robert Downey Jr head the Rat Pack-like cast of Tropic Thunder, a Hollywood spoof/action comedy that produces some real laughs but was probably more fun to make than it ultimately is to watch. Directed and co-written by Stiller, this DreamWorks production could capture a mid-size audience of young males in the competitive US theatrical marketplace and follow up with a strong video showing. International prospects will depend on the pulling power of the three leads.
The almost exclusively male supporting cast includes some notable names doing turns that help give the whole enterprise its winking, larky feel
Having touted it to fanboys at the recent Comic-Con International convention, worldwide distributor Paramount opens the R-rated romp in North America on August 13, opposite the new animated Star Wars: The Clone Wars movie. The real competition, however, will come from a late-summer rash of similarly targeted comedies, among them Step Brothers, Pineapple Express and The Rocker.
Openings in most major international markets come in September and October. Though this kind of satire sometimes struggles outside the US, the action element here and the recently heightened international profiles of the stars — especially the Iron Man-boosted Downey - could help Tropic Thunderperform above the average for its ilk.
Mock movie trailers and TV news reports introduce Stiller's Tugg Speedman, an action legend whose career is in trouble, Black's Jeff Portnoy, a gross-out comedy superstar with a drug problem, and Downey's Kirk Lazarus, an intense Australian method actor.
The three come together on the set of Tropic Thunder, a big-budget Vietnam war movie based on the experiences of battle scarred veteran John 'Four Leaf' Tayback (Nick Nolte in psycho mode) and directed by crazed Brit Damien Cockburn (UK comedy star Steve Coogan in a disappointingly brief role).
Trying to wring some gritty drama out of the pampered stars, Tayback and Cockburn strand the actors in a real Southeast Asian jungle. But when a drug-making guerilla army appears on the scene, the celebs are forced into action as real-life Rambos.
As if to maximise the concept's comic potential, the film plays out on several levels. While Tropic Thunder is officially described as an action comedy, that's really the least of its attributes. And while Stiller tries to stop it from becoming a simple genre spoof, it does parody war classics including Platoon, Apocalypse Now and Saving Private Ryan.
It's more successful, though, as an industry satire, poking fun at self-involved actors, grovelling agents, ranting moguls and even DVD format wars. The danger, of course, is that the in-jokes will be lost on audiences outside Los Angeles and other industry centres.
The script, written by Stiller with actor-director Justin Theroux (Dedication) and Etan Cohen (TV's King of the Hill), has its moments and its lines, but too often it's left to the performers to try to make something really funny out of material that is merely amusing.
Downey succeeds most often, thanks largely to the non-PC absurdity of his character, a blue-eyed blonde who has his skin surgically dyed to play jive-talking African-American sergeant Lincoln Osiris and then insists on staying in character no matter what the circumstances. Black pushes a bit too hard with the physical comedy while Stiller relies mostly on the kind of comic posturing that previously worked for him in fashion world spoof Zoolander and TV takeoff Starsky & Hutch.
The almost exclusively male supporting cast includes some notable names doing turns that help give the whole enterprise its winking, larky feel. Most notable is a barely recognisable Tom Cruise, who goes to town as the bald, profanity-spewing, hip-hop dancing producer of the film-within-a-film. Matthew McConaughey plays the stereotypical agent of Stiller's Tugg and Danny McBride (The Foot Fist Way, Pineapple Express) is the film-within-a-film's loony pyrotechnics guy.
Productions companies
DreamWorks Pictures
Red Hour Films
Worldwide distribution
Paramount Pictures
Producers
Stuart Cornfeld
Ben Stiller
Eric McLeod
Screenplay
Justin Theroux & Ben Stiller
Etan Cohen
Story
Ben Stiller & Justin Theroux
Dir of photography
John Toll
Production design
Jeff Mann
Main cast
Ben Stiller
Jack Black
Robert Downey Jr
Steve Coogan
Jay Baruchel
Danny McBride
Brandon T Jackson
Nick Nolte