Dir: Robert Lorenz. US. 2011. 111mins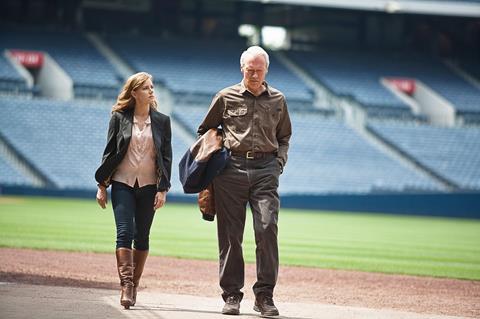 A movie about family and baseball that throws every pitch right down the middle, Trouble With The Curve is a gentle but rather obvious drama. The film marks the first time in almost 20 years that Clint Eastwood has starred in a movie that he didn't also direct, but despite some game performances — especially from Amy Adams — this Warner Bros. release eventually gets bogged down by its sentimental, predictable approach.
Of all sports movies, films about baseball most tend toward the nostalgic and sentimental, and so it's hardly shocking that Trouble With The Curve exudes these tendencies.
Opening September 21, Trouble With The Curve looks to appeal to adult audiences who will appreciate the film's themes of mortality and reconciliation. (Overseas, though, the movie's baseball-centric setting may prove less compelling.) Eastwood fans probably won't be deterred by the actor's off-key, adlibbed appearance last month at the Republican National Convention, and his younger co-stars Adams and Justin Timberlake could help court younger viewers. Ultimately, however, good reviews and strong word-of-mouth may be among this film's most potent assets.
Long-time baseball scout Gus (Eastwood) is a legend in his field, but his deteriorating eyesight is beginning to pose serious questions about his future. Concerned that he might be fired if his next scouting assignment isn't successful, his distant daughter Mickey (Adams), a workaholic lawyer, decides to go on the road with him, where she encounters a brash young scout (Timberlake) for another team who's interested in the same hot up-and-coming prospect.
Trouble With The Curve is directed by Robert Lorenz, who has served as an assistant director and producer on several of Eastwood's projects. Perhaps unsurprisingly, then, this heartfelt drama feels tonally reminiscent to Eastwood's films, emphasizing clearly defined characters and barebones storytelling. (Adding to the familiarity is that Lorenz has tapped veteran Eastwood cinematographer Tom Stern and editors Gary D. Roach and Joel Cox to lend their expertise.)
Those who responded to Eastwood's cantankerous turn as the grouchy retiree in Gran Torino will recognize in Gus a similarly crusty curmudgeon, although this new character isn't a caustic racist or a gun-toting avenging angel. Unfortunately, as written by Randy Brown, he isn't particularly memorable, either, which requires Eastwood to provide much of the grit and pathos to the clichéd role. (In essence, he's playing a variation on the over-the-hill athlete who wants one more shot at glory.) And while Eastwood is effective in the part, it's a performance perhaps a bit too dependent on our awareness of his oversized persona.
The film's other characters are equally one-note, each of them likeable but stuck following dramatic arcs that offer little room for genuine surprise. As Johnny, a former big league pitcher who had to find a new line of work after his arm gave out, Timberlake is all charming bluster, slowly and carefully trying to woo Mickey while at the same time learning to let past career frustrations go. Likewise, Adams exudes a sassy playfulness as Mickey, showing how this work-obsessed professional can at the same time be a baseball fanatic, even though her father clearly preferred the sport to raising her.
So much of Trouble With The Curve is stripped-down and faintly mawkish that Adams's grownup sizzle is much appreciated — her tomboyish spark in this film, which features several playful verbal volleys with Eastwood, is a fine counterpoint to her more controlled performance in the recent The Master.
Of all sports movies, films about baseball most tend toward the nostalgic and sentimental, and so it's hardly shocking that Trouble With The Curve exudes these tendencies, even going so far as to suggest that the old-fashioned legwork that dinosaurs like Gus do to find quality players is more valuable than the modern fascination with complicated statistical analysis that was championed in last year's Moneyball.
Unfortunately, the filmmakers oversell their argument by having their movie's chief proponent of the latter strategy (Matthew Lillard, in a thankless role) be an unrepentant, arrogant moron whose comeuppance is assured to happen in due time. Too much of Lorenz's film is this way, offering uncomplicated characters whose change of hearts can be safely predicted by the audience long before they happen on screen.
Production company: Malpaso
Domestic distribution: Warner Bros., www.warnerbros.com
Producers: Clint Eastwood, Robert Lorenz, Michele Weisler
Executive producer: Tim Moore
Screenplay: Randy Brown
Cinematography: Tom Stern
Production design: James J. Murakami
Editors: Gary D. Roach, Joel Cox
Music: Marco Beltrami
Website: http://troublewiththecurve.warnerbros.com/
Main cast: Clint Eastwood, Amy Adams, Justin Timberlake, John Goodman, Matthew Lillard, Robert Patrick, Joe Massingill