Dir/scr: Kevin Smith.US. 2014. 101mins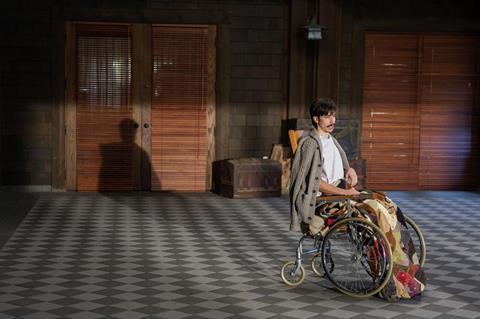 Pleasingly twisted and irreverent, Tusk succeeds as an exercise in WTF strangeness. Writer-director Kevin Smith aspires to make a horror-comedy with only the faintest whiff of emotional underpinnings, and the movie coasts along on its own delighted self-satisfaction, a nose-thumbing posture that its core audience will no doubt relish.
Tusk is meant for disposable funhouse horror, but it does flirt with soulfulness near the end.
Playing in Toronto's Midnight Madness section and opening in the US on September 17 through A24, Tusk will court Smith's loyal throngs, as well as general fans of just-plain-wrong cinema. With a cast led by Michael Parks and Justin Long, Tusk doesn't offer much star power, although that doesn't take into account an A-list powerhouse who has an important, unbilled supporting role in the film.
Probably the less one knows the better when it comes to Tusk's plot, but what can be said is that Long plays Wallace, who's part of a popular Los Angeles podcasting duo that spotlights (and mocks) ordinary people who embarrass themselves online. Wallace ventures to Canada to meet with his latest interview subject but is disappointed to learn that the young man has committed suicide.
Desperate for a replacement interview, Wallace tracks down a mysterious stranger named Howard Howe (Parks) who is confined to a wheelchair in his secluded home in the middle of the woods. But Howard has nefarious plans for Wallace that involve the older man's fascination with walruses and a special suit he's created for the podcaster to wear.
While Tusk will no doubt draw comparisons to other extreme cinema like The Human Centipede, Smith's film, which he also edited, is mostly a lark, its horror more comically outrageous than consistently shocking. (This is not to suggest that Tusk isn't horrifying or occasionally stomach-churning in parts, especially when the gruesome walrus suit is revealed.)
In truth, much of the movie's pleasure comes from the teasing build-up to its dark reveal. The first act is devoted to Wallace getting to know Howard, who shares stories about his incredible life, which include hanging out with Ernest Hemingway and befriending a sympathetic walrus who taught him about humanity's wickedness. Early on, though, we know that Howard's refined, gentlemanly charm is merely a ruse that hides sinister ulterior motives, and so we giddily anticipate just what will happen to Wallace.
From there, Tusk shifts from creeping, giggly dread to a more psychological brand of horror as Wallace's life hangs in the balance because of Howard's psychotic plan. And yet at the same time, Smith wilfully undercuts the suspense by having Wallace's podcasting partner and girlfriend (Haley Joel Osment and Genesis Rodriguez, respectively) try to track him down before this madman kills him.
Those sequences are played for satire as a loony Quebecois detective accompanies them. (The detective, by the way, is played by "Guy Lapointe," a pseudonym for the aforementioned A-lister. This review will not reveal the star's identity, but suffice it to say that he once again wears out his welcome with his familiar scene-chewing, chameleonic shtick.)
When Smith's career began with Clerks, he cornered the market on clever, filthy dialogue delivered by dorks and losers. Twenty years later, that same juvenile streak remains in his work, and Tusk flaunts its bratty attitude with characters who are smartasses and oddballs. (Beyond Parks's convincingly chilly performance, Howard is also so unsettling because he's the only character who doesn't seem beamed directly from Smith's perpetual-adolescent mind. He's a scary grownup in a sea of oversized kids.)
There is a character arc of sorts for Wallace, as the chronically immature young man has to learn that his snarky ridicule and flippant attitude are no match for a scheming lunatic. But Tusk never invests too much in such deep thinking: What Long's performance requires is a lot of terrified screaming, which he delivers with aplomb. And when Howard's plan gets rolling and Wallace goes through a horrendous transformation, the fear and vulnerability in Long's eyes become paramount. Tusk is meant for disposable funhouse horror, but it does flirt with soulfulness near the end.
MIDNIGHT MADNESS
Production company Demarest Films
US distribution: A24, www.a24films.com
International sales: XYZ Films, http://xyzfilms.com/
Producers: Shannon McIntosh, Sam Englebardt, William D. Johnson, David S. Greathouse
Executive producers: Jennifer Schwalbach, Nate Bolotin, Nick Spicer
Cinematography: James R. Laxton
Production designer: John D. Kretschmer
Editor: Kevin Smith
Music Christopher Drake
Main cast: Michael Parks, Justin Long, Haley Joel Osment, Genesis Rodriguez, Guy Lapointe