Dir: Max Nichols. US. 2013. 86mins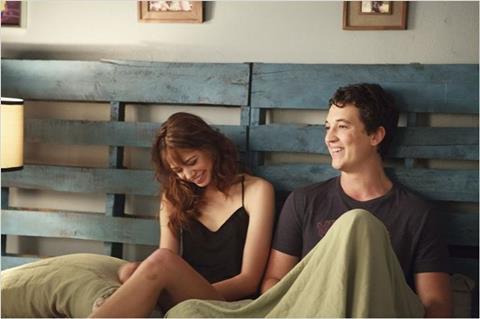 The prospect of spending a couple days in the delightful company of Miles Teller and Analeigh Tipton proves not to be enough to sustain a feature film in Two Night Stand, a perfectly pleasant, utterly disposable romantic comedy. The young stars' flirty rapport is easily the highlight of Max Nichols's directorial debut, which charts what happens when a late-night booty call between two strangers gets unexpectedly extended after a freak blizzard maroons them in the guy's apartment.
At its heart, Two Night Stand is yet another love story in which we wait for seemingly mismatched individuals to realize they're perfect for each other.
Releasing September 26 in the US, Two Night Stand will hope to capitalise on Teller's next-big-thing status, although that has yet to translate into massive box office. (To be fair, he was one of the supporting players in Divergent, and this fall's acclaimed Whiplash could further raise his profile before next year's Fantastic Four reboot.) Still, theatrical prospects look to be muted: Considering that Two Night Stand mostly takes place within the confines of an apartment, this movie will actually be an ideal VOD and cable possibility for date-night audiences who'd rather stay in for the evening.
Freshly dumped by her fiancé and jobless, melancholy Megan (Tipton) screws up her courage and joins a dating website, quickly engaging in an online chat with Alec (Teller), a fellow single New Yorker. Impetuously, she goes over to the guy's place in the middle of the night to hook up. But when they have a fight the next morning, she's horrified to learn that overnight the city has been hit by a massive snowstorm and that she can't get out of his building. Reluctantly, Megan and Alec will have to make the best of their time together until she can get home.
Written by Mark Hammer, Two Night Stand is a dialogue-driven comedy that could fit comfortably on the stage, with most of the action happening between Alec and Megan in Alec's apartment. Except for a few nods to social media and frank discussions about sex, the film isn't that different from the rom-coms of previous generations where a man and a woman who can't stand each other slowly fall in love.
So as you might imagine, Two Night Stand doesn't offer much that's novel. However, that doesn't prove as limiting as it could be thanks to Teller and Tipton's chemistry. In his young career, Teller is proving to be a pro at playing sweet, slightly cocky guys who wield considerable charm. His Alec is a good guy with a smart mouth, showing just the right balance of sensitivity and attitude. As for Megan, she's a bit more of the predictable harried-twentysomething cliché, but Tipton brings out the character's sarcastic side, complemented by an understated sex appeal that's a teasing pleasure. Hammer's dialogue and Nichols' staging are pretty standard, as is the whole setup, but the actors breathe life into familiar tropes.
This takes the movie only so far, though. At its heart, Two Night Stand is yet another love story in which we wait for seemingly mismatched individuals to realize they're perfect for each other. However, the truth is that Megan and Alec really aren't that mismatched — they're both basically decent, lonely individuals — so the initial conflict between them feels forced, limiting the stakes of everything that transpires. The movie's one really intriguing idea is that the characters eventually decide to be completely honest with each other, offering constructive criticism of the other person's sexual technique. Convinced that they'll never see each other again, they feel liberated, delivering funny, insightful comments about the other gender's failings in bed. It's the one moment where Two Night Stand breaks free of the generic rom-com trappings that neuter this potential romance.
Production companies: Demarest Films, The Solution Entertainment Group, Flynn Picture Co., ClaudeIsMyDog
US distribution: Entertainment One, http://entertainmentone.com/home
Producers: Beau Flynn, Ruben Fleischer, Sam Englebardt, William D. Johnson
Executive producers: Adam Yoelin, Mark Hammer, David Greathouse, Lauren Selig
Screenplay: Mark Hammer
Cinematography: Bobby Bukowski
Editor: Matt Garner
Production designer: Molly Hughes
Music: The De Luca Brothers
Website: http://haveatwonightstand.com/
Main Cast: Miles Teller, Analeigh Tipton, Jessica Szohr, Scott Mescudi