Almodovar turned out for the opening night of Film 4's open air cinema season at London's beautiful Somerset House, although we were almost too busy with the mini scotch eggs to notice.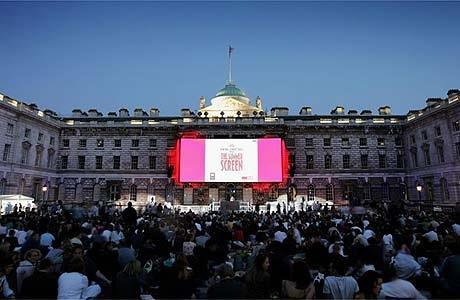 The stars were out and the British weather behaved itself for once at the opening night of Film 4's Summer Screen at Somerset House season which kicked off with the UK premiere of Pedro Almodovar's The Skin I Live In, attended by the director and his leading lady Elena Anaya.
It's not the first time Almodovar has graced the open air cinema event at Somerset House. He was also at the UK premiere of Broken Embraces back in 2009 (only that time he had another Spanish beauty, Penelope Cruz, on his arm).
At the pre-screening drinks reception we spotted Mike Leigh, Grace Jones, Screen Star of Tomorrow Alexandra Roach (soon to be seen as the young Margeret Thatcher in The Iron Lady) and a host of industry types tucking into an impressive selection of canapés including a very inventive "roast chicken dinner" canapé and mini scotch eggs (our American-born news editor was totally intrigued by the concept, but it didn't stop her going back for seconds. [Editor's note: and thirds.])
Most importantly it didn't rain and the weather forecast is looking great for the next few days of the season which includes screenings of Thelma And Louise, Scott Pigrim Vs The World and The Princess Bride.
There will also be a number of BAFTA hosted "behind the scenes" events including Q&As with Joe Cornish (followed by a screening of Attack The Block) and Barry Norman and Oscar-winning writer Sir Ronald Harwood talking about Polanski's approach to cimea, followed by a screening of Chinatown.
It's not to late to book tickets. Just don't forget the umbrella and some warm clothes. It is England, after all.
For more info click here