Dir: Gary Hustwit. US. 2011. 85mins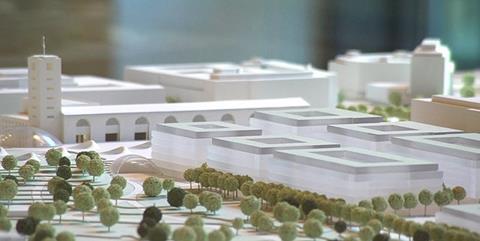 Urbanized confronts a future in which most people on earth will live in cities, and most urban dwellings will be slums. To cite an alarming statistic, there is one toilet in a typical overcrowded city in the developing world for 900 people. Start wringing your hands.
Production values are excellent, as is the film's information.
Gary Hustwit's third feature documentary takes the temperature of cities, and recommends immediate treatment. Self-distributed by the filmmaker, Urbanized's natural audience is museums and schools, and its scrutiny of metropolises on five continents could give it a reach to television markets beyond North America. If urban changes that Hustwit foresees happen as soon as experts say they might, the shelf life of Urbanized could be short.
Urbanized is not a film for specialists, but an earnest distillation of an Urban Planning 101 course. It begins with a crash history of cities and surveys the daunting challenge of sustainability and the risks posed by the vast majority of city-dwellers living without basic hygiene. As population grows exponentially, the challenges only get worse.
Hustwit's film could be a doomsday scenario, as many prognostications about the urban future are. Yet the filmmaker takes a cue from the architect Norman Foster (Millennium Bridge, Hearst Tower, Millau Viaduct), "As an architect, if you're not an optimist, you're not going to be able to survive professionally."
This attitude gives Urbanized a motivational tone to its series of case studies, presented for the general audience with a remarkable clarity, given their complexity. Bogota and Copenhagen have given bicycles priority over cars that choke the roads. Outside of Capetown, South Africa, residents of improvised settlements housing hundreds of thousands are now given a role in designing their homes.
Some cases are less uplifting. In Beijing, an architect laments that growth has eroded any sense of community. Brasilia, the modernist capital designed by Oscar Niemeyer, is an elegant garden of architectural sculpture, but a disaster as a city. Mega-cities in the developing world like Mumbai are a few neighborhoods for the rich and vast accretions to accommodate millions of their newest and poorest residents. New Orleans, post-Katrina, suffers from what one architect called planning fatigue, as well-meaning architects (some funded by Brad Pitt) try to make a difference by building versions of "my best friend's mother's beach house."
Shot by Luke Geissbuhler, Urbanized has its share of helicopter aerial perspectives, but the camera tends to stay on the level where the experts say it matters, on the ground. Planning, we're told again and again, is it least as much about politics as it is about design. (Hustwit examined graphic design in 2007's Helvetica, and took on industrial design in 2009's Objectified) Production values are excellent, as is the film's information.
Hustwit builds a case for optimism, yet each encouraging case that he examines - from New York to Rio - could be replaced by many more desperate ones in those same cities. He does find urban reformers everywhere he travels - even in the poorest of places - but they're fighting tremendous odds.



Production Companies/sales: Swiss Dots Ltd.
Producer: Gary Hustwit
Associate Producers: Lucy Raven,, Pamela Puchalski
Cinematography: Luke Geissbuhler
Editors: Shelby Siegel, Michael Culyba