The cinema of Theo Angelopoulos and of Federico Fellini is celebrated in the image chosen for the new official poster of the 70th Venice International Film Festival.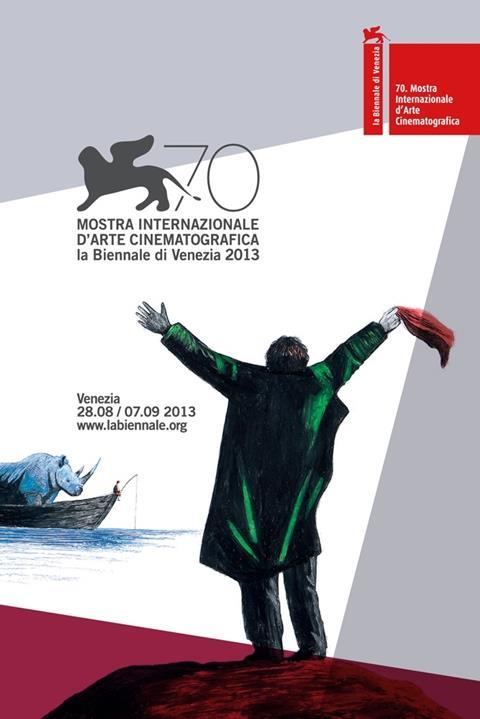 The festival, directed by Alberto Barbera and organized by the Biennale di Venezia, chaired by Paolo Baratta, will be held at the Lido from August 28 to September 7, 2013.
Created by Simone Massi - the animator, director and illustrator of the festival's opening sequence - the image recalls a frame from the film by Theo Angelopoulos, Eternity and a Day (1998), starring Bruno Ganz. A man seen from behind waves his arms at a boat which, in the distance, is carrying a child and a rhinoceros.
A tongue-in-cheek reference to last year's poster (which was inspired by Federico Fellini's 1983 film, And the Ship Sails On), the poster "marks both continuity and a break with the past. It also invites viewers to look beyond, to roam using their imagination."
The coordinated visual identity and image of the Venice Film Festival has again been handed to Milan's Studio Graph.X, based on the drawings by Simone Massi.
Massi, who received a David di Donatello in 2012 for Best Short Film, created the opening sequence which preceded the official screenings at the Venice Film Festival last year.
The 30-second sequence, created from 300 hand-made drawings, cites Fellini, Angelopoulos, Wenders, Olmi, Tarkovsky and Dovzhenko.
Massi designed the opening sequence with the contribution of Fabrizio Tassi. The soundtrack was written and performed by Francesca Badalini, while the sound design was by Stefano Sasso. Julia Gromskaya was behind the camera, with Lola Capote-Ortiz in charge of post-production.