Johnny Depp crime-drama biopic will play out of competition at the 72nd Biennale.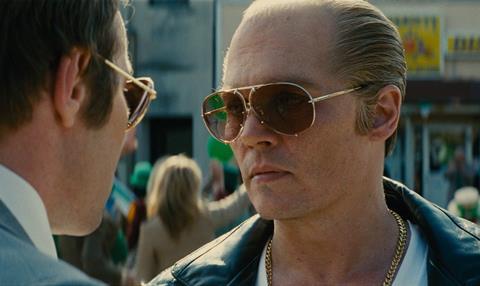 Scott Cooper's Black Mass, which tells the true story of notorious Boston gangster James "Whitey" Bulger, will receive its world premiere at the Venice Film Festival (September 2-12) on September 4 in the Sala Grande at the Palazzo del Cinema at Venice Lido.
Johnny Depp stars as Bulger alongside Benedict Cumberbatch (The Imitation Game), Joel Edgerton (Warrior), Dakota Johnson (Fifty Shades Of Grey), Peter Sarsgaard (Jarhead), Rory Cochrane (Argo), Jesse Plemons (Paul) and Kevin Bacon (Apollo 13).
Edgerton plays an FBI agent who forms an alliance with Bulger in an attempt to take down their mutual rival the Italian mob.
Producers are John Lesher, Brian Oliver, Scott Cooper, Patrick McCormick, and Tyler Thompson, with Brett Ratner, James Packer, Peter Mallouk, Ray Mallouk, Christopher Woodrow, Brett Granstaff, Gary Granstaff, Phil Hunt and Compton Ross serving as executive producers.
Warner Bros. Pictures present the film in association with Cross Creek Pictures and RatPac-Dune Entertainment. The screenplay comes from Mark Mallouk and Jez Butterworth (Edge of Tomorrow) based on the book by Dick Lehr and Gerard O'Neill.