Venice awards go to Roy Andersson dark comedy, Andrei Konchalovsky drama, Hungry Hearts.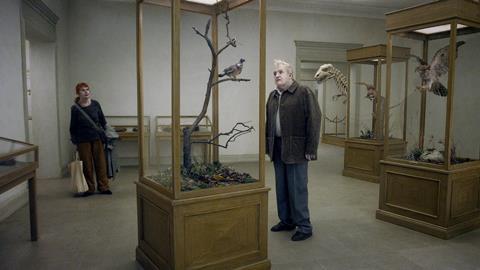 Scroll down for full list of winners
Roy Andersson's lauded absurdist comedy A Pigeon Sat on a Branch Reflecting on Existence has scooped the Golden Lion for Best Film at the Venice Film Festival.
Silver Lion for Best Director went to Andrei Konchalovsky for The Postman's White Nights while Joshua Oppenheimer's The Look of Silence took home the Grand Jury Prize.
Coppa Volpi for Best Actor went to Adam Driver for Hungry Hearts, while Best Actress went to Alba Rohrwacher for the same film.
Romain Paul took the Best Young Actor Award for Le Dernier Coup De Marteau while Best Screenplay went to Rakhshan Banietemad and Farid Mostafavi for Tales (Ghesseha).
The Special Jury Prize went to Sivas by Kaan Mujdeci and the Lion of the Future Award for Debut Film went to Court by Chaitanya Tamhane (India) along with a prize of $100,000.
The latter also scooped the Orizzonti award for Best Film while Best Director in the Orizzonti strand went to Naji Abu Nowar for Theeb.
Belluscone. Una Storia Siciliana won the Special Orizzonti Jury Prize. Best Actor went to Emir Hadžihafizbegović for These Are The Rules.
Venice's main competition jury included chair Alexandre Desplat, Joan Chen,Philip Gröning, Jessica Hausner, Jhumpa Lahiri, Sandy Powell, Tim Roth, Elia Suleiman and Carlo Verdone.
Venezia 71
Golden Lion For Best Film
A Pigeon Sat On A Branch Reflecting On Existence
Roy Andersson (Sweden, Germany, Norway, France)
Silver Lion For Best Director
Andrej Končalovskij
The Postman's White Nights (Russia)
Grand Jury Prize
The Look Of Silence, Joshua Oppenheimer
(Denmark, Finland, Indonesia, Norway, United Kingdom)
Coppa Volpi
Best Actor
Adam Driver
Hungry Hearts, Saverio Costanzo (Italy)
Coppa Volpi
Best Actress
Alba Rohrwacher
Hungry Hearts, Saverio Costanzo (Italy)
Marcello Mastroianni Award
Best Young Actor Or Actress
Romain Paul
Le Dernier Coup De Marteau, Alix Delaporte (France)
Award For Best Screenplay
Rakhshan Banietemad and Farid Mostafavi
Ghesseha (Tales), Rakhshan Banietemad (Iran)
Special Jury Prize
Sivas, Kaan Müjdeci (Turkey, Germany)
Lion Of The Future – "Luigi De Laurentiis" Venice Award For A Debut Film
Court, Chaitanya Tamhane (India)
Orizzonti
The Orizzonti Award For Best Film
Court, Chaitanya Tamhane (India)
The Orizzonti Award For Best Director
Naji Abu Nowar
Theeb (Jordan, U.A.E., Qatar, United Kingdom)
Special Orizzonti Jury Prize
Belluscone. Una Storia Siciliana
Franco Maresco (Italy)
Special Orizzonti Award For Best Actor Or Actress
Emir Hadžihafizbegović
Takva Su Pravila (These Are The Rules)
Ognjen Sviličić (Croatia, France, Serbia, Macedonia)
Orizzonti Award For Best Short Film
Maryam, Sidi Saleh (Indonesia)
Venice Short Film Nomination For The European Film Awards 2014
Pat – Lehem (Daily Bread), Idan Hubel (Israel)
Venezia Classici Awards
Venezia Classici Award For Best Documentary On Cinema
Animata Resistenza, Francesco Montagner And Alberto Girotto (Italy)
The Venezia Classici Award For Best Restored Film
Una Giornata Particolare, Ettore Scola (1977, Italy, Canada)
Golden Lion For Lifetime Achievement 2014
Thelma Schoonmaker
Frederick Wiseman
Jaeger-Lecoultre Glory To The Filmmaker Award 2014
James Franco
Persol Tribute Visionary Talent Award 2014
Frances Mcdormand
L'oréal Paris Per Il Cinema Award
Valentina Corti