Ramin Bahrani, Andrew Garfield and Michael Shannon talk about their detailed research for housing-crisis thriller 99 Homes, which receives its world premiere in Venice tonight (Aug 29)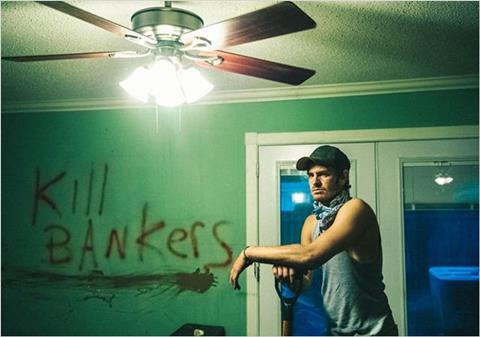 Ramin Bahrani's 99 Homes might just create a new kind of genre - the humanist thriller.
"In many ways it's dealing with the pace of a gangster film, and it has the same heart of my other humanist movies," the director explained in Venice at the film's press conference today.
The film, which will receive its world premiere in Venice Competition this evening, is a leap forward in scale and scope for Bahrani, who is best known for more intimate character studies such as Chop Shop and Man Push Cart.
Andrew Garfield plays a young father who loses his home in the housing crisis, and is so desperate to get it back that he starts working for the slimy real estate mini-mogul (Michael Shannon) who evicted him.
"My main interest was the characters in the film, I wanted to tell an emotional story," Bahrani said.
The action is very specific to Orlando, Florida but the themes will resonate around the world. "It's a subject in Italy you know all too well," the director said. "It's global, this type of corruption has become systemic."
Both the director and his leading men, Andrew Garfield and Michael Shannon, grounded the film in reality by each doing their own research in Florida, talking to people on all sides of the housing crisis.
"After I spend two to three weeks in Florida, I was dizzy with the corruption," Bahrani recalled.
Shannon added: "I met a gentleman who does what Carver [his character] does in the movie - loosely. And I spent some time with him, I spent some time going to houses that had been foreclosed and seeing that environment…
"The thing you realise is that all the people involved are just not bad people. Carver's not at the top of the pyramid."
Garfield: victim focus
Garfield added: "My focus was more on the side of the victims, if you can use that word. It struck me how willingly vulnerable and how open they were to share their story… It's important to make a film like this, honouring the people who are living it every day. It was necessary for Michael and I to join Ramin in his dedication to it."
The young actor also met a broker on the other side, who he noted felt the need to purge just as much as those suffering. "He was in as much pain kicking people out of their home as those who were being kicked out."
Garfield said he could draw on his humanity, rather than any specific knowledge of the real estate market. "It's universal, all of us in a sense, or our fathers or our fathers' fathers, we've all at some point seen a parent terrified about putting food on the table. So that was my entry point."
Garfield even spent time living in a motel on Highway 142, which leads to Disney World. "I'd talk to him every night and I'd write it into the script," Bahrani recalled.
"The research trip in Florida went beyond filmmaking and became an education for me," added Garfield.
Corruption
The lines of morality shift in the film, the bad guys aren't all bad and the good guys also do bad things. Bahrani explained: "The thing about Michael's character is that he's part of a system, he's not an inherently bad person. He has to survive…he saw the system destroy his dad.
"It's so hard to survive in the world and not corrupt yourself. We're all corrupt somehow, me too."
He sees this housing crisis as one sign of larger issues in the US and around the world. "From 1979 forward, we've seen constant deregulation for big business and banks," said Bahrani.
"It's legislation that benefits the extremely wealthy - and it's from both Democrats and Republicans. This led to the financial crisis, and it's not just houses in Florida, it's become a global crisis…And nobody went to jail, not one person.
"Globally people are getting sick of it, and that's the punch of the movie…and things are going to change."
Roger Ebert dedication
Bahrani also paid tribute to his co-writer, mentor, big brother and fellow filmmaker Amir Naderi. "I never learned more about life and cinema than from this man. His generosity, spirit and courage make you think, 'You can actually do this, you can change the world.'"
He dedicated 99 Homes to the late Roger Ebert, who was a friend and booster of Bahrani's from his early career. Ebert never saw the film, but Bahrani recalled: "I told him the story and he gave me the thumbs up for the story.
"The people sitting in this room have to continue his [Ebert's] fight for good cinema, for emotional cinema, for cinema that is not a selfie. This world is going to vanish into one big, obsessive selfie and it's up to you to stop it."