The Danish Girl, starring Eddie Redmayne, and Atom Egoyan's Remember among the 21 competition titles.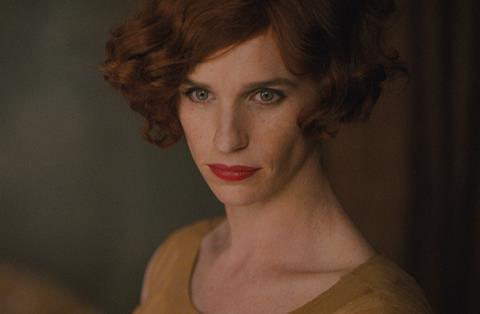 Scroll down for full line-up
The 72nd Venice Film Festival (Sept 2-12) has unveiled the 55 features – mixing star vehicles and international auteurs – that will make up this year's official selection.
Venice director Alberto Barbera and Biennale president Paolo Baratta announced the line-up this morning.
As previously announced, Baltasar Kormakur's mountaineering thriller Everest, starring Jake Gyllenhaal, will open the festival on Sept 2. The Universal release will play out of competition.
Birdman, last year's opening night film, went on to be named best picture at this year's Academy Awards, while multiple Oscar-winner Gravity bowed at the 2013 edition.
Venice also revealed that Guan Hu's Mr Six will close the festival on Sept 12. Feng Xiaogang plays the title character, a former gangster living alone with various illnesses, who is tempted back into the business by his son.
Competition titles
The 21 titles in competition for the Golden Lion includes Tom Hooper's The Danish Girl, a love story inspired by the lives of artists Einar and Gerda Wegener in which Eddie Redmayne portrays the former, who become one of the world's first transgender women, Lili Elbe.
US titles in competition include Drake Doremus' Equals, starring Kristen Stewart, Nicholas Hoult and Guy Pearce – a futuristic love story set in a world where emotions have been eradicated – and Heart Of A Dog, the feature debut of experimental performance artist and musician Laurie Anderson.
Also from the US are Cary Fukunaga's Beasts Of No Nation, starring Idris Elba, and Charlie Kaufman's first stop-motion film Anomalisa. Both those titles will debut at Venice before screening at Toronto, which runs Sept 10-20 and unveiled its first wave of titles yesterday.
Fiction
The Fiction strand includes Scott Cooper's gangster drama Black Mass, starring Johnny Depp, and Thomas McCarthy's Spotlight, starring Michael Keaton and Mark Ruffalo, the true story of how the Boston Globe revealed a child molestation cover-up within the local Catholic Archdiocese. Both will later play at Toronto.
The strand will also feature Martin Scorsese's The Audition, a 16-minute short film - with a reported $70m budget - promoting the opening of Melco-Crown's movie-themed resort and casino in Macau, starring Leonardo DiCaprio, Brad Pitt and Robert de Niro.
Venice 72
IN COMPETITION
Frenzy, Emin Alper (Turkey, France, Qatar)
Heart of a Dog, Laurie Anderson (US)
Blood of My Blood, Marco Bellocchio (Italy)
Looking for Grace, Sue Brooks (Australia)
Equals, Drake Doremus (US)
Remember, Atom Egoyan (Canada, Germany)
Beasts of No Nation, Cary Fukunaga (US)
Per amor vostro, Giuseppe M. Gaudino (Ita-Fra)
Marguerite, Xavier Giannoli (Fra-Cze-Bel)
Rabin, the Last Day, Amos Gitai (Israel, France)
A Bigger Splash, Luca Guadagnino (Italy, France)
The Endless River, Oliver Hermanus (S Afr-Fra)
The Danish Girl, Tom Hooper (UK, US)
Anomalisa, Charlie Kaufman, Duke Johnson (US)
L'attesa, Piero Messina (Italy)
11 minutes, Jerzy Skolimowski (Poland)
Francofonia, Aleksander Sokurov (Fra-Ger-Neth)
The Clan, Pablo Trapero (Argentina, Spain)
Desde alla, Lorenzo Vigas (Venezuela, Mexico)
L'hermine, Christian Vincent (France)
Behemoth, Zhao Liang (China, France)
OUT OF COMPETITION
Everest, Baltasar Kormakur (US, UK) – Opening night film
Mr. Six, Hu Guan (China) – Closing night film
FICTION
Go With Me, Daniel Alfredson (US, Canada, Sweden)
Non essere cattivo, Claudio Caligari (Italy)
Black Mass, Scott Cooper (US)
Spotlight, Thomas McCarthy (US)
La calle de la Amargura, Arturo Ripstein (Mexico Spain)
The Audition, Martin Scorsese (US)
NON-FICTION
Winter on Fire, Evgeny Afineevsky (Ukraine)
De Palma, Noah Baumbach, Jake Paltrow (US)
Janis, Amy Berg (US)
The Event, Sergei Loznitsa (Netherlands, Belgium)
Gli uomini di questa città io non li conosco, Franco Maresco (Italy)
L'esercito piu piccolo del mondo, Gianfranco Pannone (Vatican City State)
Afternoon, Tsai Ming-liang (Chinese Taipei)
In Jackson Heights, Frederick Wiseman (US)
SPECIAL SCREENING
Human, Yann Arthus-Bertrand (France)
GOLDEN LION FOR CAREER ACHIEVEMENT
La vie et rien d'autre, Betrand Tavernier
HORIZONS
Madame Courage, Merzak Allouache (Alg-Fra-UAE)
A Copy of My Mind, Joko Anwar (Indo-S Kor)
Pecore in erba, Alberto Caviglia (Italy)
Tempete, Samuel Collardey (France)
The Childhood of a Leader, Brady Corbet (UK, Hungary, Belgium, France)
Italian Gangster, Renato De Maria (Italy)
Wednesday, May 9, Vahid Jalilvand, Iran
Mountain, Yaelle Kayam (Israel)
A War, Tobias Lindholm (Denmark)
Interrogation, Vetri Maaran (India)
Free in Deed, Jake Mahaffy (US, New Zealand)
Boi Neon, Gabriel Mascaro (Bra-Uru-Neth)
Man Down, Dito Montiel (US)
Why Hast Thou Forsaken Me?, Hadar Morag (Israel, France)
Un monstruo de mil cabezas, Rodrigo Pla (Mexico)
Mate-me por favor, Anita Rocha Da Silveira (Brazil, Argentina)
Taj Mahal, Nicolas Saada (France, Belgium)
Interruption, Yorgos Zois (Greece, France, Croatia)