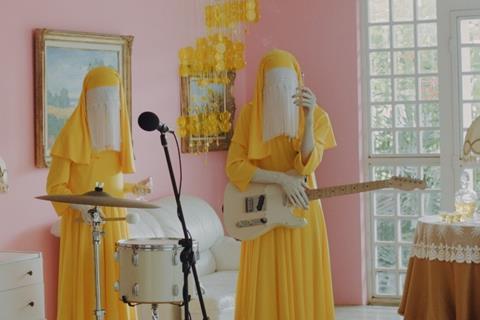 Ventana Sur 2020 Online has unveiled the selections for the annual post-production showcases Primer Corte and Copia Final sections.
The Latin American market runs from November 30-December 4 and typically takes place in Buenos Aires. This year's event takes place online.
Argentina remains under lockdown and recently crossed one million reported cases of Covid-19.
The Primer Corte section progress includes:
A felicidade das coisas (Brazil)
Dir: Thais Fujinaga
Pdr: Thiago Macêdo Correia
Álbum para la juventud (Argentina)
Dir: Malena Solarz
Prd: Cecilia Pisano
Fogaréu (Brazil / France)
Dir: Flávia Neves
Pdr: Vania Catani
Trigal (Mexico)
Dir: Anabel Caso
Pdr: Paula Astorga Riestra
Vergüenza (Mexico)
Dir: Miguel Salgado
Pdr: Angélica J. Ramírez
Yo y las Bestias (pictured, Venezuela)
Dir: Nico Manzano
Pdr: Alan Ohep
The Copia Final strand comprises the following projects:
A Mãe (Brazil)
Dir: Cristiano Burlan
Prds: Ivan Melo, Cristiano Burlan, Henrique Zanoni and Priscila Portella
El Visitante (Bolivia / Uruguay)
Dir: Martin Boulocq
Pdrs: Alvaro Olmos Torrico, Andrea Camponovo, Martín Boulocq
La Barbarie (Argentina)
Dir: Andrew Sala
Pdr: Nicolás Grosso
La Ciudad De Las Fieras (Colombia / Ecuador)
Dir: Henry Rincón Orozco
Pdr: Ana Mayo
Mis Hermanos Sueñan Despiertos (Chile)
Dir: Claudia Huaiquimilla
Pdrs: Pablo Greene, Mariana Tejos
Princesa Anaíra (Brazil)
Dir: Sérgio Machado
Pdrs: Fabiano Gullane, Caio Gullane, Rodrigo Castellar, Pablo Torrecillas.