Dir: Rob Thomas. US. 2014. 107mins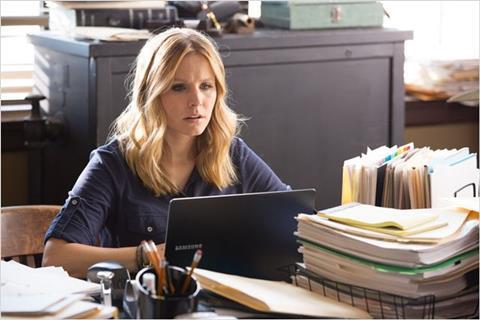 Veronica Mars' return to her Southern California hometown of Neptune proves bittersweet for both her and the audience in this feature film continuation of the cult TV show. For Mars, it means recognising that the past she swears she's outrun isn't as far away as she'd like — and for viewers, there's a gradual recognition that this nostalgic reunion isn't quite as entertaining or satisfying as it should be. Kristen Bell remains a tart pleasure as the titular gumshoe, but Veronica Mars doesn't so much expand the short-lived show's universe as recycle it, but without the lively mysteries and poignant undercurrents that made the programme so engaging a decade ago.
The murder mystery isn't enthralling enough, and Veronica's romantic uncertainty isn't sufficiently captivating, so audiences may have to content themselves with spotting the film's mildly clever allusions to iconic moments from the TV show.
Releasing in the US in theatres and on digital platforms simultaneously on March 14, Veronica Mars has drawn attention because of its makers' ambitious Kickstarter campaign, which raised an impressive $5.7 million from more than 91,500 backers. Consequently, Veronica Mars will be a test case for how a new model of film financing can work, with observers curious if the project's monetary contributors will ultimately be pleased with the final product. Though never a hit series, the Veronica Mars show, which ran for three seasons starting in 2004, was a critical smash — whether that can translate into serious theatrical gross is an open question, especially since the film will work best for those familiar with the original show.
When the movie begins, the uninitiated are given a quick recap of what happened during the series — principally, that teen outcast Veronica Mars (Bell) got into sleuthing when she tried to determine who murdered her best friend, assisted by her dedicated private-eye father Keith (Enrico Colantoni). It's now been nine years since the show's conclusion, and Veronica is living in New York with her dutiful boyfriend Piz (Chris Lowell) and about to accept a job at a prestigious law firm. She's happy to be away both geographically and mentally from the high school angst of her Neptune upbringing, but when her old boyfriend Logan (Jason Dohring) calls to say that he's been suspected of killing his girlfriend, she reluctantly decides to return to her hometown to help clear his name.
The original series, which was created by Rob Thomas (who directed and co-wrote the film), drew much of its strength from Bell's strong, sassy performance as the smart, no-nonsense Veronica who was, nonetheless, troubled by the same insecurities that affect most teens. The combination of ironic pop-culture referencing, fun mystery stories and relatable adolescent woes made Veronica Mars an off-kilter treat.
At first, the film seems to understand the programme's central charms, once again focusing on Veronica's candid, smart-ass narration as she navigates through another whodunit while taking stock of her unresolved feelings about her time in Neptune. (Upon her return, she discovers that her 10-year high school reunion is imminent, which stirs up uncomfortable memories of her unhappy teen life.)
But although there are some fleeting pleasures to be had in seeing much of the old Veronica Mars cast back together, what becomes apparent is that the story that's reunited them isn't very memorable. Bell and her cohorts go through their expected paces, expertly delivering wise cracks and heartfelt confessionals on cue, but the investigation into Logan's dead girlfriend lacks the nifty twists and entertaining showcases for Veronica's sharp intellect that were a hallmark of the show.
Just as troublesome, the TV programme's emotional resonance is long gone. What guided the series was Veronica's painful coming-of-age — not just mourning her dead friend but also coming to grips with why her mother left and if Keith is actually her biological father. By comparison, the Veronica Mars film plays out as a rather pedestrian inner struggle in which Veronica must decide if she loves Piz or Logan, and if she's better off in New York or Neptune.
The murder mystery isn't enthralling enough, and Veronica's romantic uncertainty isn't sufficiently captivating, so audiences may have to content themselves with spotting the film's mildly clever allusions to iconic moments from the TV show. (Viewers may be less patient with self-indulgent non sequitur cameos from the likes of Dax Shepard, who is Bell's real-life husband, and James Franco.)
Because Veronica Mars was financed through Kickstarter donations, there is a perception that Thomas has made the film he envisioned without studio interference. (Warner Bros. is handling distribution.) This is an encouraging development for artists who don't want to be at the mercy of corporate bottom-lines, but the Veronica Mars movie's mediocre execution suggests that creative freedom doesn't necessarily result in superior entertainment.
While the press notes emphasise the notion that those not versed in the TV show will be able to watch this film without feeling like they've missed something, the truth is the dynamics between Mars, her father, her friends, and her past and present lovers aren't well established in the movie, relying on fans' collective memories of what happened before to fill in the blanks. Another difficulty is that Thomas seems to have done his best to fit in as many of the Veronica Mars characters as he can, which reduces the screen time between Bell and Colantoni, one of the show's most rewarding, layered relationships. But all the show's relationships suffer: Part of the reason why the film's love triangle stumbles is that there simply isn't enough opportunity to really explore it.
With that said, Thomas has used his budget to create the best-looking Veronica Mars episode ever, although that doesn't do much to help some of the supporting cast's limited acting range. No doubt part of the appeal for the movie's Kickstarter backers was the chance to see their beloved Veronica one more time — and on the big screen, to boot. Bell is still up to the task of playing this fetching detective, but as Veronica herself starts to wonder, maybe it wasn't such a good idea to revisit the past.
Production companies: Warner Bros. Digital, Spondoolie
US distribution: Warner Bros.
Producers: Rob Thomas, Dan Etheridge, Danielle Stokdyk
Executive producers: Joel Silver, Kristen Bell, Jenny Hinkey
Screenplay: Rob Thomas & Diane Ruggiero
Cinematography: Ben Kutchins
Production design: Jeff Schoen
Editor: Daniel Gabbe
Music: Josh Kramon
Website: theveronicamarsmovie.com
Main Cast: Kristen Bell, Jason Dohring, Krysten Ritter, Ryan Hansen, Francis Capra, Percy Daggs III, Chris Lowell, Tina Majorino, Enrico Colantoni