Producer Vinod Chopra talks to Jeremy Kay about 3 Idiots, which stars Indian superstar Aamir Khan, and has taken more than $52m worldwide to date, making it the highest grossing Bollywood release in cinema history.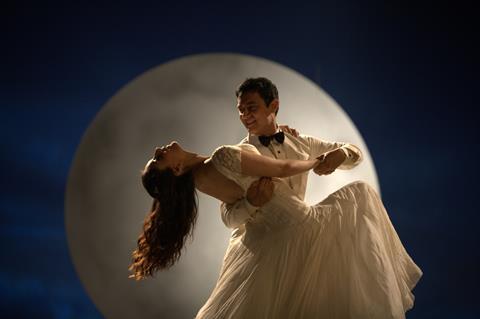 Chopra has worked as a writer, producer and director for many years. His directorial credits include Parinda and Eklavya – The Royal Guard, which were both selected as India's official Oscar submissions. His short non-fiction film, An Encounter With Faces, was also Oscar-nominated.
How did the project come about?
The writers Abhijat [Joshi] and Raju [Hirani, also the director] knew of a person who spent four years as in imposter in an education institute. They met him in 1996. For 13 years, the idea of a man coming to an institute not for a degree but only for an education had been brewing in their mind. They were also intrigued by the idea of a journey and a search across India. These two big ideas were combined with the characters of a popular book, the rights to which were purchased by the company. The writers worked on this for three years… which is pretty much how this project came about.
How did Aamir get involved and was he easily persuaded?
We were looking for actors. Initially, we dabbled with the idea of young, unknown actors for the various characters. Our casting team tested actors for months. But there wasn't much chemistry between any of the three actors we shortlisted. And then, we gave up on the idea of fresh faces. Then, once Aamir heard a narration, he wanted to do it and the rest is history.
Where and when did it shoot? Are there any obstacles to filming in India?
We shot in Ladakh, Bangalore and Shimla and the sets were created in Mumbai. The one obstacle that we faced was in Ladakh. A crew of about 150 people and the main cast was flown to Leh and then driven for hours to reach the location, which was at about 18,000 feet. It was September and the region hadn't seen snowfall in about 20 years. But two days into the shoot, it started snowing. A decision had to be taken – to stay or to move on to our planned schedule in Shimla. Once the decision was taken to leave, moving the crew was a very difficult task. About ten crew members got snowed in and there was no communication possible. We had to get the army involved and managed to rescue them to safety. That apart, there weren't really any other obstacles as such.
Why do you think 3 Idiots had been such a box office success?
Most people are either dreaming of the future or regretting the road not taken. These are the people who really related to the film. And they constitute a majority of the world.
The film is clearly Indian but it also has a Western sensibility. Was that deliberate?
The world is becoming one. Issues are becoming universal. It wasn't deliberate. The film is universally heart-warming.
What needs to happen for Indian cinema to break out and become embraced by non-Indian audiences?
Had we got a kind of release that Avatar did, the film would've crossed even further. A famous Hollywood star jokingly said that 3 Idiots is the biggest 2D film ever.
Who tend to be the biggest patrons of Bollywood productions – the old, young, male, female, etc.
Everyone!