As the streaming giant announced on Wednesday 3Q earnings that fell below expectations, chief content officer Ted Sarandos offered insights into performance in two key territories.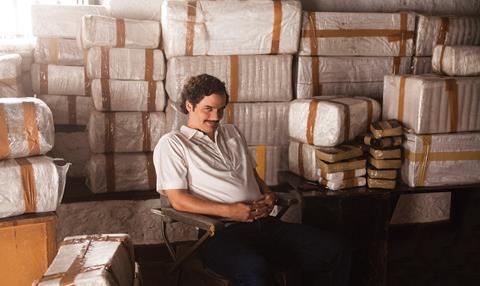 Net income of $29m for the three months ending in September dropped around 51% against the same period of 2014, as revenues reached $1.58bn for a 29% fall.
Shares fell 7% in post-market trading and the number of new US subscribers climbed by 880,000 to 44.8million, although Netflix had expected a 1.15million gain.
CFO David Wells attributed that in part to "involuntary churn" as US retailers switch to chip-based debit and credit cards.
The $1 monthly rise in subscription costs pushing standard membership tarrif to $8.99 may also be a factor although co-founder and CEO Reed Hastings insisted the streaming giant's price point still represented "incredible value". He declined to talk about future price rises.
However international growth surpassed expectations as 2.74million new members boosted the overall number to 26million.
Speaking on a conference call with Peter Kafka from the technology and media site re/code and RBC analyst Mark Mahaney, Hastings claimed every international market was "doing really well, but some are bigger than others. For competitive reasons we don't give per-country colour."

Chief content officer Ted Sarandos picked up the thread from a comment by Hastings that Netflix was continuing to learn from its international expansion.
"In Japan [where Netflix launched on September 2] what has been really great too is the local acceptance of our originals, so we're seeing them perform as a percentage of watching about the same as they are in other territories, which defies conventional wisdom that Japan is primarily a local territory," said Sarandos.
On an anecdotal level Sarandos' comments appeared to rebuff an exclusive report in Variety last month based on data from Parrot Analytics that suggested demand for original content in Japan would be lower than in other markets. However his comments remain unverifiable as Netflix does not issue data on individual territories or break down viewship numbers.

Hastings highlighted Brazil as a strong market for the company, where Narcos (pictured), starring Wagner Moura as Pablo Escobar and directed and created by Brazilian compatriot José Padilha, has performed well.
He added that the original show, two-thirds of which is in Spanish, had been a successful global export, in particular in France and Norway.
"What we're seeing [in Brazil] is with a tough economy a value-based product like Netflix that's very inexpensive is really appreciated, and so even though there's tight economic times currently that has not held back our growth and we're definitely pleased with the content and the offering that we have," said Hastings.
Sarandos said the end of the deal with Epix was "not a studio problem", adding that Netflix continued to do a lot of business with Lionsgate and more business with Paramount and MGM. Lionsgate, Paramount parent company Viacom and MGM own Epix.
The fact that the deal was no longer exclusive for Netflix reduced its appeal as a strategic investment. The company is gradually shifting its portfolio towards more original content that grants it exclusivity and global rights in perpetuity and bolsters the case for window acceleration.
"A billion dollars in output spending versus a billion dollars in original spending may turn out to be the right strategy," said Sarandos, although he probably intended to say the reverse.
Talking to other analysts on Wednesday, Hastings also hinted at the possibility of a news service on Netflix.
Meanwhile Sarandos was vague about whether Star Wars: Episode VII – The Force Awakens will arrive on the streaming service in 2016 once its 'pay 1' deal with Disney kicks in in the fourth quarter of next year.