EXCLUSIVE: Demand for HBO fantasy drama Game Of Thrones exceeded that for any original Netflix original series last December in three-quarters of 53 sample countries, according to research firm Parrot Analytics.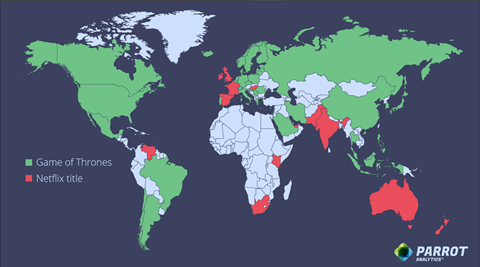 The study 'Settling The Netflix & HBO Debate', revealed exclusively to ScreenDaily this week, comes after comments by Netflix chief content officer Ted Sarandos to the Television Critics Association last weekend in which he dismissed efforts by NBC to publish audience projections for the streaming service's shows.
Analysing online consumer and social media activity using Parrot's bespoke global content demand methodology, CEO Wared Seger and his team claim to deliver data that is more accurate than traditional survey and panel-based linear measurement in an age of multiple platforms and fragmented consumer base.
The Los Angeles-based data-science company's study revealed that while audience desire to watch HBO's fantasy saga – be it episodes from the first five seasons or the upcoming sixth series, which launches on April 24 – was greatest in 39 countries, the 14 countries where a Netflix show was most in-demand tended to be in Western Europe and Australia/New Zealand.
'Jessica Jones' leads Netflix originals
In all but two of those 14 countries, the Netflix show in question was dark superhero series Jessica Jones. The Marvel show, which like Game Of Thrones has garnered critical acclaim, launched on November 20 and was invariably Netflix's top ranking show in the entire sample of 53 countries.
It should be noted that the study focused only on Game Of Thrones and Netflix original shows.
Parrot concedes it is possible that an Amazon original such as The Man in the High Castle or a hit show like The Walking Dead may have been the first or second most in-demand show in certain markets.
Game Of Thrones was the preferred choice compared to Netflix originals across swathes of Eastern Europe, South America and Asia.
Demand went up after the release of the Game Of Thrones season 6 trailer.
Parrot's Demand Rating is a tool that measures consumer demand for a single title across multiple markets, while the Demand Expressions metric compares consumer demand for multiple titles in the same market.
The Demand Rating ranges from zero to 100+ and interactions are weighted by effort of demand, so that for example a stated desire to watch the third episode of the first season of Jessica Jones indicates stronger demand than vague praise for the first episode.
The Demand Expressions data point is culled from streaming sites, social media platforms, photo-sharing, peer-to-peer protocols, blogs, file-sharing platforms, wikis and informational sites and fan and critic rating sites.
'GOT' rules in US, China
Among the countries where demand for Game Of Thrones was stronger in December than for any Netflix original show, the HBO show elicited a 71.58 Demand Rating in the US compared to a 71.17 score for the most popular Netflix show, Jessica Jones.
The two shows ranked in that order in most of the 39 countries where Game Of Thrones held sway, among them Japan (with Demand Ratings of 64.85 vs 51.12), Brazil (71.72 vs 61.12), Germany (70.18 vs 66.22), Thailand (64.37 vs 54.05) and the Czech Republic (75.67 vs 58.51).
In China, Game Of Thrones earned a 69.09 Demand Rating compared to 58.51 for House Of Cards. Given that Netflix does not operate in China, the peer-to-peer component of the data would appear to reflect a demand to watch a pirated version of the content.
In 15 of the countries where Game Of Thrones prevailed, there were different Netflix favourites ranking behind the fantasy saga. For example, audiences in Italy and Russia favoured Daredevil from the Netflix stable.
Orange Is The New Black was popular in northern European locales like Sweden, Norway and the Netherlands.
In Mexico, Game Of Thrones led with a 74.27 Demand Rating against Netflix title Club De Cuervos on 68.57.
Jessica Jones ranked as the preferred show in 12 out of the 14 countries where Netflix surpassed Game Of Thrones. It scored a 77.60 Demand Rating in the UK compared to 70.43 for Games Of Thrones; 70.25 in Australia versus 66.96 for GOT; and 73.62 in Venezuela against 72.65 for GOT.
In France the most in-demand Netflix original show was Orange Is The New Black on 78.85 compared to GOT on 78.63. The discrepancy between the two was wider in Spain, where the two scored 72.32 and 64.88, respectively.
Narcos, which ranked as the second most popular Netflix show in a study conducted by Parrot last September, has waned in popularity as Jessica Jones assumes the mantle – for now at least – of the streaming service's most in-demand show around the globe.