Dir: Andrew Stanton. US. 2008. 100 mins.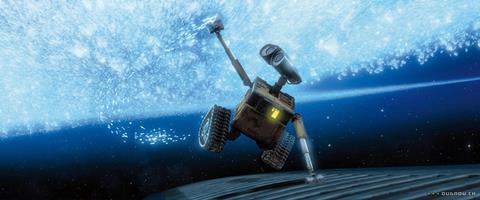 In the four years it took them to make WALL - E, Finding Nemo director Andrew Stanton and his colleagues at Pixar seem to have embraced every no-no in the animated book. Their setting is a devastated post-apocalyptic Earth, the lead characters are inanimate robots, there is virtually no dialogue throughout the entire film. They even opted for a cockroach as the chief sidekick, although after Remy rehabilitated rats in last year's Ratatouille perhaps any filthy pest can now be reconceived as cute.
Wall-E is the most ambitious, visually-breathtaking film from the animation stable to date
But as is seemingly de rigueur with a Pixar film, they have outdone themselves. WALL - E is the most ambitious, visually-breathtaking film from the animation stable to date, pushing family entertainment to new limits of thoughtfulness and imagination, and offering unprecedented challenges to young minds.
Kids won't baulk, however, at the demands which Stanton and his team place on them; like adult audiences, they will be mesmerised by the scale and spectacle of the film and, most of all, by WALL - E himself, the last robot on earth and one of the most expressive characters in any film this year. A sensitive rubbish-compacting unit longing for companionship, he immediately rolls into the pantheon of great movie characters and his likeness will enter many millions of homes in merchandising tie-ins and DVD covers over the next year - just in time for the next Pixar film Up to open in May 2009.
Box office estimates at this point are immaterial. As another Pixar event movie and instant classic, WALL - E is set to perform, like its predecessors, through the roof. Certainly it has a broader reach than the sophisticated Ratatouille and should easily outperform it in the domestic market ($206m) and perhaps even internationally ($414m). It's not a particularly sunny nor hilarious film like Stanton's Finding Nemo, which grossed $340m domestically and $525m internationally, so it is unlikely to scale those dizzy heights. Nevertheless Disney, which is rolling it out internationally in July, August and Sept (with Japan scheduled for December) should build up some gigantic numbers by the time it becomes a DVD must-have for families by Christmas.
Although it will face stiff competition from the well-liked Kung Fu Panda, it is already the main contender for this year's animated feature Oscar.
The film opens with a shot of outer space. Down on Earth, the film-makers set the scene quickly. It's 800 years in the future, and the planet has been over-run by rubbish and, courtesy of Buy N Large, the gigantic conglomerate which apparently ran everything in the 22nd century, the human race has fled the planet on massive space cruisers.
One lone trash compacting unit WALL - E (Waste Allocation Load Lifter Earth-Class) continues to fulfil the directive for which he was created, loading and compacting rubbish, and building enormous towers of refuse which dwarf the skyscrapers of the city he lives in. But WALL-E is a romantic sort. He collects interesting bric-a-brac and trinkets and repeatedly watches an old VHS of Hello Dolly! which inspires him to dance (Put On Your Sunday Clothes) and long for romance (It Only Takes A Moment).
The monotony of his ageless lifestyle is shattered when a spacecraft lands on earth and unleashes a sleek, high-tech robot called EVE (Extra-terrestrial Vegetation Evaluator). He immediately falls for her and gradually wins her confidence, showing her his collection of bric-a-brac including a plant - which he doesn't realise is the key to the planet's future. Once EVE sees the plant, she has fullfulled the directive for which she is programmed and sends signals to the spacecraft to be picked up.
The scenes on earth between WALL - E, his cockroach pal and EVE are the film's most memorable and indeed the first 45 minutes is mostly silent, with only Thomas Newman's wonderful score guiding the silent antics
If WALL- E's voice is reminiscent of ET's, it's perhaps not entirely coincidental since sound genius Ben Burtt, the man behind ET's voice as well as R2D2 in the Star Wars films, was in charge of the outstanding sound and voice design here - actually himself voicing WALL- E and creating a range of bleeps and sounds that perfectly illustrate the feelings of the star-crossed lovers.
But perhaps 2001: A Space Odyssey and Blade Runner are bigger influences here for Stanton and co than ET or Star Wars, and there is more than a hint of the darkly surreal in the haunting human-less earthscapes of trash or the space station where EVE and WALL- E land - and where computers are in charge of the docile fatties we have become.
Production company
Pixar Animation Studios
Worldwide distribution
Walt Disney Studios Motion Pictures/Walt Disney Studios Motion
Pictures International
Executive producer
John Lasseter
Producer
Jim Morris
Screenplay
Andrew Stanton
Jim Reardon
from an original story by Stanton & Pete Docter
Directors of photography
Jeremy Lasky
Danielle Feinberg
Production designer
Ralph Eggleston
Editor
Stephen Schaffer
Music
Thomas Newman
Main voice cast
Ben Burtt
Elissa Knight
Jeff Garlin
Fred Willard
John Ratzenberger
Kathy Najimy
Sigourney Weaver