Dir: Steven Spielberg. US. 2011. 146mins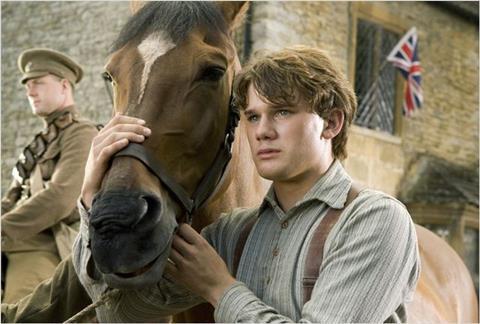 A refined and not entirely disagreeable slice of square-jawed drama with the smooth, uncomplicated contours of film made to please the broadest possible audience, War Horse clings steadfastly to very old-fashioned — and sometimes torpid — notions of emotional engagement. With its episodic stabs at poignancy, there's not much to assail with fury here, but neither is there much about which to get passionately excited or interested.
Janusz Kaminski's cinematography is superb and at times almost redolent, capturing the smells of both lush fields and grimy trenches.
Nevertheless, with the project's literary imprimatur, an effective marketing campaign and the populist pedigree of director Steven Spielberg, the technically polished War Horse should remain an awards season player (particularly amongst older demographics), and also receive welcome embrace by fans of epics as diverse as Cold Mountain, The Horse Whisperer, Legends of the Fall and Hidalgo.
Set against a sweeping canvas of rural England and Europe during World War I, the story centers on young Albert (Jeremy Irvine), whose parents Ted and Rose Narracott (Peter Mullan and Emily Watson) are farmers who lease their land from the aristocratic Lyons (David Thewlis). While his father needs a plough horse, he impulsively buys a headstrong stallion with what little savings they have. Albert christens the horse Joey, trains him, and develops an incredibly close and special bond with him.
When he's finally unable to overcome their financial hardships, Ted sells Joey into service with the British army. Captain Nicholls (Tom Hiddleston) promises Albert he will take special care of the horse, but Joey is soon lost to a variety of fleeting owners, including an elderly French farmer (Niels Arestrup) and his granddaughter Emilie (Celine Buckens) and a squadron of advancing German soldiers. Against considerable odds, however, Albert and Joey eventually reunite.
Notwithstanding the well received nature of its source material, and the array of accomplished below-the-line artisanship brought to bear in its adaptation, War Horse is a movie with very rigidly prescribed and not particularly ambitious melodramatic inclinations. Its cinematic construction tips its hand early on as a piece of hopelessly middle-of-the-road entertainment and artificial uplift. Emblematic of the film's predilection for pat drama is the fact that Ted's alcoholism is mentioned, but never glimpsed. Much later, a centerpiece "no man's land" scene, in which Joey is rescued from a clutch of barbwire by one British and one German soldier, is played a bit wryly rather than for tension.
Screenwriters Richard Curtis and Lee Hall, working from Michael Morpurgo's novel, get plenty right in the period detail, but never find a way to make a dramatic throughline really stick, and when the film goes to war its grip loosens considerably.
Irvine is quite fine, exuding a natural youthfulness and naiveté that suits the part. Otherwise, though, a variety of the accented supporting performances (instead of native language French and German) ring false, and further ding the movie's authenticity, especially when stacked up against something like In the Land of Blood and Honey.
Spielberg's umpteenth collaboration with composer John Williams again yields a reliably affecting score. Janusz Kaminski's cinematography is superb and at times almost redolent, capturing the smells of both lush fields and grimy trenches.
Also of note is the work of special effects supervisor Neil Corbould and the movie's equine handlers. Moments of genuine animal performance bolster its dramatic effectiveness, and the lead-in to the aforementioned sequence, in which a panicked Joey gets tangled up in barbwire, is an astounding and memorable scene. Unfortunately, not much else in War Horse rises to that level.
Production companies: Amblin Entertainment, The Kennedy/Marshall Company, Touchstone Pictures, Reliance Entertainment
Domestic distribution: DreamWorks Pictures
Producers: Kathleen Kennedy, Steven Spielberg
Executive producers: Frank Marshall, Revel Guest
Co-producers: Adam Somner, Tracey Seaward
Screenplay: Richard Curtis and Lee Hall, based on the novel by Michael Morpurgo
Cinematography: Janusz Kaminski
Editor: Michael Kahn
Production designer: Rick Carter
Music: John Williams
Website: www.WarHorseMovie.com
Main cast: Jeremy Irvine, Tom Hiddleston, Peter Mullan, Emily Watson, Benedict Cumberbatch, David Thewlis, Toby Kebbell, Patrick Kennedy, Niels Arestrup, Robert Emms, Pip Torrens, Rainer Bock, Celine Buckens, Geoff Bell, Nicolas Bro, Hinnerk Schönemann