Dir/scr: Wei Te-Sheng. Taiwan. 2011. 150mins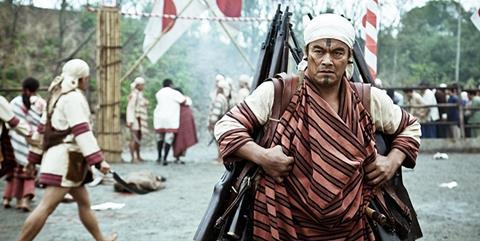 Heads are chopped off with grim abandon in the epic Taiwanese film Warriors Of The Rainbow: Seediq Bale, a based-on-a-true-story account of a violent uprising by aboriginal warriors against the Japanese who controlled the region. More bodies hit that ground that in any feel-good Rambo movie, and while flailingly unfocussed in structure it is also a fascinatingly brutal history lesson.
Warriors Of The Rainbow: Seediq Bale is a visceral and powerful action drama and even more memorable given it is based on a true story.
Budgeted at $25 million, the film is the most costly in Taiwanese production history, and it is set to be released in its home territory in September as a two-part, four-hour, version. This presumably allows more focus on the story strands around various of the characters than is allowed in the 150 minute international edit that premiered in competition in Venice.
It is a beautiful looking film, with writer/director Wei Te-Sheng making great use of the stunning jungle locations, and at its best it offers a fascinating – and almost anthropologically frank look – are aboriginal culture. It is let down by some so-so CGI (especially in scenes of Japanese aircraft attacks) and a rather gung-ho attitude at times, but there are some epic moments and some fine central performances by some of the non-professional actors.
Between 1895 and 1945 the island of Taiwan was a Japanese colony, and the remnants of the aboriginal tribes who settled in the mountainous area, and still clung to their traditions, despite not being allowed to be headhunters anymore. They were, though, regarded as second citizens to the Japanese, and largely worked in manual labour.
The film opens with scenes of the native Seediq tribes prior to Japanese occupation, where the young Mouna Rudo (Da Ching) hunts and fights to become a warrior and is ceremonially tattooed on his face to indicate he is Seediq Bale – meaning a fully-fledged man and warrior.
The film then cuts to 1930 where now mature Mouna Rudo (an impressive and dominating performance by non-professional actor Lin Ching-Tai), the leader of one of the tribes, forms an uneasy alliance with other Seediq leaders to plot a bloody rebellion against their Japanese colonial masters.
The violent uprising – known as the Wushe incident – saw gathered tribesman slaughter Japanese officials (cutting off their heads naturally) during a sports day event, with warriors then attacking police stations and local government offices in the Mount Chilai region.
The attack leads to an equally violent response from the Japanese, led by bombastic army commander Kamada Yahiko (Kawahara Sabu), who uses canons, machine guns, aircraft and eventually gas bombs as his forces chase the Seediq Bale into then mountains. Though their guerilla warfare tactics are bloodthirstily immaculate, the tribesman are no real match for the modern troops, though many – man and women – choose to commit suicide rather than surrender to the Japanese.
The action sequences are impressively staged, though do tend to get rather repetitive, and while it is all a little simplistic the notion of the Seediq Bale's sense of traditional honour (violent though it may be) is impressively acknowledged and never played down. In a stunningly moving scene a group of tribeswomen hang themselves rather than be a burden to the fighting men.
The effects work can be a little clunky at times – plus an ill-judged final shot spoils things somewhat – but when it is at its best Warriors Of The Rainbow: Seediq Bale is a visceral and powerful action drama and even more memorable given it is based on a true story.
Production companies: ARS Film Production, Central Motion Picture Corporation
International sales: Fortissimo Films, www.fortissimofilms.com
Producers: John Woo, Terence Chang, Jimmy Huang
Cinematography: Chin Ting-Chang
Editor (international version): Cheung Ka-Fai
Production designer: Taneda Yohei
Music: Ricky Ho
Main cast: Lin Ching-Tai, Umin Boya, Ando Masanobu, Kaw Ahara Sabu, Vivian Hsu, Lo Mei-Ling, Landy Wen, Da Ching, Yakau Kuhon, Lee Shih-Chia, Lin Yuan-Jie