The titular Captain faces off against Iron Man in Marvel's next superhero blockbuster.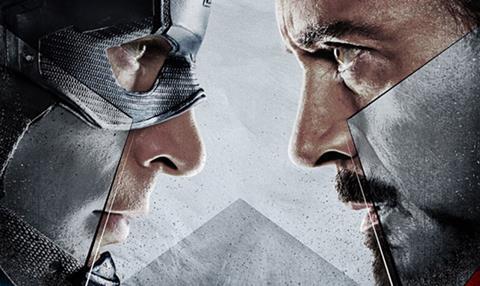 Marvel has released the first trailer for Captain America: Civil War, the forthcoming entry in their comicbook franchise.
The film sees Captain America (Chris Evans) face off against Iron Man (Robert Downey Jr.) after disagreements eurpt within superhero collective the Avengers.
While the film is technically the third entry in the Captain America series, following 2014's The Winter Soldier, many consider it a de facto Avengers film (following on from Age Of Ultron earlier this year) because many of the ensemble cast will be making appearances.
Aside from the aforementioned pair, Scarlett Johansson's Black Widow, Jeremy Renner's Hawkeye, Paul Bettany's Vision, Elizabeth Olsen's Scarlet Witch, Anthony Mackie's Falcon and Paul Rudd's Ant-Man, who made his big screen bow this summer, will all feature.
Tom Holland will also debut as Spider-Man in the film, ahead of the web-slinger's currently untitled reboot that will be released in 2017.
Fraternal directors Anthony and Joe Russo return to helm Civil War, having previously handled The Winter Soldier. Kevin Feige is producing.
Captain America: Civil War is scheduled for an April 26 2016 release in the UK, and will bow a week later in the US on May 6.