When Lionsgate screened the official trailer for The Hunger Games: Mockingjay – Part 2 at Comic-Con earlier this month it is safe to say the crowd reacted positively.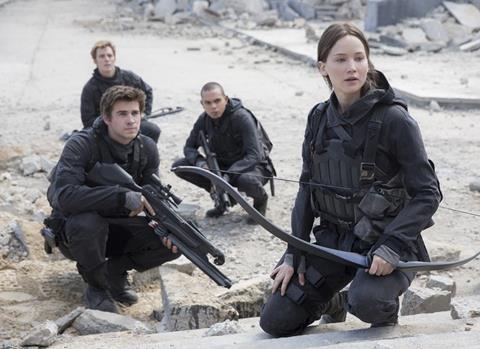 Now you too can whoop and cheer from the comfort of your office / living room / rebel headquarters as you witness the approaching storm of the franchise finale. Dark clouds, battle-ready troops, sombre faces — this one promises to have it all.
A chilling President Snow voice-over is sure to send a frisson of anxiety coursing down the spine of even the hardiest of viewers. 'I've been watching you," he purrs at Katniss Everdeen, adding: "And you watching me."

Will Katniss overcome the bearded despot? Will the mighty Snow defeat Katniss? Will it end in a tie?
Jennifer Lawrence stars alongside Donald Sutherland, Josh Hutcherson, Liam Hemsworth, Woody Harrelson, Elizabeth Banks, Stanley Tucci, Julianne Moore, Philip Seymour Hoffman, Natalie Dormer and Gwendoline Christie.
The Hunger Games: Mockingjay – Part 2 opens on November 20. Start practising the whistle now.