Dir: Claude Lelouch. France. 2014. 124mins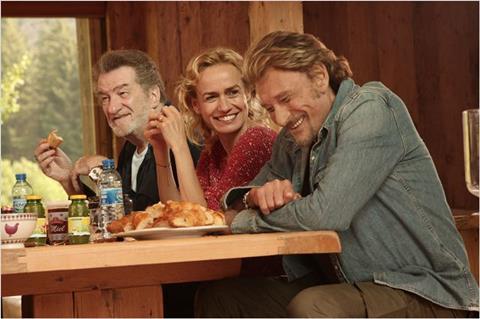 Claude Lelouch gives audiences their money's worth in We Love You, You Bastard (Salaud, on t'aime) his 44th feature as the reigning one man band of let-me-tell-you-a-story French cinema. His undiminished pleasure in filming (and writing and producing and directing) jumps off the screen in this wide-ranging tale of friendship, romance and paternity held together by the glue of two thoroughly enjoyable dramatic performances from legendary French singers Johnny Hallyday and Eddy Mitchell.
Lelouch luxuriates in handling the camera and knows how to cast actors who are obviously enjoying themselves.
Slated to kick off the COLCOA fest in Los Angeles on April 21, this April 2 release in France is an excellent introduction to Lelouchian themes for anyone who's new to the irrepressibly prolific director and will almost certainly please the majority of his habitual fans.
With their lived-in faces and via musical careers dating back to the tail end of the 1950s, Hallyday and Mitchell personify Gallic rock 'n' roll. Both men branched out into acting, something they do well in the seemingly custom-built roles of Jacques (Hallyday) a world-class war photographer with four daughters by "four very different women" and his best friend Frederic (Mitchell), a renowned doctor with a sideline in best-selling books.
Lelouch luxuriates in handling the camera and knows how to cast actors who are obviously enjoying themselves. While this is a story whose twists could only happen in the movies, Lelouch gets the motivations and emotional truths right.
Jacques, who was born in 1942, is a celebrated still photographer whose famous photos range from a portrait of Fidel Castro during the Bay of Pigs to Ella Fitzgerald singing with Louis Armstrong (as good an excuse as any to play the two singing They Can't Take That Away From Me on the soundtrack). Jacques' four daughters range in age from 18 to 40. Since Jacques' work always came first, his relationships with his offspring are cordially strained.
Having had enough of war zones and of Paris, Jacques buys a 10-bedroom chalet in the Alps and leaves his latest wife (Agnes Soral) a note on the bathroom mirror saying she's welcome to join him.
In short order he's living with Nathalie (Sandrine Bonnaire) - the widowed realtor who sold him the place - and her 15-year-old twins. The spacious spread is gorgeous all year round (his girls, by the way, are named for the four seasons) but Jacques can't convince his kids to come see for themselves.
Motivated by friendship, Frederic tells a well-meaning fib that spirals out of control. The heady mix includes a bank robbery, a gun that may have belonged to John Wayne, the unpretentious joy of vets Hallyday and Mitchell singing along with Dean Martin and Ricky Nelson while watching 'Rio Bravo' (dubbed into French) on TV, and secrets and misunderstandings galore.
Somebody should have Claude Lelouch broker world peace: He's very good at reconciling characters who should be permanently mad at each other. The film is dedicated to his children. He has seven of them by five different mothers.
Production companies: Films 13, Canal Plus, Region Rhone-Alpes, CNC
Contact: Films 13, www.lesfilms13.com
Producer: Claude Lelouch
Executive producer: Jean-Paul de Vidas,
Screenplay: Claude Lelouch, Valerie Perrin
Cinematography: Claude Lelouch, Robert Alazraki
Editor: Stephane Mazalaigue,
Music: Francis Lai, Christian Gaubert,
Website: www.salaudontaime.com
Main cast: Johnny Hallyday, Sandrine Bonnaire, Eddy Mitchell, Irene Jacob, Pauline Lefevre, Sarah Kazemy, Jenna Thiam, Valerie Kaprisky, Rufus, Isabelle de Hertogh, Agnes Soral, Antoine Dulery, Jacky Ido