Warner Bros.' Sucker Punch scored a narrow points victory over its rivals on the least impressive international box office weekend of 2011.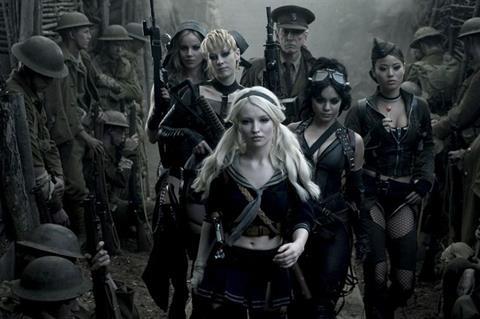 Action-adventure Sucker Punch came in top on the international stage in its second week, thanks to a modest week-high box office of $11.4m from 4,242 screens in 38 territories.
Zack Snyder's latest recorded the lowest number one international box office this year in what was also the weakest total weekend of 2011. The film opens in Australia, South Korea, Greece and Sweden this weekend.
Sony comedy Just Go With It moved up one place to second in its eighth week, making $10.9m from 2,816 screens in 40 territories, a 26% week-on-week improvement.
Sony's second top-five entry, Battle: Los Angeles slipped from first to third, grossing $10.4m for $96m in a week high 54 territories. Openings are still to come in Germany (April 14) and Italy (April 22)
Paramount's animation-comedy Rango crossed the $100m after corralling $8.6m in 54 territories, but is likely to soon fade with no major openings left and the lowest screen average among the top 20: $1,650.
Universal's animation Hop was the highest debut on the international stage, taking $6.7m in 26 territories, and rounding out a US dominated top five.
The family-comedy about the Easter Bunny's teenage son who heads to Hollywood determined to become a drummer in a rock 'n' roll band, opens in Australia and Portugal this weekend.
Summit's action-thriller Source Code opened in seventh, grossing $5.6m in nine territories, while Mei Ah's Don't Go Breaking My Heart opened on $5.4m on 399 screens for an average of $13,413. The Johnnie To and Wai Ka-Fai -directed Chinese romance about a tortuous love triangle stars Daniel Woo, Yuanyuan Gao and Louis Koo.
Toei's Masked Rider All, the third film in the latest series of the Masked Rider films debuted 12th, taking $3.6m at a screen average of $13,144 in Japan.
The latest in the popular action franchise opened on ten more screens and took $1.5m more than its 2007 predecessor in a sign that the Japanese box office is regaining some of its strength.
The week's remaining top 20 debuts came from Puja Entertainment's 15th-placed Hindi-language romance-comedy F.A.L.T.U ($3.3m) and Mongkol's 19th-placed historical drama King Naresuan 3 ($2.6m).