Fox's animated-comedy Rio pummelled its international opposition, grossing $47m more than its nearest rival.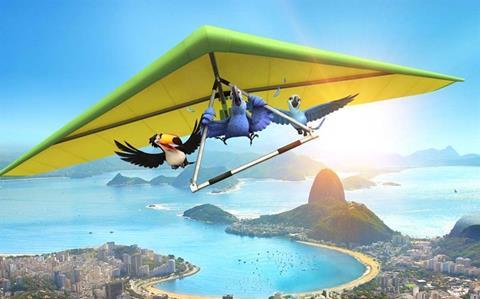 Fox's animation Rio took a mighty $54.9m from 11,714 locations in 45 territories for a screen average of $4,690 last weekend.
As previously reported, Ice Age director Carlos Saldanha's hit stormed a number of markets, most impressively in Russia, where the title scored a $11.3m debut, the biggest of the year to date, and one-fifth of the film's total international haul.
Rio's opening compares favourably with Saldanha's previous Ice Age: Dawn Of The Dinosaurs, which took $135m from 101 territories on debut — one of the best ever international openings for an animated film.
With openings to come in Italy, France and Canada this weekend, and school holidays in many territories, the film should kick on towards the $100m mark.
Rio was always going to clean up this weekend in what has been a particularly barren spell. The film faced no opposition whatsoever in a desperately weak international market. Last weekend was the first time on record that only one film grossed over $10m on the international stage.
Sony's comedy Just Go With It remained in second position in its ninth week, taking $8m in 49 territories for $88.3m, while last week's number one Sucker Punch dropped two places, making $7.9m for $31.6m.
Warner Bros will be disappointed with Sucker Punch's underwhelming theatrical showing to date. Having now opened in most major international territories, the big-budget adventure has only taken $34m in the US and is nearing the end of its run there.
The week's only other top ten entry was UTV's Bollywood romance-comedy Thank You, which scored $5m in 16 territories at a good average of $6,538. Anis Bazmee's latest is the story of a private detective who falls in love with the woman who hires him to spy on her husband.
Mei Ah's Chinese romance Don't Go Breaking My Heart gained two places in seventh, taking $4.9m and the week's best screen average of $11,753.
Despite crossing the $100m mark, Sony action-sci-fi Battle: Los Angeles was the biggest faller in the top ten, slipping 61% week-on-week.
A second-placed $1.8m opening in France for Disney's I am Number 4 was largely responsible for the action-adventure jumping 16 places from 26th to 10th for a cumulative total of $78.6m.
The only other top 30 debut came from Pathe's 13th-placed animation Titeuf which opened top in France on its way to $2.9m in three territories.