Paramount's Kung Fu Panda 2 continued to pummel its international rivals into submission as it held onto top spot.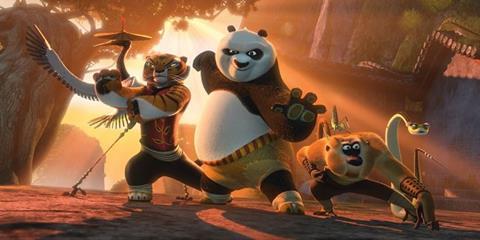 Thanks in part to its cleverly protracted roll-out, animated sequel Kung Fu Panda 2 remained in top spot on the international stage for a second consecutive week. A handful of new openings, led by an impressive one-two combo in France ($6.9m) and Germany ($6.4m), helped it increase 3% week-on-week and take a further $58.6m to stand at $284.2m.
The only movement in the top four saw Warner Bros.' The Hangover Part II leapfrog X-Men: First Class to retake third, in the same week that it became the biggest R-rated global comedy of all time, as previously reported. 20th Century Fox's reboot can still be pleased with its $163.3m haul so far, as it's not only just under $30m away from overtaking X-Men Origins: Wolverine's final tally of $193.2m, but has also managed to surpass the $139.0m grossed by X-Men back in 2000.
China Film's Beginning Of The Great Revival was the week's highest non-US title (charting fifth) after a storming $17.9m debut in China, at an immense average of $41,719. The follow-up to 2009's The Founding Of A Republic, charts the birth of the Chinese Communist Party and, like the first film, is filled with cameos from Asian talent including Chow Yun-Fat and Liu Ye.
Green Lantern didn't exactly set the international scene alight with a solid, but unspectacular, debut of $15.9m from its 13 territories to land in sixth. Warner Bros' comic book adaptation enjoyed its best success in the UK with a top-spot opening of $4.0m, but had to settle for second in Russia, behind Super 8, after its $2.5m opening. It opens in Japan this week, before openings in Germany (July 28), Spain (July 29) and Australia (Aug 4).
Powered by an excellent number one launch in Russia ($4.3m), Paramount's Super 8 improved its week-on-week performance by 80% despite dropping two spots to seventh. The sci-fi thriller is closing in on $100m globally and opens in Japan this week.
Universal's Bridesmaids climbed 17 spots to eighth, thanks largely to a $4.4m performance in Australia, as it took $5.4m at a highly impressive $15,984 screen average. The comedy is set to get another boost this week due to openings in Russia and the UK.
A UK debut of $3.2m was enough for Sony's Bad Teacher to chart just outside the top ten in 11th, with openings in Germany (June 23), France (July 27) and Japan (Aug 6) lined up.
The week's only other new entry in the top 20 belonged to Viva's Bheja Fry 2 after its $2.1m debut saw it chart 17th. A sequel to 2007's well-received Bheja Fry, itself a Hindi remake of Le Dîner de Cons, it stars Vinay Pathak as a tax inspector who wants to fulfil his dream of becoming a singer.