ScreenDaily brings you the weekly international box-office news.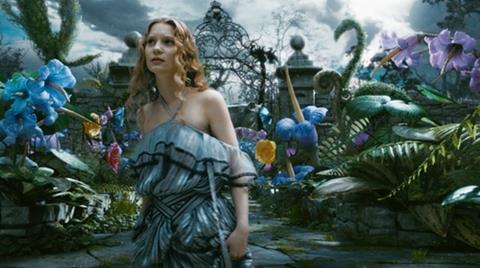 Pleaseclick herefor full international chart.
Walt Disney Studios Motion Pictures International's 3D fantasy Alice In Wonderland debuted as the number one international film over the March 5-7 weekend, ending Avatar's 11 week reign overseas. Including previews, Tim Burton's take on Lewis Caroll's classic grossed $100.5m from 6,389 screens in 41 markets, posting a decent average of $15,000 a screen. Key results included the UK, where the film broke records as the highest ever opening for a 3D film in the territory, grossing $16m from 533 screens - a huge screen average of $30,100 - with 3D screens generating 75.5% of the total takings. The adventure reaches key territories France, Spain and Japan, on March 24, April 16 and April 17, respectively.
Doraemon The Movie: Nobita's Mermaid Legend
The latest instalment of Toho's hugely popular Doraemon franchise hit Japanese cinema screens this weekend, generating $6.1m and placing fifth in Screen's international chart. Doraemon The Movie: Nobita's Mermaid Legend also had the highest screen average of the week, with $16,700 per copy. The animation, which chronicles the latest adventure of the time-travelling robotic cat, opened number one in its home territory, knocking Avatar from the top spot.
Liar Game: The Final Stage
Toho also enjoyed success with another of the studio's releases, as Liar Game: The Final Stage placed second in Japan behind Doraemon. Internationally, the film debuted in ninth position after grossing $4.3m from 283 screens, for a $15,300 screen average. Hiroaki Matsuyama's thriller is the big-screen incarnation of the popular Liar Game television series.
Atithi Tum Kab Jaoge
Viva's Bollywood production Atithi Tum Kab Jaoge also debuted in the top 20 after opening in 15 markets. Ashwani Dheer's comedy grossed $2.5m from 3,041 screens.