Dir: Chen Daming. China. 2011. 116mins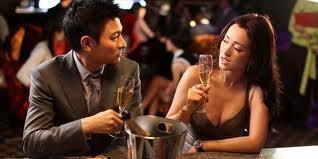 A Mandarin-language remake of the 2000 Mel Gibson blockbuster, What Women Want (Wo Zhi Nu Ren Xin) rarely rises above a genial likability, lacking sufficient comic or romantic brio. This Chinese production features palpable chemistry between stars Andy Lau and Gong Li, but director Chen Daming's film, like the original, is a great commercial hook in search of an equally clever story.
Gong Li is elegant and sexy in equal measure.
Opening in the US and China on February 3 to coincide with the Chinese New Year, What Women Want will have only modest results domestically in the US, but could prove a hit in its home country, where the two leads are much bigger names.
As in the first film, this new What Women Want concerns a cocky, seductive advertising executive named Sun (Lau), who learns that his promotion has been blocked by the hiring of Li (Li), an aggressive new female boss who can provide a much-needed woman's perspective at the male-centric company. But one night after a freak electrocution at home, he discovers he now has the ability to hear women's thoughts, which makes him valuable to his firm but puts him in competition with Li.
Keeping the fundamental plot points from director Nancy Meyers' romantic comedy, Chen Daming's movie trumpets its relaxed, playful tone, although it does introduce a more magical quality to the question of exactly how Sun acquires his unique power. But beyond the most obvious implementations of his newfound gift – such as having Sun read the minds of those from whom he wants something – the remake fails to exploit this juicy premise for meaningfully comedic or thematic material.
This, coupled with the movie's broad humour, creates a nagging sense that this amiable offering could have been much more if only it had tried to break free of the original film's overall design.
Even if this new What Women Want can't rise above its disappointing sense of déjà vu, at least it's endowed with two game stars. Lau downplays his character's chauvinistic tendencies, which keeps Sun from really feeling like a lovable scoundrel, but his slowly developing attraction to Li has its charms. Playing Sun's cold-as-ice boss who eventually warms to him, Gong Li is elegant and sexy in equal measure. Neither character benefits from much shading or development, so What Women Want's leads have to do most of the heavy lifting on their own.
Production companies: Bona Entertainment Company Limited, Beijing Bona Film and Cultural Communication Co. Ltd., Focus Films Limited, Emperor Motion Picture Limited, CJ Entertainment Inc., China Film Group Corporation
Domestic distribution: China Lion, www.chinalionentertainment.com
Producers: Dede Nickerson, Chen Daming, Jeffrey Chan
Executive producers: Yu Dong, Jeffrey Chan, Andy Lau, Albert Yeung, Katharine Kim, Han Sanping, Chris Liu
Screenplay: Chen Daming, from a screenplay by Josh Goldsmith & Cathy Yuspa, and a story by Josh Goldsmith & Cathy Yuspa and Diane Drake
Cinematography: Max Wang
Editor: Nelson Quan
Music: Christopher O'Young
Website: www.chinalionentertainment.com/whatwomenwant/
Main cast: Andy Lau, Gong Li, Yuan Li, Julian Chen, Li Chengru, Russell Wong, Wang Deshun, Hu Jing