Dir/scr. Woody Allen, US, 2009, 92mins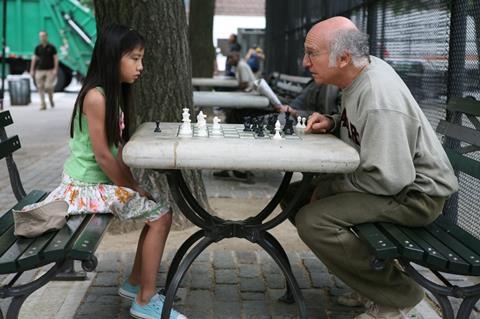 Woody Allen's latest, shot in New York after years of absence, documents a failed physicist's limping journey from misanthropy to the acceptance of the world's innumerable flaws. With Larry David as a crank for whom the glass is always half-empty, Allen's homecoming throws welcome twists onto the director's longstanding reflections on the sexual and the satirical.
Writing a New York story and shooting at home has given Allen a sureness to his voice. The dialogue here has a familiar ring yet a crackling freshness. Caustic but oddly humane, Whatever Works is the director's best film in more than a decade.
Caustic but oddly humane, Whatever Works is the director's best film in more than a decade
Echoes of Manhattan, Annie Hall and Broadway Danny Rose in Whatever Works should lure back the US fans who deserted Allen in the last decade and started returning with Vicky Cristina Barcelona. Larry David as the curmudgeon Boris Yelnikoff will bring his Seinfeld/Curb Your Enthusiasm TV audience to the film in the US, and it remains to be seen whether Evan Rachel Wood can deliver a younger public.
David on the marquee could justify a wider American release than the 720-plus US theaters which earned Vicky Cristina Barcelona more than $23 million domestically ($93 million worldwide). The director's sustained popularity in Europe, and the prospect of awards nominations for David, Wood and Allen, should push those numbers higher.
Whatever Works is the catch-all motto for Boris, who has lost faith in moral codes and moved down-market since failing at his marriage, his academic career teaching physics at Columbia, and his suicide attempt. (He leaps out a window and lands on a canopy, and ends up with nothing more than a limp, for which he blames his doctor).
Returning one night to his squalid walk-up after teaching chess to children whom he despises, Boris finds runaway Melody (Wood) from Mississippi, who begs him for food, and for a bed. Boris lectures her on the world's injustices, and she ends up falling, Allen-style, for the foul-mouthed Henry Higgins. Soon they marry. Eventually, Melody's mother, Marietta (Patricia Clarkson) appears, and discovers art and sex in New York. Her father (Ed Begley, Jr.) also arrives, and sheds his inhibitions. Handsome actor Randy James (Henry Cavill) ensures that Boris and Melody's love won't last forever.
The story of an aging Jewish misfit meeting a youthful beauty from beyond New York takes much from Allen's Annie Hall template. Allen has written young inexperienced American female characters into his recent European films, but he hasn't had an acerbic talk-aholic New Yorker like Boris for years. He saved a wealth of zinger lines for the occasion. When Melody suggests seeing a movie, Boris advises, "If you need to feel good, go get a foot massage." Kurtz of Joseph Conrad's Heart of Darkness was lucky; he "didn't have the Times delivered in the jungle." Seeing Melody dressed seductively for a date, he asks "Are you looking to end up in an abortion clinic?" When mother and daughter head off for some "fun," he says "how about the Holocaust Museum?"
Whatever Works transcends Allen formulas thanks to David, who is taller, balder and more foul-mouthed than the usual types Allen himself has played. Spitting out his lines, David finds a deeper nastiness here than the everyday bile of his character on the autobiographical Curb Your Enthusiasm. Allen does wonders with a character who isn't seeking to be loved.
His dialogue is just as clever for the Mississippian, Melody, who wonders innocently whether Boris almost got the Nobel Prize for Best Picture.
Evan Rachel Wood is near-perfect as the credulous Southern girl, too innocent to feel the barbs that Boris hurls at her, hence able to fall in love with him. Like Mariel Hemingway in Manhattan (who played Allen's teenaged girlfriend), Wood makes her sweetness irresistibly credible.
Close-ups of Wood by DP Harris Savides are delicately radiant, exceptional in a film that rarely allows cinema to get in the way of comedy.
True to form for Allen, the supporting cast broadens the comedy, turning an odd folie a deux into a farcical culture war when Melody's parents arrive. As Marietta, who arrives as a dopey Southern matron (the ideal hick for Allen to skewer), Patricia Clarkson shakes off Christianity (another favorite target for Allen) once she's had some wine. Soon she's enough of a New Yorker to bed multiple lovers and have her own art exhibition, with (what else?) nude photo-collages.
One departure from earlier Allen films that use New York as a backdrop is the complete absence of glamour or nostalgia, although DP Savides and production designer Santo Loquasto do get the street vernacular right. The recognisable Manhattan locations are a knish food outlet on the lower East Side and the shopping streets of Chinatown, a far cry from the rhapsodic sequences of skylines and parks in Manhattan.
David's apartment, a shabby place (created at Kaufman Studios) that disgusts even Mississippians, looks more like a recreation of Ralph Kramden's flat in The Honeymooners than anything you would actually see in New York. But however unrealistic it might be, you wouldn't associate it with anyplace else. For Allen, even in his imagination, there's no place like home.
Production Companies/Backers
Gravier Productions
Perdido Productions
US Distributor
Sony Pictures Classics
International Sales
Wild Bunch
+33 1 53 10 50 30
Producers
Letty Aronson
Stephen Tenenbaum
Cinematography
Harris Savides
Production Design
Santo Loquasto
Editor
Alisa Lepselter
Main Cast
Larry David
Evan Rachel Wood
Patricia Clarkson
Ed Begley, Jr.
Henry Cavill
Michael McKean
John Gallagher, Jr.
Jessica Hecht
Carolyn McCormick