Dir: Simon West. US. 2014. 92mins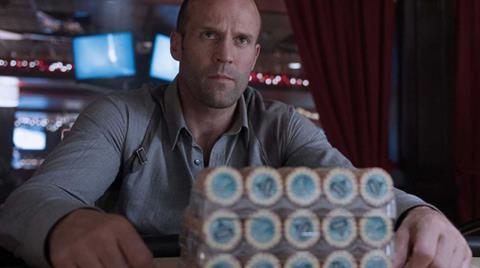 Unpredictable and offbeat without being particularly good, Wild Card gives Jason Statham one of his livelier dramatic offerings in a while, but the self-conscious quirkiness of this Las Vegas tale doesn't add much to a pedestrian character study. Remaking the 1980s Burt Reynolds vehicle Heat, Statham and director Simon West combine pummelling action, gambling addiction, moody introspection and loopy asides for a film that, admittedly, is admirable for its refusal to obey genre conventions. But ultimately Wild Card isn't sharp enough to execute its modest ambitions, leaving one with the impression that a lot of stylishness has been flaunted without much to show for it.
The film's decidedly off-kilter spirit does have its fleeting delights.
Opening January 14 in France and Belgium and on January 30 in the States, Wild Card will cater mostly to Statham fans, who may be disappointed that it's not quite a wall-to-wall action movie like his Transporter or Expendables series. Gloomier, odder and a touch more sombre than standard Statham fare, this Lionsgate release may have an uphill battle at the box office, although it does boast a pretty impressive supporting cast that includes Stanley Tucci, Hope Davis and (briefly) Sofia Vergara. Still, Wild Card seems destined for a short theatrical life, with DVD and cable perhaps being friendlier homes.
Statham plays Nick Wild, a man with a murky past — perhaps he was in Special Forces? — who now lives in Vegas and works as a security specialist for a local lawyer. But when a former lover (Dominik Garcia-Lorido) is brutalised by a thug (Milo Ventimiglia) and his goons, Nick reluctantly tracks the man down to help her get revenge.
That semblance of a setup, which is based on William Goldman's original novel Heat (Goldman also wrote this adaptation), suggests a direction in which Nick travels, but Wild Card is full of narrative curlicues, as our hero takes time to hang out at his favourite coffee shop (where Anne Heche plays a sympathetic waitress) or chitchat with a pretty, seasoned blackjack dealer (played by Hope Davis) at one of Sin City's many casinos. Plus, there's a young mogul (Michael Angarano) who's come to town to hire Nick to be his bodyguard while he goes gambling.
These disparate elements are all woven into the tapestry of Wild Card, and West (who previously worked with Statham on The Expendables 2 and The Mechanic) gives the proceedings a light neo-noir tone, emphasising the grubby workaday reality of Las Vegas as opposed to the glitzy, neon hedonism of the Strip. Notably, Wild Card is one of the few Statham movies since The Bank Job that doesn't seem built around its skull-crushing fight scenes. Although they're skilfully choreographed by veteran action director Corey Yuen, these taut sequences don't stand out in Wild Card the way they would in the typical Statham vehicle, which allows them to be more of a cathartic, visceral surprise.
But for the star's fans — who have prized his understated wit and formidable charisma, wishing he'd finally find the right platform to show off his acting chops — Wild Card suggests that Statham still rises or sinks to the level of his material. Goldman's screenplay prefers mood and digression to tight plotting, but Nick Wild's enigmatic presence isn't intriguingly mysterious enough to captivate. About halfway through the film, we learn that Nick's dreams of finally leaving Las Vegas to sail the Mediterranean are impaired by a dangerous gambling addiction, but Statham portrays the character's inevitable downward spiral without much insight or pathos. Wild Card attempts to plumb Nick's depths, only to discover that there's not much depth there to plumb.
That said, the film's decidedly off-kilter spirit does have its fleeting delights. Mixing Dario Marianelli's melodramatic score with songs from Ray Charles, Dean Martin and others, Wild Card exudes a doomed romanticism that's so overdone that it can sometimes be downright endearing. Besides Heche and Davis, Tucci also plays a potentially clichéd character, that of a smooth-talking gangster, with what can best be called restrained panache. Wild Card is filled with plenty such small little oddities: mildly pleasurable in the moment, never to be remembered later.
Production companies: SJ Heat Productions, Sierra/Affinity, Cinema Seven Productions
US distribution: Lionsgate, www.lionsgate.com
Producer: Steven Chasman
Executive producers: Nick Meyer, Marc Schaberg, Cassian Elwes, Robert Earl, Brian Pitt, Jib Polhemus
Screenplay: William Goldman, based on the novel Heat by William Goldman
Cinematography: Shelly Johnson
Editors: Padriac McKinley, Thomas J. Nordberg
Production designer: Greg Berry
Music: Dario Marianelli
Main Cast: Jason Statham, Michael Angarano, Milo Ventimiglia, Dominik Garcia-Lorido, Anne Heche, Sofia Vergara, Max Casella, Jason Alexander, Hope Davis, Stanley Tucci