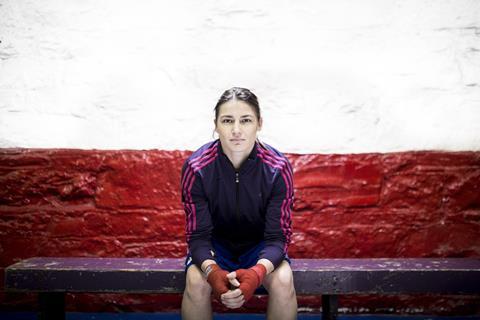 Dublin-based Wildcard Distribution has acquired the UK and Irish rights to a new documentary about world champion boxer Katie Taylor.
Katie Taylor: The Comeback is an intimate account of how the boxer attempts to rebuild her career following a year of turmoil. The film is set to be released in UK and Irish cinemas by Wildcard this summer.
This weekend, Taylor added the International Boxing Federation (IBF) World Title to her World Boxing Association (WBA) crown as she continues her quest to win multiple professional world titles and put women's professional boxing on the map.
The film is directed by Ross Whitaker and produced by Whitaker and Aideen O'Sullivan for True Films. It is executive produced by Andrew Freedman for Venom, who are also co-producing the project. As well as Wildcard, it is supported by the Irish Film Board, national broadcasters RTE and the Broadcasting Authority of Ireland.
One of Ireland's most respected documentary makers, Whitaker has previously brought boxing documentaries to Irish audiences. They include Saviours, set around a boxing club in Dublin's north inner city, and When Ali Came To Ireland, which tells the story of Muhammad Ali's fight in Ireland at the height of his career.
Katie Taylor: The Comeback will follow the intensely private champion as she attempts to restructure her career following a period of turmoil in her life. Following disappointment at the Rio Olympics, where she failed to defend her London Olympics crown despite being favourite, she decided to turn pro, and agreed to let a small crew document her efforts.
In the past year Wildcard has expanded releases to the UK market. UK releases last year including crime drama Cardboard Gangsters and Emer Reynolds' acclaimed documentary about the Voyager space project, The Farthest. As well as the Taylor documentary, this year Wildcard will release Frank Berry's widely praised prison drama, Michael Inside and Aoife McArdle's Kissing Candice in the UK.
Domestically, Wildcard has spearheaded several successful releases in Ireland, including Peter Foott's hit comedy The Young Offenders, which led to a TV series spin-off deal with BBC Three, and the documentary Bobby Sands: 66 Days, which enjoyed a highly successful theatrical run. Other upcoming titles slated for release in Ireland include Lance Daly's famine-set thriller Black 47, Lee Cronin's forthcoming horror The Hole In the Ground, and supernatural comedy Extra Ordinary, with Will Forte and Maeve Higgins.
"As Wildcard celebrates its fifth birthday, the company is incredibly excited at the prospect of working with the filmmakers and Katie Taylor on the release of Katie Taylor: The Comeback this summer," said Wildcard's Managing Director, Patrick O'Neill.
Adds Whitaker: "Katie might be shy and private but she has that presence that draws the camera and the audience to her.