How is the Rotterdam Film Festival (Jan 27-Feb 7) adapting to a market where it is more difficult than ever for a film to secure a theatrical release? Geoffrey Macnab reports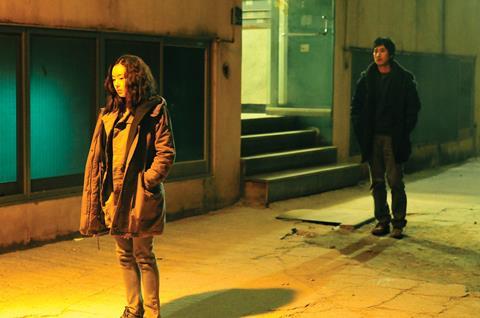 The International Film Festival Rotterdam (IFFR) is rebooting. The festival, which runs this year from January 27 to February 7 and opens with South Korean director Park Chan-ok's Paju, is adjusting both to bruising economic conditions and to fast-shifting distribution patterns.
In early December festival director Rutger Wolfson unveiled Cinema Reloaded, a scheme through which the festival will encourage its own audiences and followers to finance new films. "Buy coins, be a producer," is how the festival puts it.
At first glance, the initiative — through which shorts by Anglo-Argentinian director Alexis Dos Santos, Malaysia's Ho Yuhang and Switzerland's Pipilotti Rist are being financed to play at next year's festival — seems like one of those quirky ideas for which Rotterdam is famous. However, the symbolic significance of Cinema Reloaded should not be underestimated. The move comes at a time when the old certainties about the independent film business are being questioned.
"We're very concerned about the situation of theatrical distribution — it is in a very dire situation," says Wolfson. "Many good films are being made but the kind of films we love and show in the festival are having a very hard time finding an audience through theatrical distribution."
Many of last year's high-profile premieres, including Alexei Balabanov's Morphia, have yet to secure theatrical deals in any major territory despite generally positive reviews.
The irony is that during the festival itself, audiences clamour to see these films. Attendances in Rotterdam last year again broke the 340,000 mark. By directly intervening in production financing through Cinema Reloaded, the festival is seeking to ensure the films it champions continue to be made.
"The kind of film we show in the festival are having a hard time finding an audience through theatical distribution."

Rutger Wolfson, festival director
Rotterdam's own finances are under pressure. Thanks to the recession, the IFFR has lost important sponsors in asset-management company Robeco and Dutch telecoms outfit KPN. Meanwhile, some other sponsors and suppliers have cut their contributions. The budget for this year's event — around $10.8m(€7.5m) — is roughly the same as for the 2009 edition. Festival sources say that reduction in sponsorship has been offset partly by an increase in subsidy as part of the national Dutch government's Culture Plan.
Rotterdam's Hubert Bals Fund, which supports film-making in developing countries, has also seen a small increase in its funding. "Programme-wise, we're as strong and ambitious as ever," Wolfson insists.
Alongside Cinema Reloaded, Rotterdam is hosting Forget Africa, billed as the most extensive programme devoted to contemporary independent African filmmaking held at any Western film festival in recent years. Programmer Gertjan Zuilhof spent much of last year travelling through mid-African countries to meet film-makers and to select movies. A further programme, Back To The Future, looks at how cinema has reinvented itself in the face of earlier media and technological innovations.
However, some cost cutting has taken place. The 2010 edition will feature fewer video-art installations and exhibitions (one of Rotterdam's trademarks) than previously. The festival has also introduced efficiency measures on the organisational side, hiring fewer temporary staff and asking them to start later.
Hot titles
Most of the festival's world and international premieres are from young, relatively unsung film-makers. There is industry interest in the festival's main competition, the VPRO Tiger Awards. Ahead of the festival, Tine Klint's new Copenhagen-based sales outfit LevelK has picked up Estonian competition entry The Temptation Of St Tony while Berlin-based sales agent Films Boutique has taken on Costa Rican title Cold Water Of The Sea (Agua Fria De Mar) by Paz Fabrega.
Another title tipped for a strong international career is Tsubota Yoshifumi's Miyoko, about a Japanese manga artist.
The festival's Spectrum section will host the international premiere of UK auteur Chris Petit's road movie of sorts, Content. Produced by Illuminations, this is billed as a loose follow-up to Petit's celebrated 1979 film, Radio On.
Rotterdam is also trying to increase its international visibility. The festival has launched its own YouTube channel on which various IFFR films are showcased. It has also begun a collaboration with the Brooklyn Academy of Music's Cinematek (BAM). Most of the films in the VPRO Tiger Awards will be shown at BAM in March, helping, Wolfson hopes, the titles to find sales agents and distribution as well as putting them in front of a US audience.
New talent at CineMart
The festival's co-production market, CineMart (see sidebar), continues to attract sales agents, distributors and financiers. Wild Bunch, Celluloid Dreams, Strand Releasing, Films Distribution and many other leading European companies will be attending.
CineMart projects are often too early in their lives to attract distributors. Nonetheless, the event's success in nurturing new talent was underlined when Samuel Maoz's Israeli war film Lebanon (a former CineMart selection) won the Golden Lion at Venice last year.
"I regard Rotterdam as first class for netwokring with film-funding bodies across Europe."

Paul Brett, Prescience
Paul Brett, a co-founder of UK-based financier Prescience, is attending this year's festival. "Rotterdam almost defines 'cutting edge' and has maintained that role for almost two decades," Brett enthuses. "It's run passionately by experts who benefit from being in a city where the citizens are not afraid to use the word 'culture'."
Brett acknowledges the lowish-budget, arthouse driven projects in CineMart are not what Prescience usually boards (its credits include St Trinian's 2: The Legend Of Fritton's Gold and Mr Nice). "I can't say directly that we have taken a project from Rotterdam but I do regard it as absolutely first-class networking with film-funding bodies across Europe," says Brett.
Rotterdam has never put much emphasis on marquee names, insisting the directors are the true stars of the festival. However, Tsai Ming-liang, Francois Ozon and Harmony Korine are among the high-profile auteurs expected to attend to support screenings of their latest films. The closing film is the world premiere of Ineke Smits' The Aviatrix Of Kazbek, produced by San Fu Maltha of Fu Works and Els Vandevorst of Isabella Films, the team behind this year's Dutch Oscar candidate, Winter In Wartime.
Wolfson is striking an upbeat note in spite of the economic turbulence that may be ahead. "Everyone is determined to make a very strong edition even with the difficulties we have."
In competition
Autumn Adagio (Jap)
Dir Inoue Tsuki
International premiere Directorial debut follows a middle-aged nun.
Sales watano@yubarifanta.com
C'est Deja L'Ete (Neth-Bel)
Dir Martijn Smits
World premiere Debut about a dysfunctional Belgian family.
Sales René Goossens, (31) 10 467338, info@deproductie.nl
Cold Water Of The Sea
(C Rica-Fr-Sp-Neth-Mex)
Dir Paz Fabrega
World premiere A couple befriend a girl while in Costa Rica.
Sales Les Films du Requin, Jean des Forets, (33) 1 43 87 93 50, desforets@lesfilmsdurequin.com
Let Each One Go Where He May
(US-Suriname)
Dir Ben Russell
European premiere The story of two brothers from Suriname.
Sales Ben Russell, br@dimeshow.com
Mama (Rus)
Dirs Yelena Renard, Nikolay Renard
World premiere Drama about a mother and her overweight son.
Sales Nikolay Renard, (7) 985 224 6450, nikolayrenard@yahoo.com
Miyoko (Jap)
Dir Tsubota Yoshifumi
International premiere Biopic about a Japanese manga artist.
Sales Gold View Co, Joo Kiyo, (81) 3 53472501, kiyo@goldview.co.jp
Mundane History (Thai)
Dir Anocha Suwichakornpong
European premiere Family drama centred around the wheelchair-bound son.
Sales Electric Eel Films, Anocha Suwichakornpong, (66) 2 667 0177, info@electriceelfilms.com
My Daughter (Malay)
Dir Charlotte Lay Kuen Lim
European premiere Portrait of a hairdresser and her daughter.
Sales Patio Films, Yen San Michelle Lo, yensanlo@yahoo.com, (60) 12 2088186
R (Den)
Dirs Michael Noer, Tobias Lindholm
World premiere Prison drama.
Sales TrustNordisk, Nicolai Korsgaard, (45) 3686 8764, nicolai@nordiskfilm.com
Vital Signs (Can)
Dir Sophie Deraspe
International premiere Drama about care-givers and the dying.
Sales Les Films Siamois, Nicolas Fonseca, (1) 514 5745753, nicolas@filmssiamois.com
Street Days (Georgia)
Dir Levan Koguashvili
World premiere Drama about a drug addict.
Sales Independent Film Project, Keti Machavariani, (99) 5 32292537, kinoke@gmail.com
Sun Spots (HK-Chi)
Dir Yang Heng
European premiere The tragic relationship between a young gangster and a girl.
Sales Jetwood Investment, Li Kit Ming, (85) 2 94587057, hutcom@rocketmail.com
The Temptation Of St Tony (Est-Swe-Fin)
Dir Veiko Ounpuu
European premiere A middle-aged man endures a life crisis.
Sales LevelK, Tine Klint, (45) 2010 8580, tine.klint@levelk.dk
To The Sea (Mex)
Dir Pedro Gonzalez-Rubio
European premiere A father and son spend a summer on Mexico's Caribbean coast.
Sales MK2, Mathilde Henrot, (33) 1 44673076, mathilde.henrot@mk2.com
La Vie Au Ranch (Fr)
Dir Sophie Letourneur
International premiere The life of 20-year-old female students.
Sales Ecce Films, Emmanuel Chaumet, (33) 1 47702723, eccefilms@yahoo.fr