Dir: Alex de la Iglesia. Spain-France. 2013. 112mins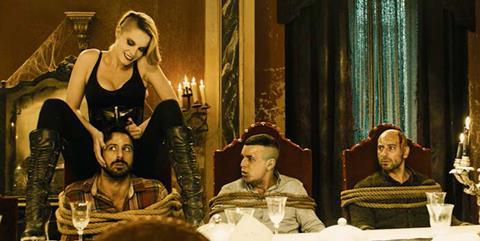 In Witching And Bitching (Las Brujas de Zugurramurdi), men bitch – about women - and women are witches who eat men alive. To illustrate this, Spanish director Alex de la Iglesia mixes a Point Break-style heist with his own 2005 cult classic The Day Of the Beast (El Dia De La Bestia), throwing in some American Werewolf In London to spice up proceedings.
Once de la Iglesia has made the decision to switch purely to horror, the film's excesses mount.
However, with Carmen Maura as a levitating, diabolical witch and Santiago Seguro playing a cross-dressing cannibal, spice is the last thing lacking from this bonkers project, which sails so far over the top it comes completely adrift of its moorings. The film screened in Midnight Madness at Toronto and at San Sebastian.
This dark comedy mixes irony with the surreal and absurd, not to mention the farcical, and when it works, Witching And Bitching is both risqué and entertaining. Its wild tonal lurches conspire against any early promise, however, and it is at times troublingly hostile in its approach to women.
It's an odd view of the battle of the sexes in which the humour is gradually hijacked by anger, culminating in the arrival of an enormously fat CGI monster with bulbous, veined breasts who eats young boys and dispels them through her grotesque nether regions, a prospect at which even cult aficionados may baulk.
Shot in Navarra and Madrid, Witching And Bitching will hold some curiosity for the director's fans although it seems unlikely to eclipse his earlier work such as 800 Bullets (800 Balas or Beast), while Carmen Maura has her own following. More notably, the appearance of Spanish heart-throb Mario Casas as the film's second lead should boost the film's fortunes considerably in the local marketplace. Internationally, this is a niche film for cult/horror sidebar play.
Witching And Bitching is an uneasy marriage of two films. The first is an absurdist pawn shop heist in Madrid's central Puerta del Sol with moving statues as the protagonists. The second is a horror as the fugitives, fleeing for France, stumble upon a village peopled by witches who have sensed the coming of the end of the world.
Striding both segments is Jose (Silva), an angry divorced father who has decided to bring his 10-year-old son Sergio on a pawn shop heist. Amusingly, his ruse is to dress as a moving statue – a silver-painted Jesus on the Cross – to carry out his daylight robbery, assisted by a Green Soldier called Tony (Casas) and the odd Invisible Man, Spongebob and Minnie Mouse. Violent and frenetic, the ensuing car chase, in which they hijack a taxi driven by Manuel (Nieto) cracks along at a devil-may-care pace, cut impressively by de la Iglesia himself.
Once in the village of Zurramurdi in Spain's Basque region, things take a turn towards the macabre, however, with the hapless men becoming gradually ensnared by Carmen Maura's evil coven (her daughter is played by de la Iglesia's partner Carolina Bang). To up the ante, they are also being trailed by Jose's cartoonish male-hating ex-wife and two arguing detectives.
Once de la Iglesia has made the decision to switch purely to horror, the film's excesses mount, although some of the effects – witches walking on the ceiling, scampering through tunnels – are interesting. A meeting of the coven during witching hour is poorly staged, with a chant lending an almost ludicrous soundtrack to the events. More disturbing than any of the horror, however, is the film's attitude towards women, which moves from the darkly jocular to ill-concealed anger. Evil witches may be about to take over the world, but Witching And Bitching has psychological issues that are far more disturbing than that prospect.
Production company: Enrique Cerezo PC SA
International sales: Film Factory, www.filmfactory.es
Producer: Enrique Cerezo
Screenplay: Alex de la Iglesia, Jorge Guerricaechevarria
Cinematography: Kiko de la Rica
Editor: Alex de la Iglesia
Music: Joan Valent
Main cast: Hugh Silva, Mario Casas, Pepon Nieto, Carmen Maura, Jaime Ordonez, Santiago Segura, Carlos Areces, Macarena Gomez, Pepon Nieto, Secun de la Rosa, Carolina Bang