Deniz Gamze Ergüven's Mustang and Eva Neymann's Song Of Songs among winners; industry awards.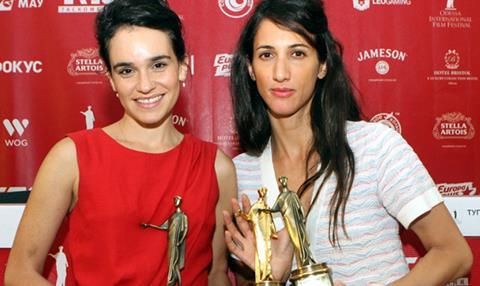 Women filmmakers were the big winners at this year's Odessa International Film Festival (OIFF) which closed at the weekend with a gala screening of Naomi Kawase's film Sweet Red Bean Paste (An), which premiered in Cannes in May.
The festival-goers voted to give the "Golden Duke" Grand Prix to Deniz Gamze Ergüven for her feature debut Mustang.
The Turkish director was also named Best Director by the International Competition jury headed by French writer-director-actress Jeanne Labrune.
The Turkish-French-German co-production had its world premiere in Cannes' Directors' Fortnight in May and is handled internationally by Kinology.
Ukrainian-born Eva Neymann's third feature Song Of Songs – which had premiered in Karlovy Vary - was named Best Film by the juries for the International and National Competitions.
Israeli actress Tamar Alkan received the Best Acting Award for her performance as a woman who is confronted by her husband's sudden disappearance one night in Evgeny Ruman's The Man In The Wall.
In addition, two Special Jury Mentions were made by the International Jury for Colombian filmmaker Ciro Guerra's Embrace of the Serpent and Angels Of The Revolution by the Russian director Alexey Fedorchenko who had served as one of the members in the National Competition jury.
Solidarity with Sentsov
Announcing the winners of the National Competition, producer Olena Yershova said that this year's line-up had been "a very strong programme" and used the occasion to express solidarity with the detained filmmaker Oleg Sentsov who is still awaiting for his trial to begin more than a year after having been arrested by Russian security services in May 2014.
Speaking on behalf of the Polish Film Academy and the international film community, producer Dariusz Jablonski directed an appeal from the stage of Odessa's Musical and Comedy Theatre to the Russian Federation's president: "Mr Putin, please set Oleg Sentsov free now!", a sentiment which was echoed by Alexey Fedorchenko when he accepted the Jury Special Mention.
National Competition
The National Competition jury, which also included talent agent Richard Cook and Laurence Herszberg, general director of Forum des Images, gave the Duke for Best Short Film to Maria Stepanska's Man's Work, with a Special Mention for Ostap Kostyuk's Living Fire and a Special Jury Diploma to Mykhaylo Moskalenko's short The Wall.
Moreover, the Acting Award was shared by Viktoriya Myronyuk and Andriy Palatny in Kateryna Gornostai's short Away.
Commenting on the National Competition of features and shorts, Herszberg said that she had been "impressed by the quality and energy of the films, which is very promising for the future of the Ukrainian film industry. A new generation of filmmakers are obviously emerging here."
The FIPRESCI Critics Jury also selected its winners from the National Competition, with the prize for Best Film going to Krzysztof Kopczynski's The Dybbuk. A Tale of Wandering Souls and the honours for Best Short being picked up by Philip Sotnychenko's Son.
Aronofsky and Mueller
The closing ceremony for OIFF's sixth edition also saw The Tribe's Myroslav Slaboshpytskiy presenting a Lifetime Achievement Award to US director Darren Aronofsky who was visiting the festival for the first time this year.
"It's a little strange to get a Lifetime Achievement Award when I feel not that old. But now that I have it I can retire and make no more films," Aronofsky joked. "So, I am going to move to Odessa, get a house on the beach and just have a party for the next 40 years. You have an amazing and a beautiful city in Odessa, and an amazing country, and I am happy to have Ukrainian roots."
Another guest of honour, Marco Mueller, was invited on stage by OIFF's president Viktoriya Tigipko, and revealed that there is a desire from a new Chinese film festival he is organising at the end of September to enter into a partnership with the Odessa festival.
"Odessa is a place where East and West can be bridged, a city where everybody feels at home. I have no doubt that we are on the brink of two cultures," he said.
In a summing up of this year's event, Tigipko said that the festival had posted some 120,000 admissions, 15,000 more than in the previous year.
"I believe it is a positive sign that here, in Ukraine, peace is taking over and the great future awaits for us," she said.
International guests of honour had included the Irish director Jim Sheridan, composer Michael Nyman and Cannes Film Festival director Thierry Fremaux who made a lightning visit to Odessa to give a master class and present the documentary Lumiere! with a live commentary.
During his master class he gave some tips on how Ukrainian films could make it to selection in Cannes by warning filmmakers away from considering shooting in English even though it might seem to make sense for the market or for raising finance.
"The more Ukrainian, the more original you are, the better it is for us," he said.
Industry awards
Odessa's Film Industry office also concluded with awards to projects presented in the Pitching and Works in Progress sections.
The Pitching forum's international jury, including producers Guillaume De Seille, Anna Katchko, Raymond van der Kaaij, and Meetings of the Bridge chief Gülin Üstün gave its award to the thriller Tank which is being developed by director Max Ksjonda and producer Max Serdiuk of Kiev-based Noosphere Films.
De Seille told Screen Daily that he had already begun talking with Ksjonda and Serdiuk about the possibility of coming onboard as a partner for the tale about a teenager who finds a German tank hidden in the woods near a small town.
The Works in Progress jury, composed of sales agents Nawid Sarem (WIDE Management) and Laurent Danielou (Loco Films) and Boris Shulman, sales director at distributor Maywin AB, decided on Volodymyr Tykhyy's documentary detective film Captives focusing on the people involved in the dramatic and tragic events of February 20, 2014 on Instytutska Street in Kiev.
The production by Igor Savychenko's Directory Films is being made in colaboration with the Babylon'13 documentary collective.
Tykhyy is director of 2013 film The Green Jacket and was also one of the directors of the original Babylon'13 omnibus film.
Odessa briefs
UK sales agent Ivo Fiorenza of Amadeus Entertainment revealed to Screen during the Odessa industry forum that his latest acquisition is the award-winning Russian film Corrections Class by Ivan I. Tverdovsky.
Steven Seagal, Mickey Rourke, Emir Kusturica and Goran Bregovic have become persona non grata in Ukraine after the Ministry of Culture added them to a "black list" as a reaction to comments it claims they have made in favour of Russia's annexation of Crimea and its policy in Eastern Ukraine.