Dir/scr: Josh Boone. US. 2012. 96mins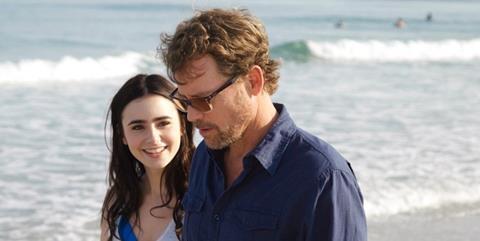 Immensely likable but a little too tidy in its emotional payoff, Writers benefits from its charming, empathetic ensemble, which includes Greg Kinnear, Jennifer Connelly, Lily Collins and Logan Lerman. But while writer-director Josh Boone's debut suggests a filmmaker with a great sense for characters and genuine feeling, his comedy-drama about a family torn apart by divorce isn't as confident with its narrative twists and turns.
Writers shows great promise, but you hope that with more experience under his belt its author will be able to produce more wholly satisfying works in the future.
Looking for distribution out of the Toronto Film Festival, Writers has several marketable elements, specifically a name cast and a feel-good, tear-jerking tone that ought to generate strong audience word-of-mouth. With the right handling, the film could be a solid art house performer.
Set over the span of one year, the film looks at the lives of three writers: Respected novelist Bill (Kinnear), his college-age daughter Samantha (Collins) and his teen son Rusty (Nat Wolff). The fourth member of this family, Bill's wife Erica (Connelly), left him a few years ago and married another man, a fact Bill still can't accept. With the publication of Samantha's first novel imminent and Rusty reluctantly trying to come out of his shell and enjoy high school more, Bill struggles to write, beset by a block brought on by his divorce.
It's easy to see why Boone was able to snag an impressive cast for his first feature: His characters are all engaging, and the dialogue often sparkles without being too self-consciously showy. Still, Writers is burdened with relatively ordinary storylines for these characters to follow. Unable to forgive her mother for betraying her dad, Samantha vows that she only wants meaningless sex, not love — a philosophy that, naturally, will immediately be challenged when she meets Lou (Lerman), a smart, decent guy who slowly wears down her defences. Likewise, Rusty is a meek teenage outsider, so he's paired with a beautiful, popular girl (Liana Liberato) who is attracted to his depth. All four actors in these love stories give supple, naturalistic performances that are sometimes quite touching, but it doesn't entirely negate the programmatic nature of their arcs.
As Bill, a once-celebrated author who has fallen into despair, Kinnear doesn't strain to convince as a writer — he just lets his understated manner and intelligence do the work. What's best about the character is how Bill slowly begins to understand that even though he considers himself a nice guy, he can be overbearing and dictatorial, which hurt his marriage and also affects his relationship with his children, whom he has strongly encouraged to become writers. Boone doesn't pick favourites among his creations, and as a result Writers is stacked with sympathetic people we come to care about. (Even Bill's no-strings-attached sex buddy, played with real spunk by Kristen Bell, is given layers.)
But Boone's affection doesn't fully compensate for contrived plot complications in the film's second half that drag the characters around by the nose rather than letting them dictate what happens. Especially problematic is the treatment of Bill and Erica's divorce — they remain civil even after everything that happened, but eventually Boone tips his hand about how he wants their relationship to resolve itself. From that moment on, Writers stacks the deck to ensure that Boone's desired outcome occurs, although it doesn't really square with the characters as they've previously been presented. Like a lot of first-time works, Writers shows great promise, but you hope that with more experience under his belt its author will be able to produce more wholly satisfying works in the future.
Production companies: Informant Media, MICA Entertainment, The Solution Entertainment Group,
International sales: The Solution Entertainment Group, lisa@thesolutionent.com
Domestic sales: Creative Artists Agency, www.caa.com
Producer: Judy Cairo
Executive producers: Michael A. Simpson, Eric Brenner, Patrick Dugan, Jeff Rice, Lisa Wilson, Myles Nestel, Dale A. Johnson, Julie B. May, Glenn P. Murray, Mike Ilitch, Jr.
Cinematography: Tim Orr
Editor: Robb Sullivan
Production designer: John Sanders
Music: Mike Mogis, Nathaniel Walcott
Main cast: Greg Kinnear, Jennifer Connelly, Lily Collins, Logan Lerman, Nat Wolff, Liana Liberato, Kristen Bell