Dir: Peter Chan Ho-sun. Hong Kong-China. 2011. 116mins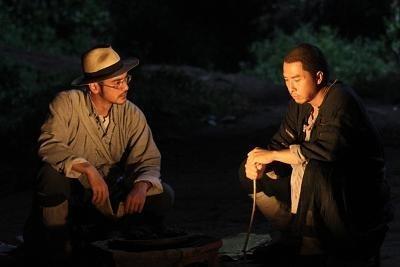 Noirish and very more-ish, Peter Chan's lunge into the action arena is a sophisticated and satisfying blend of martial arts and effects. It's a film which twists and turns and switches seismically mid-way, but Wu Xia is a smartly-written thriller which kicks some new life into the genre and should perform well both in Asia and internationally, where The Weinstein Company holds a slew of rights.
Hong Kong actioners have never shortchanged their audience when it comes to lavish set pieces, but Chan, working with his star Donnie Yen as action choreographer, ups the ante here. A saloon brawl is first staged and then re-staged in slow motion as Takeshi Kaneshiro's detective sits inside the shots, forensically dissecting the proceedings.
It's hard to top this gleeful inventiveness, although third-act showdowns with the triad parents from hell come a close second, and Wu Xia launches a race across the village rooftops which is at once an homage to and a progression of Crouching Tiger, Hidden Dragon's own nods to the Shaw Brothers classics of old.
The look of Wu Xia is darkly lush, and the all-male dynamic is typically intense (see Chan's Warlords). In a picturesque yet somehow menacing village in Yunnan Province at the end of the Qing Dynasty (1917), ordinary villager Liu Jinxi (Yen) becomes involved in a fight with two wandering bandits. Fortuitously, he dispatches them - or they dispatch themselves - without leaving a mark and the loving husband (to Tang Wei) and father of two small boys becomes the town hero.
Detective Xu Baijiu (Kaneshiro), all dolled up like Sun Yat-sen with a Panama hat and owlish glasses, is suspicious, however. He has an appreciation for the physiology of martial arts that leads him to suspect such a seamless coincidence -and a propensity for reckless actions, such as pushing Liu off a bridge to see how his chi will interact with the drop. The slow realisation that Liu is hiding his past leads Xu to the dreaded 72 Demons triad and the realisation that Liu may be part of kung fu's most seriously dysfunctional family unit.
Wu Xia, though cleverly written, could probably have shaved off a few twists and dropped a couple of internal shots of organs exploding ("You have hit his Yummen Meridien!"). But it's so inventive, while still being so respectful of its forefathers, that audiences will easily go the distance, especially for a film that slyly inserts a few musical sequences before wrapping in a deus ex machina.
Yen performs his choreographing and acting duties with aplomb, while Kaneshiro is solidly charismatic in the less showy role; not much is required of Tang Wei, but old master Jimmy Wang Yu's return to the genre is a welcome one, and Kara Wai's "mom" is truly fearsome.
Chan's decision to engage two cinematographers, using Lai Yiu-fai for the action sequences and Jake Pollock outside has paid off here, and the look is fresh but quite dark. Water is a recurring motif, with the green of the paddy fields and the burnt golden barn interiors contrasting with the darkness at Wu Xia's soul.



Production company: We Entertainment
International sales: We Distribution, www.wedistribution.com
Producers: Peter Chan Ho-sun, Jojo Hui
Executive producers: Peter Chan Ho-sun, Qin Hong, Zhou Li, Yang Zhiguo, Alan Zhang, Wang Jianxin
Screenplay: Aubrey Lam
Action director: Donnie Yen
Cinematography: Jake Pollock, Lai Yiu-fai
Editor: Derek Hui
Production designer: Yee Chung-man
Music: Chan Kwong-wing, Peter Kam
Main cast: Donnie Yen, Takeshi Kaneshiro, Tang Wei, Jimmy Wang Yu, Kara Wai Ying-hung, Li Xiaoran